What Does Tesla's New Battery Research Partnership Mean for Graphite, Lithium and Cobalt?
Tesla Motors' share price rose this week following the company's announcement that it's partnered with preeminent lithium-ion battery researcher Jeff Dahn to lower the cost of its batteries.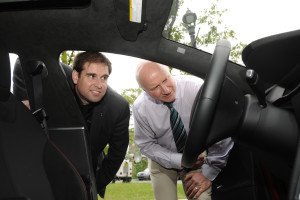 Tesla Motors' (NASDAQ:TSLA) share price rose this week following the company's announcement that it's partnered with preeminent lithium-ion battery researcher Jeff Dahn to lower the cost of its batteries. Tesla's share price has gained just under 5 percent, or $13, in the past five days, and was up another $1.48 on Thursday.
A chemistry professor at Canada's Dalhousie University, Dahn has been researching lithium-ion batteries since 1978. As Fortune reported, Tesla has signed a five-year agreement to improve the energy density and lifespan of its lithium-ion batteries, thereby improving costs. Currently, there's a tradeoff between battery lifespan and energy density, but Dahn will try to crack the problem.
Although no dollar figure has been disclosed for the agreement, Tesla will support Dahn and a team of roughly 20 graduate students, postdocs and technical staff. The partnership will come into effect in 2016, once Dahn's current lithium-ion battery project — funded by the Natural Sciences and Engineering Research Council of Canada and 3M (NYSE:MMM) — comes to an end.
As Quartz points out, the development is an important one. The publication notes that Tesla CEO Elon Musk "has always played down the prospect for big battery advances," sticking to incremental improvements on batteries from Panasonic (OTCMKTS:PCRFY); the partnership with Dahn thus signals a potential change of heart.
Critical metals investors might be wondering what the agreement means for lithium, graphite and cobalt, and to be sure, there have been a few hints at how raw materials might play into the situation from several news outlets. For example, Fortune states that "Musk has said the company will also examine pre-cursor materials, particularly nickel, and talk with nickel mining companies in Canada to find innovative ways to reduce the cost," while The Wall Street Journal notes that one of Dahn's specialties is silicon anodes, a less expensive alternative to graphite.
Silicon vs graphite anodes?
The Investing News Network got in touch with Simon Moores of Benchmark Mineral Intelligence to get a bit more insight into some of those possibilities. Speaking to the potential for a switch to silicon anodes, Moores said he doesn't see that change happening, at least not anytime soon.
"In the medium term, no, I don't think Tesla or any mainstream battery producer will be using silicon anodes," he said. "It's still a lab-scale test material and therefore a theoretical concept. Silicon anodes have been discussed for years, but fundamental problems remain, including expansion on charge."
Moores added that he's heard of a concept whereby graphite-coated silicon anodes were used to help limit expansion on charge, but stressed that it's "still one of many hurdles it needs to overcome." He added, "I can't see Tesla using this technology in its mainstream batteries for some time."
Still, considering what could happen in the graphite space if silicon anodes do turn out to be successful, Moores admitted that the scenario would see a drop in graphite demand from anodes. "It would see a drop in graphite used in anodes, no doubt. But from what I have seen in the marketplace, graphite is being used in conjunction with silicon to produce the most promising silicon-based anodes in a test phase," Moores said. "It's still a long shot though, and it's a development for the next 10+ years."
What about lithium and cobalt?
Of course, while Dahn's research will be focused on the energy density and lifespan of lithium-ion batteries, some investors might be wondering whether the cost reduction side of things will include attempting to decrease the amounts of other raw materials involved in the batteries, such as lithium and cobalt.
"There is a trend in the industry to used less raw materials including lithium and cobalt in batteries, through fine grinding / micronising innovations which creates a greater surface area," stated Moores. However, he also stressed that such a trend would be largely offset by rising demand.
"This is a slow trend however that is being countered by the significant growth in all battery markets. So we expect the amount of raw material per battery to fall slightly but the overall demand to increase. ," he added.
In-house suppliers and processors
Beyond the research agreement, The Wall Street Journal also points out that Tesla is "aiming to reduce its battery costs by bringing in-house the suppliers and processing of lithium, cobalt, graphite and nickel."
"This actually means they will be eventually making the anode and cathode materials themselves and will be locking up long-term supply agreements for the graphite, lithium, cobalt, aluminum and nickel," said Moores, adding that this has always been the plan, but that it will more likely take shape around phase 2 or 3 of the gigafactory. "Tesla has been working hard on researching these niche minerals markets and which raw materials to secure and with what type of agreements," he explained.
When asked whether "bringing suppliers in house" could mean that Tesla may move to buy up metals producers, Moores stated, "there has been no indication Tesla wants to own its own mines or resources, and I don't expect this kind of move this early on."
Certainly though, the focus on long-term supply agreements makes sense. "Vertical integration is by far the best way to secure your supply chains if you can do it at the right price. But that's the hardest thing — getting the right price," said Moores. "Many investors feel the new resources of these minerals are overvalued, and that prevents the best resources in the world being purchased. And as soon as Tesla is involved, the price then increases by an order of magnitude. That doesn't make any economic sense for the company."
To be sure, critical metals investors will be watching for updates from Dahn and his team next year for innovations in the lithium-ion battery space.
Securities Disclosure: I, Teresa Matich, hold no direct investment interest in any company mentioned in this article.
Related reading:
Tesla Batteries Already 'Sold Out' Through Mid-2016
What Does the Tesla Battery Announcement Mean for Lithium, Graphite and Cobalt?