Is Graphite Better Than Gold?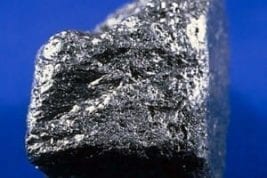 Graphite and gold are completely different from each other—almost as different as apples and oranges—but one company in particular has actively made the switch from focusing on one over the other.
Graphite and gold are completely different from each other—almost as different as apples and oranges—but one company in particular has actively made the switch from focusing on one over the other.
Talga Resources (ASX:TLG), a mining company in Australia turned their attention to graphite—whose previous focus was on gold—thanks to its managing director, Mark Thompson.
Why the switch? Back in 2011, Thompson gained an interest in graphite at a mining conference in Hong Kong. Attendees were excited about the idea of lithium being used in next-generation batteries being used in manufacturers, such as Tesla Motors (NASDAQ:TSLA). What captivated Thompon's attention was the fact that graphite coating wires and anodes are the biggest components in batteries.
His vision of developing gold and iron-ore mines hadn't faded just yet, but the idea of expanded demand from electronics interested him. Not long after Talga was founded as a junior mining company, Thompson's focus began shifting.
"After seeing the supply chain for batteries and the growth in electric vehicles, we knew we wanted to get into graphite," he said to the Sydney Morning Herald.

Why should investors choose graphite?
With lithium demand growing faster than its supply thanks to lithium's battery sector, this has shed light on graphite. Graphite is used in things such as phones and modern vehicles, increasing its demand, and Tesla is partly responsible.
In December, the Investing News Network (INN) gave an outlook for the critical metal in 2016. Although it's been a conductor of heat and electricity for some time, it's only gained popularity relatively recently.
Since 2012, worldwide demand for graphite has increased, and in 2015 1,190,000 tonnes of it were produced, according to the graphite report from the US Geological Survey.
Andrew Miller of Benchmark Mineral Intelligence told INN that industrial markets will likely dictate graphite demand in the short term, but growth in battery-grade graphite over the year will be especially telling.
"The emergence of this new industry will solidify next year and start to gather real momentum, driven by electric vehicle uptake and construction of lithium-ion battery megafactories," he said.
In short, because of increasing battery demand, graphite is getting investor interest.
What about gold investing?
The gold price, since the beginning of the year, has risen from $1,061 an ounce to $1,217.50, although it did hit $1,300 earlier this month. But why invest in gold?
One of the reasons gold has generally improved over the year is because a weaker US dollar has given it a slight boost. The value of the dollar and US jobs data impacts the price of gold: when the dollar falls, gold becomes less expensive for international investors to buy.
The World Gold Council says that modest allocations to gold of two percent to 10 percent can enhance the performance of an investment portfolio,while a five-to-six percent allocation is prime for investors with a 60/40 portfolio.
Gold has also become more readily accessible with the help of development of products. Gold-backed and gold-related products means that gold can be used to enhance a variety of individual investment strategies.
Lastly, gold funds have been doing well on the year, in part due to exposure to gold mining shares. With that being the case, gold stock mining shares have risen more than the price of gold itself.

Which companies are doing well?
Here is a quick look at a few graphite and gold companies that have seen moderate success this year.
Northern Graphite owns a 100 percent interest in the Bissett Creek deposit in Ontario. The project is an advanced stage project with a bankable final feasibility study and an environmental permit. The company's latest news came in March when they announced they would be jointly acquiring a micronizing and spheronizing mill to produce spherical graphite.
Shares on the company, year-to-date have increased by 120.45 percent, or a boost of $0.27, where they currently sit at $0.485.
Since 2012, Graphite One Resources has completed three resource definition diamond drill programs, totaling 7,494.35m of drilling in 48 holes. Two additional core holes were completed in 2014. The company is now exploring, with the intent to develop, its Graphite Greek Deposit loacted near Nome, Alaska. The project is currently advancing from the exploration to the evaluation phase.
Year-to-date, Graphite One's shares have steadily made gains of 86.67 percent—a $0.07 jump—to $0.14.
Barrick Gold Corp released their first quarter 2016 results, and have so far produced 1.28 million ounces of gold at a cost of $706 an ounce. The company expects to produce 5-5.5 million of ounces of gold for the year, with all-in sustaining costs of $760-$780 an ounce.
On the year, Barrick Gold's shares have seen a boost of 114.06 percent, or a jump of $11.68, to sit at $21.92.
Asante Gold is a Vancouver-based gold exploration company, with its focus currently in Ghana and West Africa where they have the option to acquire up to 100 percent of the high grade Kubi Gold Mine by financing it to production.
The company's most recent news came at the beginning of May, wherein they announced the closing of a private placement.
Asante has made positive gains in 2016, with its shares jumping 100 percent, or a rise of $0.07.

Don't forget to follow us @INN_Resource for real-time news updates!
Securities Disclosure: I, Jocelyn Aspa, hold no direct investment interest in any company mentioned in this article.Editorial Disclosure: Graphite One Resources and Asante Gold Corp are clients of the Investing News Network. This article is not paid-for content.