A Guide to Nickel Applications and Demand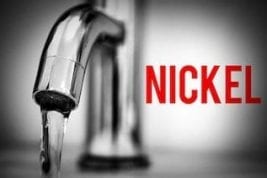 What are the main nickel applications? Investors should be aware of the many uses for this base metal before putting money into the space.
The nickel price may not be anywhere near its 2014 glory days, when it reached 20,000 per tonne. However, it's on its way back up, and was sitting at around $12,400 as of mid-January.
What's pushing the nickel price back up? Well, there are more uses for the base metal than ever before, and that is driving demand. In particular, many investors are excited about nickel's growing use in lithium-ion batteries, which are critical to electric vehicles.
With that in mind, it's worth taking a look at nickel applications, and where demand for the metal stands. Read on to learn where nickel is used and how much demand is expected to rise in the coming years.

Nickel demand
Nickel demand is growing at approximately 4 percent per year, with stable consumption driven by its status as a universal staple in stainless steel and other products around the world.
However, as mentioned, some market watchers believe nickel demand could increase as electric vehicle production ramps up. Prices of a "high-purity form of nickel used in batteries have been surging, with demand expected to grow tenfold by 2025, to 570,000 tons" says Fair Observer.
What role does nickel play in the lithium-ion batteries that power electric cars? Nickel is used in the cathodes of these batteries, and is actually the main element used. It's been called the most important lithium-ion battery ingredient because it improves power and endurance.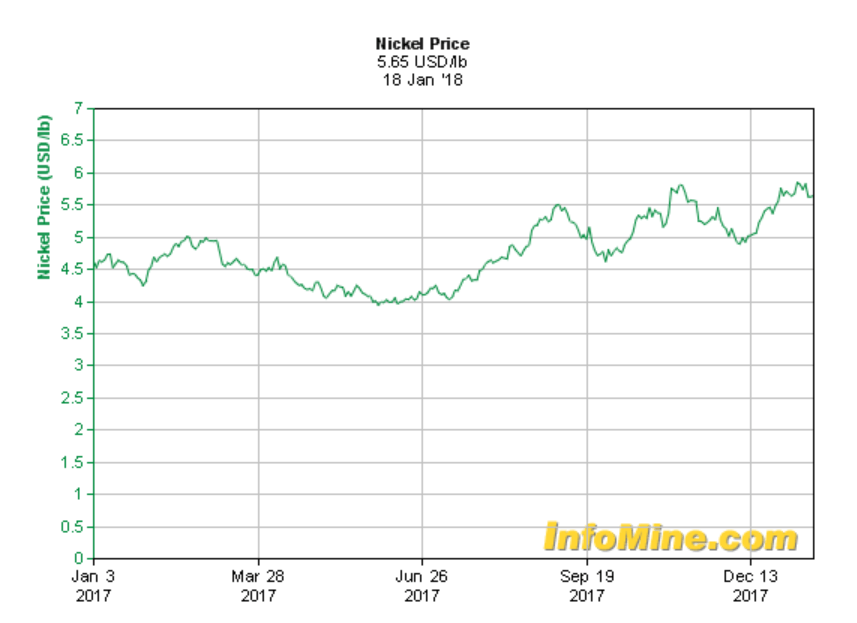 Nickel prices from January 2017 to December 2017. Graph via Infomine.
In recent months, attention has been drawn to the potential for nickel to be used as a substitute for cobalt in lithium-ion batteries. Nickel is currently cheaper than cobalt, which makes it an appealing alternative, and battery producers in Asia are looking to nickel to bring down costs. Overall, the demand outlook for nickel looks positive moving forward in 2018 and beyond.
Nickel applications
Now that we've laid out the nickel demand landscape, let's take a closer look at some of the main nickel applications. It's worth noting that there are around 3,000 alloys containing nickel that are in everyday use. We of course won't be covering them all, but we will go over the main uses for the base metal.
Stainless steel — Nickel is most commonly known for its use in the production of stainless steel, and rightly so — stainless steel accounts for 66 percent of the use for nickel. Ferronickel, an alloy containing about 35 percent nickel and 65 percent iron, is key to the production of this material.
Through stainless steel, nickel is used in a huge variety of sectors, including electrical, building and construction, engineering, metal goods and tubular products. Stainless steels with higher nickel content are used for making high-demand products like gas turbines; nickel pig iron, a low-grade ferronickel made in China, is popular as well. Nickel is useful in stainless steel because it enhances corrosion resistance in metals, thus extending the lifespan of many products.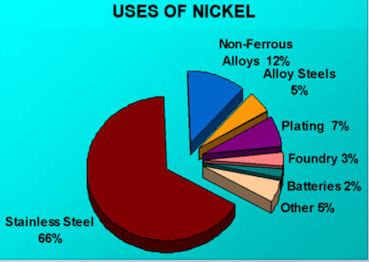 Uses of nickel by percentage. Pie chart via Larco.
Corrosion-resistant alloys — Nickel is also used in the creation of non-ferrous alloys, which are used for coatings, kitchenware, power generation, jewelry and mobile phones to name a few. Nickel-based alloys include "Ni-base superalloy, Ni-base corrosion resistant alloy, Ni-base wear-resistant alloy, Ni-base precision alloy, Ni-base shape memory alloy and Hydrogen storing alloy," according to Metalpedia. These are often used in industries such as electronics, energy, aviation and shipbuilding.
Nickel coatings/platings — The base metal is also widely found in coatings, which are used to make hard-wearing coatings known as nickel-plating or electroplating. These can be used to protect from corrosion and wear resistance, or to decorate surfaces. Decorative coatings offer a "high luster finish," and can be found in coins. Electroplating is used throughout the automotive industry in rims, trims, exhaust pipes and bumpers.
Lithium-ion batteries — As noted above, nickel is used in the production of lithium-ion batteries. While battery production only accounts for about 2 percent of the metal's current use, this is set to increase going forward as the electric vehicle craze continues.
What uses do you see for nickel in the future? Do you see the nickel price continuing to climb?
Don't forget to follow us @INN_Resource for real-time updates!
Securities Disclosure: I, Amanda Kay, currently hold no direct investment interest in any company mentioned in this article.