Mongolia the Latest Mining Frontier, but Not for the Risk Averse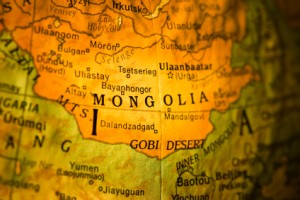 Mongolia is expected to have the fastest growing economy in the world between 2010 and 2030, with an average growth rate of 9.7 percent, according to Citigroup Global Markets statistics cited by Tuvshintugs Batdelger of the National University of Mongolia's Economic Research Institute. In a presentation at the Mongolia Investment Summit in Hong Kong last month, Batdelger said the mining sector is expected to be the biggest factor influencing Mongolia's economic growth in the coming years, contributing 29 percent of the country's GDP in 2040. And estimates suggest that Rio Tinto's (LSE:RIO,ASX:RIO,NYSE:RIO) Oyu Tolgoi copper and gold mine will contribute 25 percent of Mongolia's GDP in 2020.

Considering these growth rates — which exceed expectations for neighboring China — investing in Mongolia might seem like a no brainer. Not so, according to Jon Springer, who writes a weekly blog about Mongolia on Seeking Alpha. After attending the Mongolia Investment Summit, he concluded that while there are reasons for long-term optimism, "the near-term outlook is not good."
In a recent blog post, he notes that in May, the country passed the Strategic Entities Foreign Investment Law, which requires the regulation of foreign investments and imposes taxes that could invalidate licenses. At least 18 transactions in the country have been cancelled since the law was put in place. Moreover, there is legislation pending to raise royalty taxes on mines to up to 20 percent; that's a big jump compared to the 5 percent royalty taxes at Oyu Tolgoi.
Oyu Tolgoi's troubled past
The $6-billion investment in Oyu Tolgoi has already seen its fair share of problems. The deposit was first bought by Turquoise Hill Resources (TSX:TRQ,NYSE:TRQ), then called Ivanhoe Mines and led by Robert Friedland. He had signed an option to explore South Mongolia with BHP Billiton (ASX:BHP,NYSE:BHP,LSE:BLT) in 2000, and that led to the purchase. Then, in 2003, Ivanhoe acquired BHP's 2-percent copper-smelting royalty for $37 million.
But Ivanhoe wasn't able to fund the building of the mine itself and sold a 10 percent stake to Rio in 2006, which Rio then proceeded to build up. After trying to prevent Rio from taking a majority stake in his company, Friedland finally lost in arbitration and Rio took majority ownership this year, mere months after Friedland said the mine should be worth $30 billion, double market estimates. One fund manager said, "Friedland lost the chess game with Rio," Bloomberg Businessweek reported.
In addition to the internal strife, both last year and again in October this year, some voices in the government of Mongolia suggested that they are rethinking the Oyu Tolgoi investment. Mining Minister Ganhuyag Davaajav said last month he that he will resign if he is unable to increase the government's stake in Oyu Tolgoi to 50 percent from 34 percent. Turquoise Hill rejected the request to renegotiate.
The mine is also at the mercy of relations between Mongolia and China. At 97-percent completion, the mine was left idle as company officials waited to reach a power-supply agreement with China. And while a deal was finally struck in November, Oyu Tolgoi's reliance on China won't end there; 75 percent of the next few years' production has already been sold to Chinese smelters. And, as Eric Zurrin, CEO of Resource Investment Capital, noted in June, 90 percent of the country's exports went to China last year. "Unfortunately, China is essentially calling the shots on some of Mongolia's commodities pricing," Zurrin said, at least until Mongolia builds a 5,000-kilometer rail connection to the far Eastern Russian ports in Vladivostok and Vostochny.
Investors cautious as Rio calls for production to start in 2013
After the power deal was struck with China, Rio Tinto said the mine will come into production in the first half of 2013, and that it is anticipated to produce 450,000 tonnes of copper and 330,000 ounces of gold per year. That compares with the 443,000 tonnes of copper produced last year by the world's largest open-pit mine, Codelco's Chuquicamata in Chile, and the 1.3 million ounces of gold produced by Freeport McMoRan's (NYSE:FCX) Indonesia operations.
But despite the country's potential riches, investors are still cautious, and the share prices of some Australian junior mining companies active in Mongolia have dropped amid the uncertainty.
"Foreign investors are watching the unresolved issues between Oyu Tolgoi and the government as a signal … of whether Mongolia is a good place to invest," Seeking Alpha quoted Cameron McRae, CEO of the mine, as saying.
The US embassy also warned in its July Mongolia Investment Climate Statement that "investors can and should expect that investments, particularly in the resource sector, will be subject to extremely volatile legal and regulatory regimes."
The good news
Amid the skepticism, there is good news. Mongolia-focused Kincora Copper (TSXV:KCC), which is hoping to discover an Oyu Tolgoi "lookalike" said last month that approval for its Bronze Fox copper project — located along the Oyu Tolgoi belt — will be "potentially assisted" by the European Bank for Reconstruction and Development's "recent investment into the Tsagaan Suvarga copper mine development," which is privately owned by Mongolian Alt Corporation and is developing "significant infrastructure in the immediate region."
There could be up to $2 trillion in natural resources in the ground in Mongolia, Seeking Alpha cited Jim Dwyer, executive director of the Business Council of Mongolia, as saying. And according to AIDD group, a mineral drilling services provider, less than 1 percent of Mongolia has been licensed for mining; 15 percent has been licensed for exploration.
"One of the world's rapidly emerging new mining frontiers," London-based natural resources brokerage Ocean Equities said about Mongolia earlier this year. It "is one of the last regions where a junior can add a lot of value quickly via favourable exploration and initial project development, and can discover large scale deposits in known elephant country."
As such, the potential rewards may outweigh the risks.
Securities Disclosure: I, Ragnhild Kjetland, hold no investment interest in any company mentioned in this article.