Indonesian Standoff Continues with Newmont's Declaration of Force Majeure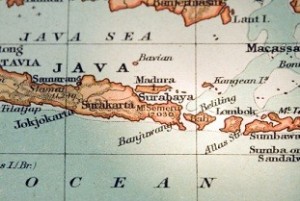 Newmont Mining (NYSE:NEM) has halted operations at its Batu Hijau copper-gold mine and has declared that it will invoke force majeure after failing to reach a resolution regarding new mineral export taxes with the Indonesian government.
Newmont had previously warned that it would be forced to stop operations at the start of June this year, stating, "Batu Hijau's copper concentrate storage facilities will reach capacity in late May, requiring an orderly ramp down of operations," according to Reuters. The company has now announced that its storage facilities are full, and although it will continue to ship copper concentrate to Indonesia's domestic smelter, PT Smelting, it will be putting Batu Hijau on care and maintenance. As MINING.com states, the mine closure will leave 3,200 workers on leave and with reduced pay.
"Despite our best efforts, we have not been able to export copper concentrate since January, and we still do not have an export permit. We are left with no option but to declare force majeure," Reuters quotes Martiono Hadianto, Newmont's CEO of Indonesian operations, as saying. The declaration will allow the company to exit its contracts without penalty.
Who is in the wrong?
According to The Wall Street Journal, Newmont and fellow major miner Freeport-McMoRan Copper & Gold (NYSE:FCX) have argued that the increased tariffs on concentrate exports violate their contract with the Indonesian government. They have also said that low copper prices are prohibiting them from spending on costly smelter projects or paying those high taxes.
Conversely, the Indonesian government has complained that the companies have not complied with its new rules, which are aimed at having mining companies build smelters to refine metals domestically. Another article from the Journal quotes Energy and Mining Minister Jero Wacik as saying, "[t]hey have to build a smelter, right? Once a smelter is begun and the security deposit is made, then sign it, go … They have to speed up (plans to build a smelter). And they promised that."
It's not as if the companies haven't had time to do so. The mineral export ban was put forward as part of a new mining law in 2009, though miners were apparently unsure that the rule would actually be implemented until the start of this year. At that time, Indonesia's president, Susilo Bambang Yudhoyono, signed last-minute documentation that eased the export rules in order to allow Newmont and Freeport to continue exporting concentrates, Bloomberg states. The government hoped that would be enough to mitigate any negative effects on Indonesia's economy and give the miners more time to build smelters.
However, the miners have said that they need still more time to complete smelters before the official ban comes into effect in 2017, with Freeport reporting delays for its smelter project in April. Writing for The Motley Fool, Vladimir Zernov stated, "[f]ive months have passed, and the government has not achieved any progress on [making producers construct smelters]. It is clear that Freeport-McMoRan and Newmont Mining are not going to contribute cash deposits for smelter building guarantees until the export problem is resolved."
Game of copper
The timing of Newmont's invocation of force majeure and the circumstances under which it was declared are unusual, and the situation highlights the ways in which companies will assess risk when "picking a fight" with a country, analysts have said. Bradford Research analyst Charles Bradford told the Journal, "[u]sually, you only declare force majeure when there's a mine accident or a strike. It doesn't happen often because governments change the rules, because governments don't often do that."
Similarly, Zernov asserts that Newmont's declaration of force majeure was strategic, suggesting that the invocation indicates that the company expects the mineral export dispute to continue for some time yet. Ignace Proot, an analyst with Sanford C. Bernstein & Co., supports this idea, and has told the Journal, "[i]t makes sense for Newmont to do this now, because they have inventory built up for the holiday season, and there'll be a new [Indonesian] president in the fall."
As Bloomberg has written, the export ban was intended to "promote local processing, lure investment and spur the output of higher-value metal products," and in principle, it could be considered fair for Indonesia to try to change the current situation in which it is drained of copper concentrate and then forced to buy more expensive, refined copper products from abroad. However, the change is clearly proving to be much more difficult in practice, as the government has made concessions, but is still struggling to make the miners refine copper domestically.
In any case, the struggle over mineral concentrate exports in Indonesia is telling in terms of how much power companies may be able to leverage relative to governments, and the story provides an important example for investors in terms of keeping track of political developments and how they may affect mining projects.
Securities Disclosure: I, Teresa Matich, hold no investment interest in any companies mentioned.