Deep-South Resources Interviewed on Midas Letter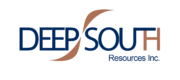 Deep-South Resources (TSXV:DSM) CEO Pierre Leveille was recently interviewed on Midas Letter, where Leveille discussed the company's Haib Copper project. Located in Namibia, there have been 196 holes drilled to date, totalling 66,000 meters.
Leveille is quoted as stating, "It's a large porphyry, large tonnage, low grade. We've just recently issued a resource estimation where we have about 5 billion pounds of copper in the ground."
Click here to watch the interview.
Click here to connect with Deep-South Resources (TSXV:DSM) for an Investor Presentation.