Copper Shrugs off China's Rate Hike
Copper climbed to a slightly higher finish Tuesday, recovering from its early day losses due to China's surprise interest rate hike.
By Leia Michele Toovey-Exclusive to Copper Investing News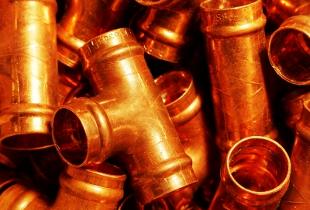 Copper climbed to a slightly higher finish Tuesday, recovering from its early day losses due to China's surprise interest rate hike. Earlier in the day, copper prices declined by 0.6 percent in a knee-jerk reaction to The Bank of China's 25 basis points interest rate hike.
The bank has raised rates twice in the last six weeks in an effort to curb inflation. Leon Westgate, base metals strategist at Standard Bank, said in a note to clients, "If inflation does surge, China may well need to embark on much more aggressive tightening measures over the coming weeks and months." Analysts have differing views on what China's attempts to cool its economy will have on copper. Some market analysts worry the interest rate hike will slowdown the economy enough to impact copper demand; others believe it will have no impact. China's financial markets open Wednesday after the week long Lunar New Year holiday.
In the late morning and into the afternoon, a weaker greenback and strengthening euro brought buyers back into the copper market. London Metal Exchange copper for three-month delivery bounced from a session low at $9,880 a tonne to a last bid of $10,059, about $100 below Monday's record high of $10,160. The benchmark COMEX March contract eased 0.10 cent to settle at $4.5740 per lb., back near the upper end of its $4.5060to $4.5975 session range. It hit a record $4.6375 on Monday.
Company news
On Tuesday, mining giant Xstrata Plc. (LON:XTA) announced skyrocketing profits on the back of dramatically improved margins from copper and coal sales. The company reported profits, excluding minority interests of $5.15 billion for the year, against $5.05 billion forecast by analysts and $2.77 billion reported in 2009. Pre-tax profit rose from $1.53 billion to $6.61 billion. Xstrata said its worldwide copper operations contributed $3.8 billion and coal $2.2 billion to its total operating profit of $7.6 billion last year. Xstrata plans to make good use of its increased profits by developing 20 new mines over the next decade. The plan, which the company estimates will cost up to $18 billion includes expansion into the iron ore sector on the Zanaga property in the Republic of Congo. The company is in the international spotlight because Glencore International AG, its largest shareholder and the world's largest commodities trader, is planning an initial public offering or a merger with Xstrata.
Shareholders of Copper Canyon Resources Ltd. (TSXV:CPY) appeared to be rejecting a hostile takeover bid by NovaGold Resources Inc. (AMEX:NG), following last week's Board of Director's unanimous recommendation that shareholders reject the takeover offer. NovaGold's bid, which expires Feb. 23, offers 0.0425 of a NovaGold common share for each Copper Canyon common share. Based on NovaGold's share price Tuesday, the offer was worth 62 cents per share. Copper Canyon's shares closed Tuesday at 0.81 cents per share. Copper Canyon's principal asset is its 40 percent joint venture interest in the Copper Canyon copper-gold–silver property in British Columbia. NovaGold owns the remaining 60 percent. The property is adjacent to the Galore Creek project, owned equally by NovaGold and Teck Resources Ltd. (TSX:TCK)."The NovaGold offer substantially undervalues the assets of Copper Canyon and in particular fails to recognize that the Copper Canyon project is highly prospective and has been inadequately explored and contains significantly higher precious metal values compared to the Galore Creek Project," Copper Canyon said. NovaGold announced on Dec 20, 2010 its intentions to issue a takeover offer for Copper Canyon.
Western Copper Corporation (TSX:WRN) announced that its common shares have been authorized for listing on the New York Stock Exchange Amex in the United States. The company expects the shares to begin trading on or about Wednesday, February 9, 2011 under the trading symbol WRN. Western Copper will retain its current listing on the Toronto Stock Exchange. "We are very pleased to list on the NYSE Amex; this is an important milestone for Western Copper," said Dale Corman, Chairman and CEO. "With a significant number of US shareholders already in place, listing on the NYSE Amex will help us obtain even greater market recognition and visibility in the US, enabling relations with new financial partners and providing all of our shareholders with increased liquidity."