Copper Regroups After Goldman Issues Bullish Commodities Report
Copper prices recovered Tuesday, as investors were drawn back into the copper market as investment powerhouse Goldman Sachs (NYSE:GS) reported that current copper prices offer "an attractive opportunity" to establish long positions.
By Leia Michele Toovey-Exclusive to Copper Investing News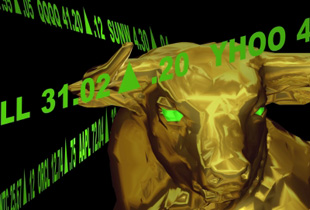 Copper plunged to a two-week low, Monday, as weak manufacturing data out of China supported fears that the nation's monetary tightening policy is taking affect. According to HSBC Holdings Plc (NYSE:HBC) and Markit Economics, a preliminary Chinese purchasing managers' index plunged to a 10-month low of 51.1. According to the Customs Bureau, China imported 160,236 metric tonnes of refined copper in April, a 48 percent decline from the same period last year.
Once the news of reduced demand from China hit the market, copper futures for July delivery fell 13 cents, or 3.2 percent, to $3.9915 a pound on the COMEX, the biggest drop for a most-active contract since May 11. Monday's downside was given extra impetus due to renewed strength in the greenback. On Monday, the dollar soared compared to the Euro as the debt crisis in the region escalated. On Tuesday, the metal regrouped from some of its losses with a weakening greenback, bargain hunting and a bullish report from Goldman Sachs supporting prices.
Tuesday's recovery came as investors were drawn back into the copper market as investment powerhouse Goldman Sachs (NYSE:GS) reported that current copper prices offer "an attractive opportunity" to establish long positions. Goldman Sachs has a reputation for making influential buy/sell recommendations on many commodities. The most actively traded contract, for July delivery, gained 6.25 cents, or 1.6 percent, at $4.0540 a pound on the COMEX division of the New York Mercantile Exchange. Thinly traded May-delivery copper was up 6.10 cents, or 1.5 percent, at $4.0510 a pound. A weaker dollar also gave copper prices a boost as dollar-denominated copper futures appear cheaper to holders of international currency when the greenback weakens. On Monday, fears about a deepening debt crisis in Europe supported the dollar, however, on Tuesday the tone over the health of the euro-zone changed as a slightly better-than-expected report on business confidence in Germany and strong investor demand for a $3.2 billion Spanish bond sale hit the markets.
Company news
The Zambian government will allow Barrick Gold Corp. (NYSE:ABX) to acquire the Lumwana copper mine as part of a US $7.5 billion takeover of Equinox Minerals Ltd. On May 18th, the Competition and Consumer Protection Commission said it was studying the proposed purchase of Equinox. In April, Barrick, the world's largest gold producer, announced that it would purchase Equinox Minerals, topping a previous offer from China's Minmetals Resources Ltd. The Lumwana copper mine in Zambia was the main reason why Equinox had attracted bidding offers from two major companies. Zambia is Africa's largest copper producer.
Nickel miner Mincor Resources (ASX:MCR) has signed a joint venture in Papua New Guinea (PNG) with local firm Niuminco to explore for gold and copper. The transaction, worth an estimated $30 million, will provide Mincor with a pipeline of growth assets ranging from the advanced-stage Edie Creek gold project, to projects with identified targets and historical drill intersections, through to early-stage prospect with untested potential. According to the terms of the agreement, Mincor will be the sole funder of up to $15 million in exploration expenditure, and will in turn earn a 51 percent stake in the Edie Creek project, as well as a further $15 million to earn a 72 percent stake in three granted exploration licenses. The projects under the JV include the Edie Creek gold project, the May River exploration license, the Bolobip exploration license and the Kubuna exploration license. The Edie Creek project lies some 10 km north of the 5.6 million ounce Hidden Valley deposit, and has historically produced a total of 200,000 tonnes of ore, grading between 11.7 g/t and 257 g/t gold. The May River exploration license contains numerous known mineral prospects and is located adjacent to Xstrata's (LON:XTA) Frieda River copper/gold project.
BHP Billiton (NYSE:BHP) has withdrawn from the Mumbwa Iron Oxide Copper Gold, according to its joint venture partners, Blackthorn Resources (ASX:BTR). Previously, BHP Billiton owned 40 percent of the Mumbwa project and had the option to earn up to an 80 percent stake by funding feasibility studies. BHP's termination leaves Blackthorn Resources as 100 percent owner of the project. BHP did not cite a reason for the termination, and the details will still have to be worked out between the two companies. BHP will retain the right to a two percent production royalty on any metal mined from the area.