Copper Refusing to Budge, Even for an Earthquake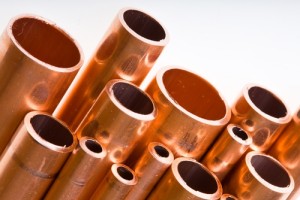 Speculation regarding Chinese demand continued to keep the red metal in flux this week as copper rose to $6,675 per tonne on Monday on hopes that China would step in aggressively to meet economic growth targets. Today, the pendulum swung again as apprehension over the upcoming release of Chinese data drew prices back by 0.5 percent, to $6,636.50 per tonne. Other factors have failed to make much of an impact on copper prices.
Chilean copper mines were rocked by an 8.2-magnitude earthquake on April 2, causing prices to rise up to 1.1 percent, according to Bloomberg. However, most of Chile's larger copper mines were largely unaffected. Even though the country was forced to close several ports, metal prices continued to react more to an expected global surplus and slowing demand from China.
On Tuesday, Reuters reported that Japan could expect a rise in copper demand due to expanding urban development and greater refurbishment of older infrastructure. Furthermore, the country is seeing increased demand for copper automobile parts and copper electric cable as a result of the construction of new solar power plants; however, demand from the small island nation will not be enough to make a dent in the worldwide surplus. According to Reuters, Japanese demand will likely be met by a 4-percent increase in output from local miners.
Industry leaders are meeting this week at the CESCO World Copper Summit in Santiago, and the worldwide surplus is definitely up for discussion. Notably, Thomson Reuters released its much-anticipated annual GFMS copper survey Tuesday, further highlighting forecasted trouble for red metal prices. The report predicts a modest surplus of 2 percent relative to global consumption.
Is overproduction halting?
In recent weeks, miners have fulfilled Thomson Reuters' prediction that copper companies will continue to follow through with investments they made during the red metal's boom years,  further contributing to the broader trend of a growing copper surplus.
Chilean miner Coldelco revealed this week that it has found significant deposits near its current South American operations following exploration over the past four years. Also, Copper Mountain Mining (TSX:CUM) achieved record production results from its British Columbia-based Copper Mountain mine for the first quarter of 2014.
However, it is also worth noting that Freeport-McMoRan Copper & Gold (NYSE:FCX) may fail to meet a deadline for its copper smelter venture with Indonesia's Aneka Tambang; that could mean dramatically reduced copper output from the fifth-largest copper mine in the world. Furthermore, Bloomberg reported that a sizeable portion of copper projects under consideration in Chile are being revised or postponed.
Investors are speculating that copper may have finally bottomed, as Canaccord Genuity noted that shares for Teck Resources (TSX:TCK.B) and First Quantum Minerals (TSX:FM) have traded up. However, the market is still poised to react in either direction to China's economic intentions.
Securities Disclosure: I, Teresa Matich, hold no investment interest in any companies mentioned.