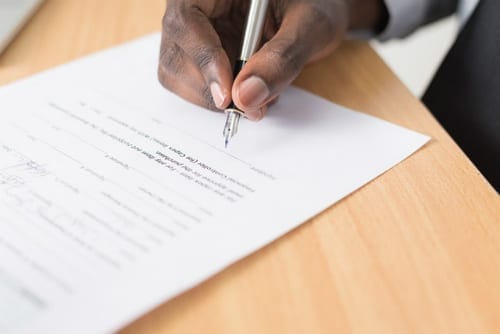 In-licensing may be pharma's preferred mode of business development these days. Should that impact your investment strategy?
When it comes to investing in pharmaceutical companies, looking at pipelines and research and development prospects is important. But in-licensing is also key when looking at these stocks.
In fact, in-licensing deals might be the pharmaceutical industry's preferred mode of business development these days — perhaps even more so than mergers and acquisitions (M&A). These agreements can prove to be very fruitful for companies and their share prices.
The in-licensing strategy is likewise attractive to investors: In-licensing drugs expedites corporate development while also mitigating risk. So let's clear up some common questions around the strategy.
The article below runs through what it means to in-license a drug and how in-licensing differs from an acquisition. It also covers how royalties affect returns. It's key for investors to be aware of these intricacies so that they can interpret a firm's actions correctly — and elect to buy or sell at the right time.
In-licensing explained
Some things are best explained by example, so let's take a look at AMAG Pharmaceuticals (NASDAQ:AMAG). In mid-2020, the pharmaceutical company licensed a clinical-stage anticoagulant reversal agent asset to Norgine, a leading European specialist pharmaceutical company.
Under the license agreement, the two companies will take on the development and commercialization of ciraparantag in Europe, Australia and New Zealand. The drug candidate is targeted for the reversal of the anticoagulant effect of direct oral anticoagulants and low molecular weight heparin in patients who use these products and need emergency surgery or are experiencing life-threatening uncontrolled bleeding. Ciraparamtag restores the body's ability to form blood clots.
The planned Phase 3 clinical trials for the drug will push it closer to regulatory approval in the United States, the United Kingdom and the European Union.
In this agreement, Norgine is the in-licenser, meaning it is licensing a product from AMAG; AMAG, which is licensing its product to Norgine, is the out-licenser. These deals are popular as they allow one company (in this case, Norgine) to take on some of the financial, regulatory or technological burdens associated with developing the product of another company (in this case, AMAG). Both end up benefiting.
AMAG benefits from a US$30 million upfront payment and will be eligible to receive up to US$260 million on achieving certain regulatory and sales milestones, in addition to royalties and the ability to grow its product pipeline. As AMAG CEO Scott Myers said at the time of the agreement, "Unlock(ing) the value of ciraparantag … will further strengthen our company's ability to continue investing in innovative therapies that address urgent unmet medical needs."
Meanwhile, in return for helping to finance the Phase 3 clinical trials of ciraparantag, Norgine will receive all marketing authorizations for the drug in the licensed territories. Norigine will also be responsible for regulatory applications and any subsequent trials needed for approval in its territory.
The collaboration between AMAG and Norgine is just one example of in-licensing. Other recent instances of this strategy include Biogen (NASDAQ:BIIB) and Sangamo Therapeutics (NASDAQ:SGMO), which have a global licensing agreement for the development of drug products to address neurological diseases, including Alzheimer's and Parkinson's.
There's also multinational pharmaceutical giant Merck (NYSE:MRK) and Korea-based Hanmi Pharmaceutical (KRX:008930). Midway through 2020, they inked an exclusive licensing agreement for efinopegdutide, Hanmi's investigational once-weekly glucagon-like peptide-1/glucagon receptor dual agonist, which is used for the treatment of nonalcoholic steatohepatitis.
Under the agreement, Merck gets an exclusive license to develop, manufacture and commercialize efinopegdutide in the United States and globally. In return, Hanmi will receive an upfront payment of US$10 million and is eligible to receive milestone payments of up to US$860 million.
In-licensing is becoming more and more commonplace, in part because of the influx of small biotech companies in the market. These early stage companies are a key source of promising product candidates, which pharmaceutical companies then in-license certain rights to.
The benefits of in-licensing
In-licensing is cost effective, since the financial burden of product development is shared. It's also lower risk for the company buying in as it can make deals based on promising preclinical or clinical results. Compare that to the traditional drug-discovery process, where a company embarks on a project, investing heavily in its development — all with little data to back up expectations.
In-licensing also holds significant appeal when compared to straight M&A. That's because licenses allow drug companies to purchase the rights for experimental drugs without taking on another company's baggage, including unwanted technologies.
All of that means in-licensing can hold major appeal for pharmaceutical companies and investors alike. But, as mentioned above, it can also generate confusion — confusion that can lead to ill-informed decisions on the part of investors.
Understanding in-licensing
Just as pharmaceutical companies are always looking for the next blockbuster drug, investors are looking for the company that will develop it. For that reason, in-licensing agreements can be somewhat off-putting — even if a drug proves wildly successful, its profits will need to be split between two pharmaceutical companies, and therefore two groups of shareholders.
Such was the case with Eliquis, an anticoagulant jointly developed by Pfizer (NYSE:PFE) and Bristol-Myers Squibb (NYSE:BMY). Discovery and clinical advancement were completed by the latter, which joined forces with Pfizer only when entering late-stage trials.
This puzzled some investors — after all, the drug seemed like a potential blockbuster. It would be a novel entrant to the market, and would benefit a wide number patients. Why split the profits with another company, and one coming late to the game?
As John LaMattina explains in Forbes, at the time of the deal there were still plenty of questions about the success of Eliquis. The anticoagulant drug market is competitive, and there was no guarantee that this drug would prove more effective than similar products also in development. What's more, Phase 3 trials are costly, and Bristol-Myers Squibb was contending with a tight research and development budget.
In the case of Pfizer, Bristol-Myers Squibb eased the risk and financial burden of getting Eliquis approved. It took a long time to roll out the drug, but today it's a top earner, bringing in profits for both pharmaceutical companies.
In-licensing deals can also cause confusion by complicating financial statements. "They are not typically recorded as an asset on the balance sheet," Jeff Margolis, vice president of RespireRx (OTCQB:RSPI), explained to the Investing News Network.
"They are considered 'in-process research and development,' and the expenditures are considered expenses on the profit and loss statement, typically creating large losses."
That means the uninitiated investor might misinterpret a company's financial statement, since it does not "truly account for the value of the licenses." As Margolis said, "the asset is intangible."
Sustainable, but not traditional
As pharmaceutical manufacturers move more toward in-licensing, they tend to reduce their massive research and development budgets. This can perturb investors accustomed to the traditional pharmaceutical growth model: drug discovery leads to products, which leads to profits.
But remember that drug discovery also leads to major losses. Pharmaceutical companies spend millions on development, yet only one in 10 product candidates ever makes it to market. In-licensing can offer an opportunity to cut down that expense and share the burden of risk.
Plus, as pharmaceutical investors are becoming increasingly aware, blockbuster drugs are few and far between these days. "The industry is the victim of its own previous successes," Dan Hurley explains in an article for the New York Times. "In order to thrive, it must come up with drugs that work better than blockbusters of the past."
In-licensing may not be traditional, but it could be a more sustainable method of pharmaceutical growth. As the major pharmaceutical companies embrace this model, investors must adjust their own mindset too. The old rules might not apply any longer, and it's important to reconsider investment strategies in light of industry changes.
Now that you know a bit more about in-licensing, will it affect how you invest in pharmaceutical companies, and why? Let us know in the comments below.
This is an updated version of an article originally published by the Investing News Network in 2016.
Don't forget to follow us @INN_Resource for real-time news updates!
Securities Disclosure: I Melissa Pistilli, hold no direct investment interest in any company mentioned in this article.