Types of Gold Deposits in Australia
Aug. 04, 2022 01:00PM PST
Gold Investing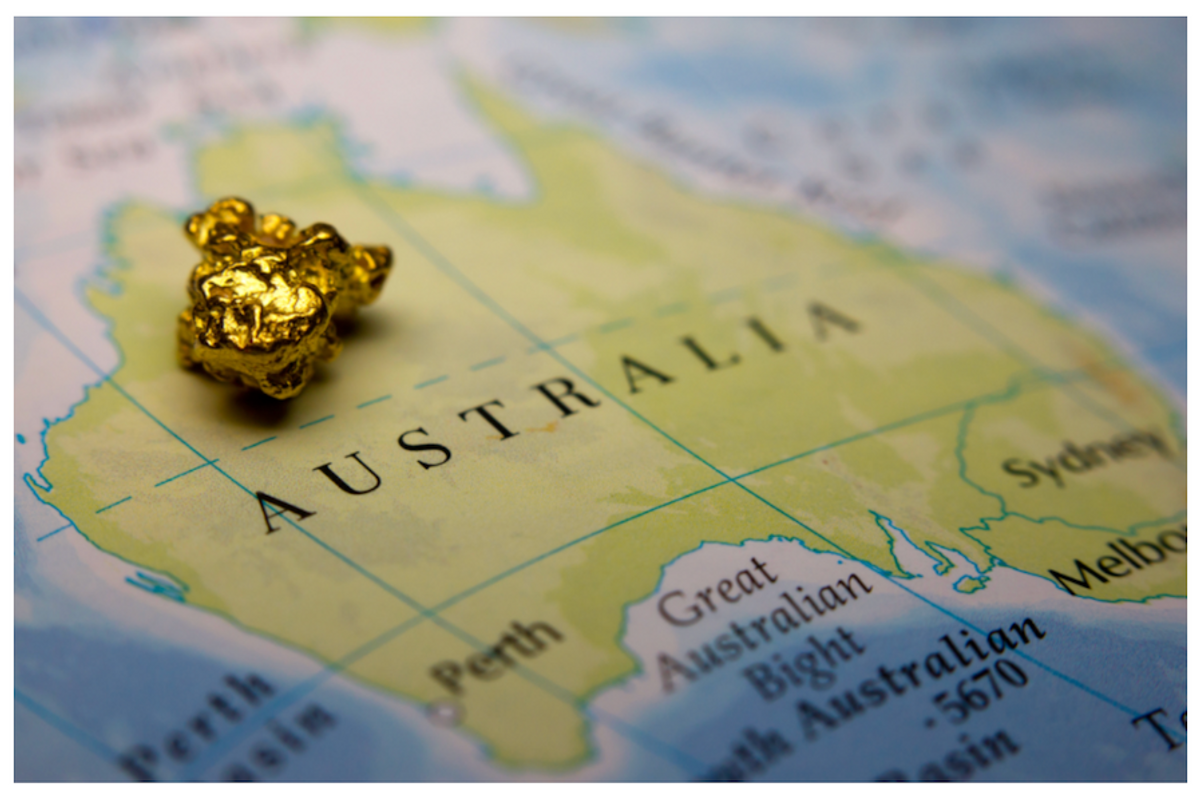 Gold deposits in Australia could benefit investors and exploration companies with the second gold rush in the Victorian Goldfields currently happening.
As the second largest gold-producing country in the world, Australia also boasts the largest gold mine reserves. In order to make more strategic decisions, investors will stand to benefit from understanding Australia's distinctive geography, specifically the types of gold deposits found in the country.
Australia has a rich history in mining. One of the biggest gold rushes took place in New South Wales, Australia in 1851, which later extended to the province of Victoria. Today, Victoria and its successful gold mines stand as some of the highest-yielding and high-grade resources. Victoria's 13 goldfields have each produced over one million ounces of gold, most of which were from the world-class Fosterville deposit, Ballarat, Costerfield and Stawell.
---
The major types of gold deposits in Australia
Porphyry
Formed when a column of rising magma cools and differentiates over multiple stages, Porphyry mineral deposits consist of a combination of igneous rock, large-grained crystals such as quartz and dissolved metals. Notable for the fact that their minerals are typically divided into their own distinctive zones, Porphyry formations are also incredibly resource rich. They may contain copper, molybdenum, zinc, gold, and lead.
Porphyry copper deposits are widely known for containing the largest gold reserves of any mineral formation in the upper crust. They also contain the largest overall reserves of copper.
Australia's two largest-known producing porphyry copper deposits are both found in the state of New South Wales.
The first of these, the Cadia-Ridgeway mine, is a combination underground and open-cut mine owned by Newcrest Mining (TSX:NSM,OTC Pink:NCMGF). Historically a major producer of gold and copper, the mine is currently in maintenance. Newcrest initialized the first stage of its Cadia Expansion Project in October 2019 and is also engaged in a feasibility study for a possible molybdenum plant.
The second, Northeparkes, also produces both gold and copper. The project is 80 percent owned by China Molybdenum (OTC Pink:CMCLF,SHA:603993) and 20 percent owned by Sumitomo (TSE:8053). Originally established using open pit mining, Northparkes began using an underground block caving method in 1997 — it is expected to remain economically viable until at least 2032.
It's important to note that in addition to being porphyry, both of these deposits are also epithermal. Other major porphyry deposits include Spinifex Ridge in the North Pilbara Terrane and Boddington in the Saddleback Greenstone Belt. Owned by Newmont (TSX:NGT,NYSE:NEM), the open-cut Boddington mine is one of the largest gold producers in Australia.
Epithermal
Found at relatively shallow depths, epithermal gold deposits are typically associated with volcanic subduction zones. Commonly occuring in volcanic, island, and continental arcs, they may also be found near hot springs and in shallow marine environments. The formation of an epithermal deposit is triggered when groundwater comes into contact with molten rock.
This dissolves both silicate minerals and metals, eventually leading to the formation of ore veins as the water cools and settles into cracks and faults. Although most commonly found in sedimentary and igneous rock, an epithermal deposit may occur in any kind of rock. In the present day, open-cut pit mining is the most common production method for epithermal gold.
Because epithermal deposits tend to be young in comparison to other geographic formations, they are relatively uncommon in Australia. They are primarily found in the Siluro-Ordovician Macquarie Arc in New South Wales. Other noteworthy epithermal deposits include Drummond Basin in northeast Queensland and Connors-Auburn in Eastern Australia.
Like porphyry deposits, epithermal deposits are a type of lode deposit, meaning they occur between layers of bedrock.
Epithermal deposits are classified based on sulfide content. Low-sulfide ores typically occur closer to the surface. Intermediate- and high-sulfide deposits tend to form at greater depths and are likely to contain pyrite, silver, and enargite, alongside gold. Higher-sulfide deposits are typically also porphyry.
Volcanogenic massive sulfide (VMS)
VMS deposits are formed out of volcanic or sedimentary rock on the ocean floor and are the result of tectonic activity. As the earth's crust shifts, cracks, and softens, magma begins to seep towards the surface. This simultaneously draws in seawater, which becomes superheated and dissolves minerals within the magma in a process similar to the formation of porphyry deposits.
Hydrothermal vents then expel the now mineral-rich slurry back into the ocean, eventually leading to the formation of a mineral deposit which may rise to the surface — usually as a result of volcanic activity. In Australia, these mineral systems represent the country's largest source of zinc, lead and silver. Noteworthy VMS deposits include Broken Hill in New South Wales and Carrington in Queensland, the latter of which is the world's largest producer of silver.
Although it is not their primary resource, VMS deposits also produce significant amounts of gold. Mount Read, located in Western Tasmania, is known to contain extensive VMS deposits rich in copper, silver and gold. The mountain is itself part of the Mount Read volcanic belt, a highly complex geographical formation consisting of multiple mineralization zones.
This belt is also the site of the Henty Gold Mine, owned by Catalyst Metals (ASX:CYL), and is currently the only producing gold mine in Tasmania. It began production as an underground gold and silver mine in 1996, and has since produced a total of 1.4 million ounces of gold at an average grade of 8.9 g/t.
There is also a large volume of smaller VMS deposits scattered throughout the country.
Orogenic and alluvial
The formation of an orogenic deposit is very similar to that of a porphyry deposit — such that the two often occur in close relation to one another. They're formed by the introduction of hydrothermal fluids such as water into active faults or shear zones. Orogenic gold deposits, which may also be known as mesothermal deposits, are notable for their large vertical quartz formations.
Unlike many quartz veins, these formations typically contain a great deal of high-grade metallic gold, which can be readily extracted.
Geologists suspect that they are the result of the splintering and/or formation of ancient supercontinents. Orogenic deposits are also noteworthy for frequently occurring near alluvial deposits. Formed through the movement of water through their original source alluvial deposits may appear in streambeds, riverbeds or glaciers, and range in age from several years old to several billion years old.
Alluvial deposits typically represent only a fraction of their source deposit — meaning their presence often indicates a resource-rich orogenic formation nearby. They are also incredibly high grade. Together with orogenic deposits, they account for roughly 75 percent of all gold ever produced.
Australia is home to one of the largest concentrations of orogenic gold in the world, the Victorian Goldfields. A collection of deposits also known as the Victorian Golden Triangle, the goldfields are situated in Northcentral Victoria.
Many of Australia's gold mines target orogenic deposits. This includes Newmont's Tanami mine, Northern Star Resources' (ASX:NST,OTC Pink:NESRF) Kanowna Belle mine and Gold Fields' (NYSE:GFI) St. Ives mine. These sites typically leverage quartz reef mining, a type of underground mining that specifically targets gold-rich quartz veins.
The Victorian Goldfields is also one of the hottest regions in the world for exploration and discovery. Outback Goldfields (TSXV:OZ,OTCQB:OZBKF,FWB:S600) is a highly promising company in that regard, with four key assets situated in the underexplored and highly prospective Fosterville gold district. Totaling 1,100 hectares, many of these projects are in close proximity to some of the most successful producing mines in history, such as Ballarat.
In an interview with INN, Outback Goldfields CEO Chris Donaldson said that Outback Goldfields was fortunate enough to acquire properties five years ago when mining in the Victorian goldfields began to attract renewed attention. He mentioned that the company is using monitoring techniques to "try to go below that cover and see if we can find the fluid source for that high-grade, nuggety gold."
Mining techniques in Australia
There are several noteworthy mining techniques that see common use throughout Australia.
Open pit or open cut
The majority of Australia's current gold production comes from open cut mines. Excavation equipment is first used to dig down to the gold deposit, removing earth and waste rock in the process. Excavated material and ore are then broken down into smaller and more manageable portions.
Tailings are transported away from the mine for disposal, while ores and metals are taken for processing.
Australia is well-suited for this mining technique, as much of its known gold is relatively close to the surface. Open pit and underground mining both belong to a mining class known as hard-rock mining
Placer
This is a blanket term used to refer to the mining of stream bed or glacial deposits. This may be achieved through open pit mining or surface excavations in areas where the ground is frozen. Otherwise, placer mining is typically achieved by sifting and separating mineral resources from their containing material.
At a smaller scale, this may be achieved through a gold pan, rock box or sluice box. Drywashing is another common technique, using high-pressure air for separation. Hydraulic mining is by far the most common placer mining method — and unfortunately, one with a significant environmental impact.
In hydraulic mining, water and sediment from a streambed or riverbed are first pumped into a trough, then suspended into a slurry. Mercury is then added to the mixture, binding to the gold particles to form a heavier amalgam. This amalgam then sinks into a holding container, where it's burned away to retrieve the gold.
This process not only creates incredibly hazardous fumes, but may also potentially contaminate surrounding ecosystems through tailings. Fortunately, multiple alternatives to mercury have emerged in recent years. These include spiral concentrators, vortex concentrators, centrifuges, magnets, or chemical leaching through materials such as cyanide.
Although cyanide is highly toxic, it does not persist in the environment to the same extent as mercury.
Underground
After a certain depth, open pit mining becomes infeasible. Underground mining is an alternative, digging out tunnels and mineshafts to make way for people and equipment that may then excavate the resource. This may take the form of bord-and-pillar mining, which results in a network of grids and tunnels, or longwall mining, which uses a combination of mechanical shears and hydraulics.
Another technique is known as 'drill and blast.' After drilling a hole into a gold vein, a mining machine then deposits explosives into the ore. The rubble created by the detonation is then carried back to the surface. The process is largely automated, and thus far safer for miners than traditional approaches.
Sub-level extraction makes use of drill and blast mining from the top down, causing deposits to collapse under their own weight and making it easier for operations to continue deeper underground.
Quartz reef mining
Quartz reef mining is a subset of underground mining, focused on digging out large veins of quartz in orogenic formations.
The quartz-gold mixture is next crushed into a fine powder, then mixed with water. From here, the process is quite similar to that of hydraulic mining in that a chemical reagent is applied to separate out the gold. Traditionally, this took the form of mercury-coated copper plates.
However, as with hydraulic mining, quartz reef operations have begun using less hazardous reagents such as cyanide.
Takeaway
Australia is incredibly promising for anyone looking to invest in gold exploration and production. The country has a wide range of gold deposit types, as well as one of the largest concentrations of orogenic gold in the world, the Victorian Goldfields. With the second gold rush in the Victorian Goldfields currently happening, investors could benefit from exploration companies that are already in the preliminary stages of exploration and development.
This INNSpired article was written as part of an advertising campaign for a company that is no longer a client of INN. This INNSpired article provides information which was sourced by INN, written according to INN's editorial standards, in order to help investors learn more about the company. The company's campaign fees paid for INN to create and update this INNSpired article. INN does not provide investment advice and the information on this profile should not be considered a recommendation to buy or sell any security. INN does not endorse or recommend the business, products, services or securities of any company profiled. If your company would benefit from being associated with INN's trusted news and education for investors, please contact us.
OZ:CC
Investing News Network websites or approved third-party tools use cookies. Please refer to the cookie policy for collected data, privacy and GDPR compliance. By continuing to browse the site, you agree to our use of cookies.