Overview
As the world continues its transition away from many carbon-based forms of energy, so too does the urgency arise for sustainable sources for the critical components of green technology – primarily copper and nickel. The global energy transition is a massive, coordinated effort that has grown significantly over the last several years. Mandates from governments, corporations, financial institutions and portfolio companies worldwide have not been shy to demonstrate their desire to invest in a greener world.
However, with increased demand for both metals, the world faces significant supply deficits — making major copper and nickel projects among the world's most strategic mineral deposits.
Nova Royalty (TSXV:NOVR, OTCQB:NOVRF) is the only royalty company focused solely on copper and nickel. Through its royalty model, Nova offers investors direct exposure to not only copper and nickel, but is also an essential investment in the future of greener energy.
Nova has a portfolio of tier one, long-lived royalties on the next generation of the world's tier one copper projects, with select exposure to strategic nickel deposits. Nova's royalty portfolio is built on highly-strategic deposits in prolific jurisdictions, owned by some of the world's leading mining companies who have established track records of success in building and operating mines.
Nova currently has 21 royalties: one producing royalty, seven development-stage royalties and 13 exploration-stage royalties.
As a royalty company, Nova has substantially reduced overall risk with a global portfolio of high-quality assets. Additionally, the royalty model offers direct exposure and optionality to commodity price appreciation and production increases, while protecting investors from direct operating and exploration costs typically associated with a traditional mining business.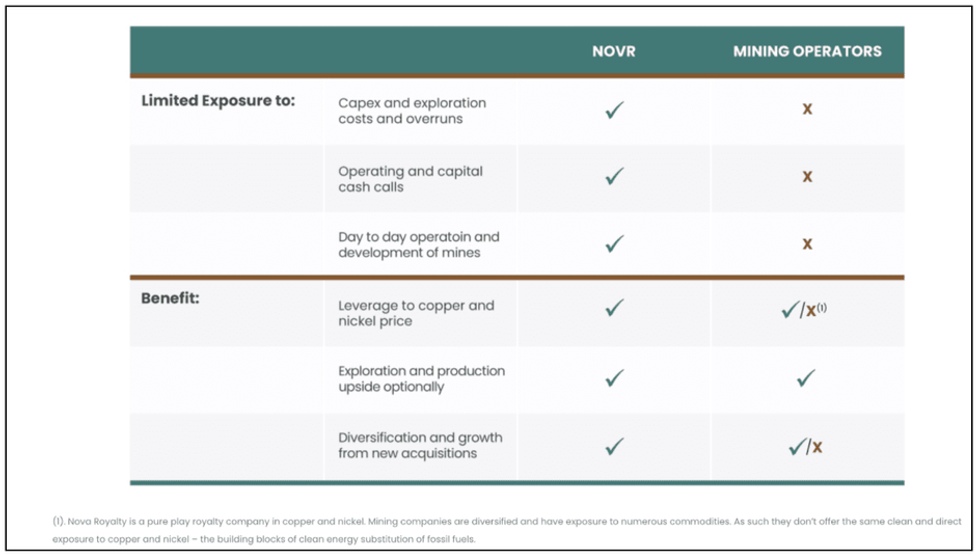 Nova Royalty has acquired royalties on proven projects that have major mining companies leading development and exploration. These operators, and their accompanying assets, include First Quantum (TSX:FM) Taca Taca, Teck Resources' (TSX:TECK.A,NYSE:TECK) and Hudbay's (TSX:HBY,NYSE:HBM) Copper World and Rosemont, Newmont's (TSX:NGT) NuevaUnion, Aura Minerals' (TSX:ORA) Aranzazu, Antofagasta's (LSE:ANTO) Twin Metals, Waterton Global's Dumont and Rio Tinto's (ASX:RIO) Janice Lake. With several other exploration assets, Nova Royalty is well-prepared for adding new, near-term cash flow generating royalties to its roster.
Company Highlights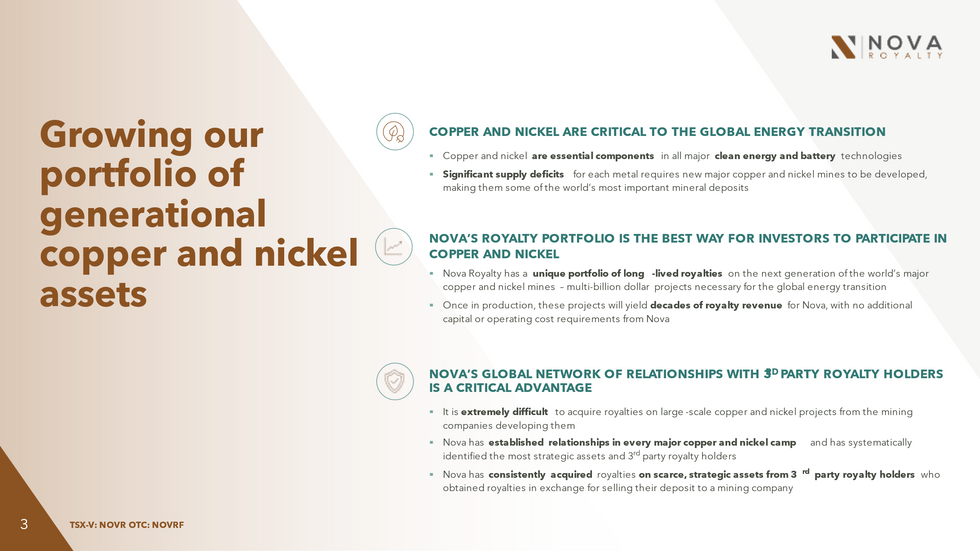 Nova Royalty is a royalty company focused on leveraging the transition to green energy with a direct investment in valuable copper and nickel assets, the building blocks for the energy transition.
The company has an international portfolio of production, development and exploration projects spanning strategic jurisdictions in Chile, Argentina, Mexico, Canada and the US. The region that hosts the Dumont mining project in Quebec has the world's largest emerging reserves of nickel.
As a royalty company, Nova is exposed purely to revenues and is protected from any direct operating, carrying, exploration or development costs. It offers optionality on copper/nickel price appreciation, production expansion and reserve increases without any additional capital or operating costs.
Strategic operators in Nova's portfolio include First Quantum, Teck, Hudbay, Newmont, Antofagasta and Rio Tinto. The company also has several other exploration royalties.
Key Projects
Taca Taca Copper-Gold-Molybdenum Project
This key development project is owned by First Quantum Minerals, one of the world's leading copper producers. This major copper company has helped energize its Taca Taca mining property in Salta province, Argentina and recently said that it is First Quantum's next development priority. The proven and probable reserves currently measure 1.758 billion tonnes at 0.44 percent copper, 0.012 percent molybdenum and 0.09 g/t gold. As exploration continues, there is significant promise for the property for discovering more high-grade base metals.
In November 2020, First Quantum reported a maiden reserve for the property of 7.7 million tonnes of copper. The update guided to a production decision between 2023 and 2024 and an initial expected mine life of 32 years with maximum annual production of 275,000 tonnes of copper.
Nova currently holds 0.24 percent net smelter return (NSR) on Taca Taca over the entire mining plan of the property and recently announced an acquisition of an additional 0.18 percent NSR.
NuevaUnion Copper-Gold Project
The NuevaUnion copper-gold development project in Chile focuses on the highly prospective copper and gold La Fortuna deposit. In a 50/50 joint venture between operators Teck Resources and Newmont, exploration and development are currently underway of proven and probable reserves. These reserves are calculated at approximately 682 million tonnes at 0.51 percent copper and 0.47g/t gold.
In February 2020, Teck and Newmont announced a US$152 million planned drilling program that would focus on deep extensions of the deposit. The Teck Annual Information Form revealed reserve increases from 557 million tonnes at 0.53 percent copper and 0.48 g/t gold, to 682 million tonnes at 0.51 percent copper and 0.47 g/t gold in the same month. This extension is an exciting step for the company and showcases the rapid growth in potential discoveries and yield.
Nova has a 2.0 percent NSR covering all copper royalty revenue from the project's Cantarito block, which comprises approximately 20 percent of the La Fortuna project. Given the deposit's current size and aggressive growth, it is a natural property to bring into production during the upcoming copper cycle. Both Teck and Newmont have the project highly ranked in their development pipelines.
Aranzazu Copper-Gold-Silver Project
The Aranzazu project is an operating mine located in Zacatecas, Mexico. It is owned and operated by Aura Minerals. Aranzazu provides cash flow and upside potential in a top mining jurisdiction.
According to public filings, proven and probable mineral reserves are 6,274 kilotonnes at 1.36 percent copper, 1.02 g/t gold and 18.41 g/t silver, while measured and indicated mineral resources are 12,027 kilotonnes at 1.4 percent copper, 1.12 g/t gold and 20.31 g/t silver.
In Q3 2021 and Q4 2021, Aranzazu delivered record production in each successive quarter of 11.4 Mlbs of copper equivalent and 13.3 Mlbs copper equivalent, respectively.
Nova has a 1.0 percent NSR covering approximately 1,440 hectares, which includes the location of the existing underground mine and the entire mineral resource and reserve estimates.
Copper World and Rosemont Projects
Nova acquired a royalty on Hudbay Minerals' Copper World and Rosemont development projects in early 2022. These projects are located in Arizona in one of the largest, most strategic copper districts in the US.
According to public filings from Hudbay, Rosemont has proven and probable mineral reserves of 537.1 megatonnes at 0.45 percent copper, 120 g/t molybdenum and 4.48 g/t gold. The initial mineral resource for Copper World is 272 megatonnes at 0.36 percent copper indicated and 142 megatonnes at 0.36 percent copper inferred. In 2021, Hudbay increased the Copper World drill program from 70,000 to 200,000 ft. A preliminary economic assessment (PEA) is expected for Copper World in the first half of 2022 and a preliminary feasibility study (PFS) is expected in the second half of 2022.
Nova has a 0.135 percent net smelter royalty (NSR) on both projects, with a right of first refusal (ROFR) for an additional 0.540 percent NSR.
Dumont Nickel-Cobalt Project
Operating out of the Abitibi mining camp in Quebec, Canada, this is a fully permitted, construction-ready project, which hosts the world's second largest nickel reserve at 2.8 million tonnes. In a feasibility study released during 2019, findings highlighted the project's large scale, low cost and potentially long life. Nickel production in concentrate rose from 33,000 per annum in Phase One, the first five years, to 50,000 tonnes per annum in Phase Two, a period of 25 years.
Nova currently holds a 2.0 percent NSR on approximately 21 percent of the deposit.
Twin Metals Copper-Nickel-Platinum Group Metals Project
The Twin Metals nickel and copper project is currently developing base metal and platinum deposits on a highly prospective property located in Minnesota, US. This historically mined jurisdiction's iron ore and taconite mining have been vital to the US economy since the 1800s. The Duluth Complex, where Twin Metals is located, hosts 95 percent of all US nickel reserves and 34 percent of all copper reserves. In collaboration with operator Antofagasta, the project is currently developing property resources measuring at 1.293 billion tonnes at 0.57 percent copper and 0.18 percent nickel.
Nova currently holds a 2.4 percent NSR on contained copper and nickel metal on a portion of the project that comprises approximately 18 percent of the highly prospective resource. This royalty is payable at one third of the gross value of copper and nickel.
Janice Lake Copper-Silver Project
The Janice Lake property is 55 kilometers southeast of Key Lake, Saskatchewan, and encompasses a 52-kilometer-long district of the Wollaston Copperbelt. With over 20 known occurrences of copper on the property, and a safe jurisdiction, the Janice Lake project is strategically positioned for systematic exploration and a potentially significant yield.
Nova owns a 1.0 percent NSR on the Rio Tinto (ASX:RIO) owned property with buyback currently set at 0.375 percent for C$750,000. In September 2020, Rio Tinto announced the completion of its summer programming, which included drilling, substantial mapping and the construction of an 80-person camp.
Other Exploration Royalties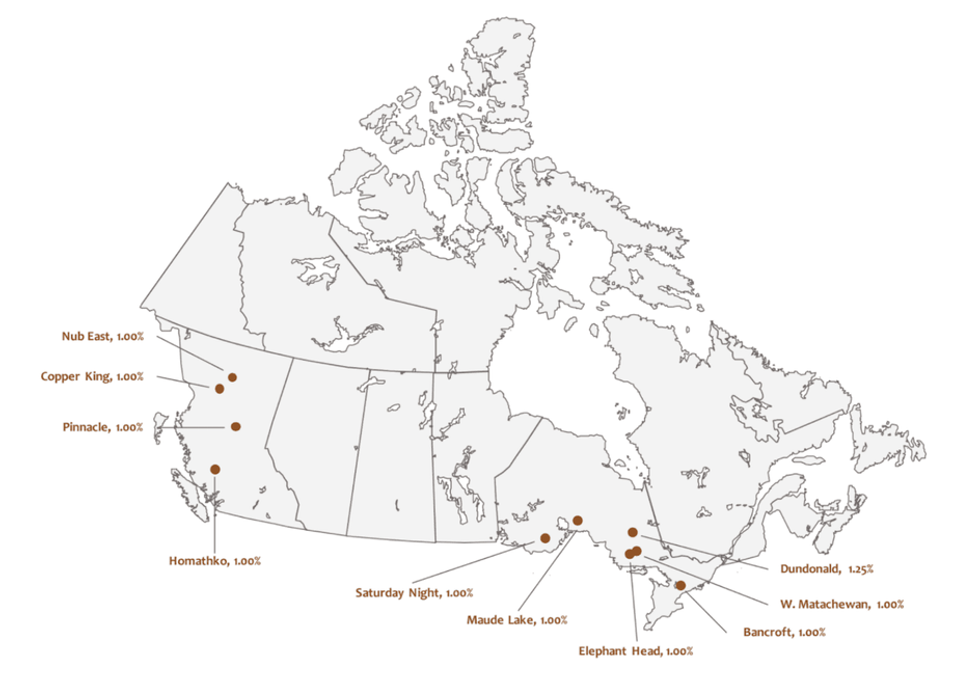 Nub East (British Columbia): 1.00 percent NSR
Copper King (British Columbia): 1.00 percent NSR
Pinnacle (British Columbia): 1.00 percent NSR
Homathko (British Columbia): 1.00 percent NSR
Dundonald (Ontario): 1.25 percent NSR
Saturday Night (Ontario): 1.00 percent NSR
West Matachewan (Ontario): 1.00 percent NSR
Maude Lake (Ontario): 1.00 percent NSR
Elephant Head (Ontario): 1.00 percent NSR
Bancroft (Ontario): 1.00 percent NSR
Management Team
Alex Tsukernik - President & CEO, Director
Alex Tsukernik co-founded Nova Royalty in 2018. He has over 15 years of experience in metals and mining finance as an executive, investor and corporate adviser. Before Nova Royalty, he spent more than seven years as an independent principal of his own merchant banking and advisory firm, Syntella Partners. In this capacity, he focused on creating value-added investment opportunities in the mining space. Before becoming an independent principal, Tsukernik co-founded the Metals and Mining investment banking group at Rodman & Renshaw. He was director and head of metals and mining and involved with over US$2 billion of completed mergers, acquisitions and capital raising transactions. Tsukernik holds a bachelor's of arts in math and economics from Cornell University and an MBA from Columbia Business School. Tsukernik is also a CFA Charterholder.
Brett Heath - Non-Executive Chairman
Brett Heath has a comprehensive career in the structured finance, corporate finance and investment management industry. He is the founder, president and CEO of Metalla Royalty & Streaming (NYSE: MTA). He was previously the chairman and CEO of High Stream before Metalla acquired it in August 2016. High Stream was a specialty streaming and royalty consulting company where Heath worked with First Mining Finance, and several other private equity funds, advising and brokering metal streaming transactions. Before that, he was the president of a private streaming company at which he deployed C$11 million in four producing streaming transactions across three separate jurisdictions. He has held a position as the founding principal of KSIR Capital Management, a hedge fund focused on small and micro-cap mining companies. Heath also advised several mining companies in his working capacity with the corporate finance division of KSIR Capital.
Parviz Farsangi - Chief Technical Advisor
Parviz Farsangi has over 30 years of mining industry experience. He was formerly executive vice president and chief operating officer of Vale from 2007 to 2009 and was with Falconbridge from 1987 to 2007 in roles that included general manager of Sudbury Mines. More recently, he held the positions of president, CEO and director of Scorpio Mining.
Farsangi holds a bachelor's of engineering in mining from Laurentian University, a master's in engineering in rock mechanics and a doctorate in mining engineering from McGill University and an executive master's of business administration from Queen's University. He has served on several mining association boards and is a director of several TSX-listed companies.
Bill Tsang - Chief Financial Officer
Bill Tsang is a chartered professional accountant with a bachelor's of commerce from the University of British Columbia. Tsang has over 10 years of financial accounting and auditing experience in the mineral exploration and mining industry. He has worked in public practice, providing professional services and advice to publicly traded companies on the NYSE, TSXV and OTC markets, on various public reporting services. He also served as the chief financial officer of several companies listed on the TSXV and OTC markets.
Brian Ferrey - Vice President of Corporate Development & Strategy
Brian Ferrey has been involved with the company in an advisory capacity since 2018. He brings a broad network and significant experience across capital markets and mining finance. Ferrey has been involved with over C$2 billion in mining royalty and streaming transactions.
Prior to joining Nova, Ferrey was a director in CIBC Capital Markets Investment Banking in Vancouver, where he specialized in the metals and mining sector. Prior to this, he held positions at Denham Capital Management, focusing on mining investments in North and South America. Ferry previously worked at UBS Securities Canada, where he worked concurrently with Equity Capital Markets and Global Mining Investment Banking. Ferrey holds an honours business administration degree from the Ivey Business School at Western University, where he graduated an Ivey Scholar.
Greg DiTomaso - Vice President, Investor Relations
Greg DiTomaso has over 14 years of investor relations and strategic communications experience, predominantly in the mining and energy sectors. Over the course of his career, DiTomaso has advised and supported the senior management teams of over 30 publicly-traded companies regarding investor relations, transaction communications and strategic communications efforts. Prior to joining Nova Royalty, he was senior director of capital markets at NATIONAL Public Relations, and served as director, investor relations for TSX-listed precious metals producer Mandalay Resources. DiTomaso holds honours bachelor's of administration and master's of administration degrees from the University of Toronto, and a master's of business administration from the University of Toronto's Rotman School of Management.
Denis Silva - Non-Executive Director
Denis Silva is a corporate and securities partner at law firm Gowling WLG in Vancouver. He has 11 years of experience in corporate, securities, mining and regulatory legal experience. He has acted for various companies listed on Canadian and US exchanges, focusing on mining. Silva holds a bachelor's of administration from the University of British Columbia, a master's of public administration from Queen's University and a bachelor's of law from the University of Windsor.
Andrew Greville - Non-Executive Director
Since 2014, Andrew Greville has been the principal of his own consulting firm, West End Mining & Consulting. From 2005 to 2013, Greville held multiple roles at Xstrata Copper, including executive general manager and business development and strategy. In this capacity he was responsible for all merger and acquisition activity and coordination of strategic planning. From 2000 to 2005, Greville was vice president of Ores & Concentrates for Pechiney World Trade, now Rio Tinto. From 1996 to 1999, he was vice president, commercial for BHP Copper North America with commercial responsibility for BHP's North American operations.
E.B. Tucker - Non-Executive Director
E.B Tucker is director of Midas Capital Partners, a capital markets consultancy firm. He previously held positions including senior analyst and editor of several widely followed financial newsletters, before creating his own. Tucker wrote The Casey Report on behalf of Doug Casey, The Bill Bonner Letter and Stansberry's Investment Advisory. He is the author of "Why Gold? Why Now?", which details the wealth-creating power of mineral royalties. Tucker was a founding partner of KSIR Capital Management, an asset management firm focused on precious metal equities, and KSIR Capital, a corporate finance advisory firm focused on the precious metal industry. Tucker holds a bachelor's of science in business administration, with an area of study in finance, from the College of Charleston in South Carolina.
Johanna Fipke - Independent Director
Johanna Fipke is currently a partner at Fasken Martineau DuMoulin, one of Canada's leading law firms, and is a core member of their well-established mining group. Fipke has been recognized for her mining expertise by Lexpert, Who's Who Legal, the Best Lawyers in Canada and the Legal 500. Fipke is a founding and current director of Women in Mining BC. She holds bachelor's of law, bachelor's of commerce, and bachelor's of arts degrees, each with distinction, from the University of Alberta. Fipke was chosen as one of the top 100 Global Inspirational Women in Mining.
Strategic shareholders
Adrian Day - Asset Management
After graduating with honours from the London School of Economics, Adrian Day, native to London, spent many years as a financial investment writer. He gained a large following for his expertise in searching out unusual investment opportunities around the world. Day authored two books on the subject of global investing: "International Investment Opportunities: How and Where to Invest Overseas Successfully" and "Investing Without Borders".
Day's latest book, widely praised by readers, is "Investing in Resources: How to Profit from the Outsized Potential and Avoid the Risks". He is a recognized authority in both global and resource investing. Day is frequently interviewed by the press, both domestically and abroad.
Beedie Capital
Beedie Capital is the family office investment arm of Beedie, a prominent private industrial owner, developer, and property manager in Western Canada.
Stephens Investment Management
Stephens Investment Management is a boutique investment firm that manages a family of financial products. The core of their strategy is based on conducting fundamental research on growing companies and sectors. They are long-term investors, with a focus on value-priced growth companies.
Doug Casey
Doug Casey is a well-known author who graduated from Georgetown University before beginning a career as an author. His title credits include "Strategic Investing", "Crisis Investing: Opportunities and Profits in the Coming Great Depression" and "Right on the Money".
Peter Schiff
Peter Schiff is a prolific stockbroker based in Connecticut. He is CEO of Euro Pacific capital and a skilled broker-dealer who possesses extensive experience working with precious metal dealers.
Management, directors and advisors of Nova Royalty own approximately 20 percent of the company.
Request an Investor Kit
EXCITING upcoming projects!
IN-DEPTH reliable insights!
SUCCESSFUL growth strategies!
VALUE-BASED content!
Nova Royalty