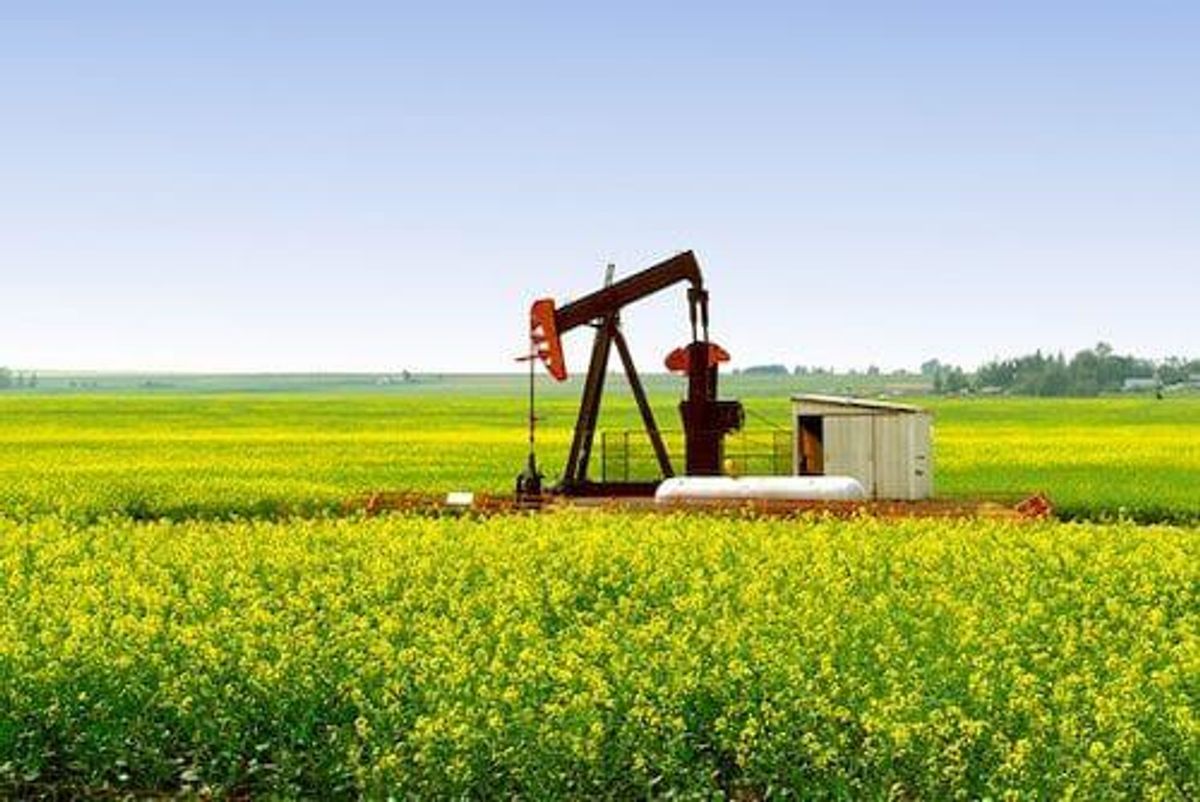 North America's oil fields represent a new economic source for battery-grade lithium thanks to advances in petrolithium extraction technology.
Petrolithium extraction technology may bring new sources of lithium to a market on the verge of explosive growth.
In 2019, the global battery market will reach $120 billion, according to Deutsche Bank, with the lithium market expected to reach $1.7 billion. The current spot price for battery grade lithium hydroxide is US$15,000 per ton while lithium carbonate fetches approximately US$11,000 per ton.
By 2025, lithium demand is expected to triple, reports Lithium Investing News, as electric vehicles (EVs) begin to dominate the global auto markets and more of the world turns to renewable energy. By 2030, annual global EV sales are projected to reach 24.4 million, according to Bloomberg, which notes that the current global mine capacity for lithium is not enough to meet the coming demand for the lithium-ion batteries needed to power these new modes of transportation.
This reality is encouraging further investment not only in new sources of the metal but also in new petrolithium extraction technologies. Through the design and development of these technologies, a few junior resource companies are looking to diversify their portfolios into battery metals and exploit the potential lithium resources located in oil and gas fields across key North American jurisdictions such as Alberta, Utah and Arkansas.
Oil field brine represents a third source of global lithium supplies
The two main sources for today's world lithium supply are hard rock and brine deposits; however, North America's numerous mineral rich oil fields may prove to be a third economic source. Pumping oil up from underground is a water-intensive process. Once separated from the oil, the water is pumped back down the well forming a saltwater brine in the oil well that can contain notable concentrations of lithium.
In North America, estimates show that for every unit of oil and gas produced, four to five units of brine are pumped, representing roughly 80 to 100 million barrels of brine each day. The brine typically contains less than one percent petroleum, but may also contain lithium, usually in low concentrations. Until recently, it was not possible to commercially extract this lithium. With the advent of new technologies at the laboratory and pilot project stage, however, the lithium can be extracted from brine and concentrated, with a view of commercial extraction. These technologies are used to separate the lithium from the brine and produce either lithium carbonate or lithium hydroxide.
"The battery metal sector, and the petroleum-lithium sector in particular, is at an inflection point," said Steven Goldman, President and CEO of Comstock Metals (TSXV:CSL, OTC:CMMMF). "We believe that the combination of technological innovation, the acquisition and development of substantial resources, and the growing demand, are at the early stages of exponential growth and will require ongoing innovation, planning and collaboration to fulfill its potential."
North America's oil fields a prime target for petrolithium extraction technology
Canada ranks number four among the world's top ten oil producing countries and owes nearly all of its oil output to the province of Alberta. The vast scale of Alberta's oil fields — more than 450,000 wells drilled over the past century — offers plenty of room to grow for the emerging petrolithium industry. According to the Alberta Geological Society, the province's Leduc and Swan Hill formations contain high grades of lithium, with historical reports of up to 140 mg/l.
As Canada's top oil and gas jurisdiction, Alberta is home to an extensive network of well-established infrastructure for resource extraction. This presents junior resource companies with the opportunity to easily access petrolithium resources from existing wells at a low-cost, reducing capital and operating expenditures.
This new energy space opportunity in Alberta's oil fields is already attracting attention from companies looking to further diversify their project portfolios. Vancouver-based Comstock Metals, which recently announced the sale of its Yukon QV gold deposit to White Gold (TSXV:WGO), has formed a joint venture partnership with Alberta-based E3 Metals (TSXV:ETMC). Comstock also owns 5 percent of its partner as well as 1 million warrants to buy another 4 percent plus stake. E3 Metals is a petrolithium extraction technology company, which holds a direct recovery lithium brine project covering about 1.3 million acres in the Leduc Reservoir. The project has a NI 43-101 compliant inferred resource of 6.7 million tons of lithium carbonate equivalent representing a small portion of the total acreage.
Comstock's partner's process flow sheet involves pumping the lithium-enriched brine from the Leduc reservoir to the surface to create a high-grade lithium concentrate using the company's proprietary ion-exchange process. The final lithium product is generated by further purification, electrolysis and crystallization. The technology has been proven to be successful at the laboratory level. The company is now building a pilot plant to refine the process into one that is both commercially viable and able to flexibly produce either lithium hydroxide or lithium carbonate depending on market needs.
"The proof of concept stage in a technology's evolution is a critical step towards third party validation and interest. This moves the technology closer to commercialization which will be key in our joint venture" said Goldman.
As the world's leading oil producer, the United States hosts a number of oil fields with the potential for economically important petrolithium resources, including Utah's Paradox Basin, and Arkansas' Smackover Formation.
The Paradox Basin in southeastern Utah is one of the largest undeveloped oil and gas fields in the US. The basin hosts the Lisbon Valley oil field which has 140 existing oil wells and a reported production of more than 51 million barrels of oil to date. According to the US Geological Survey, Lisbon Valley contains brine content that has historically recorded lithium values as high as 730 ppm.
Arkansas' Smackover Formation is one of North America's largest brine production and processing regions, with an annual output of around 9.4 billion gallons of brine primarily from the production of bromine. The thousands of wells that have been drilled in Smackover include oil and gas wells. Smackover brine is known to contain significantly elevated levels of lithium, typically ranging from 150 to 500 mg/L.
Standard Lithium (TSXV:SLL,OTCQX:STLHF,FWB:S5L.F) has partnered with global specialty chemical company LANXESS on a 150,000-acre project in the region with a goal of proving up the commercial viability of producing battery-grade lithium from the brine stream by-product of LANXESS' three existing bromine production facilities in south Arkansas. Adjacent to the project, Standard also holds an option agreement on 30,000 acres of brine leases in the Smackover region, including more than 250 historical oil and gas exploration and production wells. The company has partnered with Saltworks to develop a pilot plant based on Standard Lithium's proprietary lithium extraction technology which it plans to use to process brine from its Smackover projects.
Takeaway
Advancements in new lithium extraction technologies have the potential to make North America's mineral rich oil field brines an important source of lithium for global battery markets. The emerging industry of petrolithium extraction offers investors another early-stage entry point into the growing global demand for EVs and energy metals like lithium.
This INNSpired article was written as part of an advertising campaign for a company that is no longer a client of INN. This INNSpired article provides information which was sourced by INN, written according to INN's editorial standards, in order to help investors learn more about the company. The company's campaign fees paid for INN to create and update this INNSpired article. INN does not provide investment advice and the information on this profile should not be considered a recommendation to buy or sell any security. INN does not endorse or recommend the business, products, services or securities of any company profiled. If your company would benefit from being associated with INN's trusted news and education for investors, please contact us.
Investing News Network websites or approved third-party tools use cookies. Please refer to the  cookie policy for collected data, privacy and GDPR compliance. By continuing to browse the site, you agree to our use of cookies.