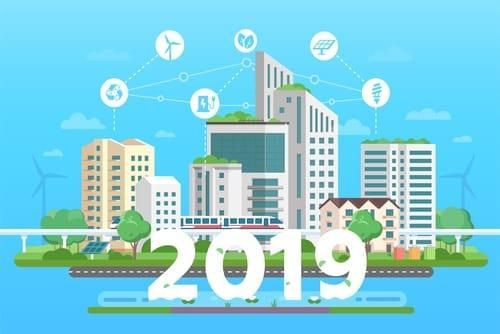 While 2018 proved to be a challenge for the cleantech sector, 2019 is set to redefine the space in both Canada and the US.
While 2018 was a challenge for cleantech with political headwinds in the US and Canada, 2019 is poised to redefine the Canadian sector thanks to upcoming provincial and federal elections.
In Canada, one of the key news stories that dominated the cleantech sector in 2018 was the Ontario election and the subsequent actions of the government. A second major news story was wind energy showing cost competitiveness.
With Canada heading towards elections in 2019 both provincially in Alberta and at the federal level, the cleantech sector could get more clarity moving forward.
Over in the US, the Environmental Protection Agency (EPA) announced the loosening of Obama-era restrictions on the amount of carbon dioxide (CO2) that can be emitted by new coal power plants. The change sets the tone for the pace of adoption of renewable energy in the country.
On that note, here the Investing News Network (INN) is looking ahead to 2019 with insights from industry analysts and companies on what to expect in the cleantech space.
Cleantech outlook 2019: Future path to be determined
In Canada, Alberta will announce the second and third round of results for its Renewable Energy Program in late December. It will see the province procure up to 700 megawatts (MW) of power.
Robert Hornung, president of the Canadian Wind Energy Association, told INN he believes that these results will further solidify wind energy's status in Canada.
Hornung sees the news demonstrating wind energy's cost competitiveness, which is crucial for the sector heading into 2019. He also explained that more certainty on future paths for the sector will emerge.
"I think in 2019 we will start to get some more clarity on what the future paths might look like in other markets," he said.
Hornung noted that neither Ontario nor Quebec are considering new procurements in the foreseeable future, even though power surpluses in these provinces will be coming to an end soon.
The Independent Electricity System Operator has projected that Ontario will face an electricity shortfall of 1,400 MW in 2023 and 3,700 MW by 2025. Quebec, meanwhile, has indicated that it will seek power procurement when its power surplus status reaches a certain threshold, which could be in 2020 or 2021.
Quebec is set to reveal further details in the next Electricity Supply Plan in 2019.
"A need for new power is emerging," Hornung said. "I think in 2019 there will a important discussion around what will those provinces be doing to meet those needs and fill those gaps."
Cleantech outlook 2019: Elections spell uncertainty
While Hornung expects new opportunities in Alberta, the timing is uncertain as the province is heading towards elections before the end of May 2019.
"If there is a change in government, we expect some review … of the policies that are currently in place with respect to renewables," he said.
As part of its Climate Leadership Plan, Alberta is set to source 30 percent of its electricity needs from renewable energy by 2030. The province procured 600 MW of power in December 2017, where the weighted average cost of winning bids was found to be 3.7 cents per kilowatt hour.
"I think we are quite confident that renewables and wind energy have demonstrated their benefit to Alberta. So we think that regardless of what government comes into power, there will be an opportunity to make the case that wind energy will have an important role to play," he said.
Meanwhile, a federal election will take place in October 2019, and Hornung noted that the federal government has a "limited role" in terms of electricity policy.
However, the crux of the battle is a climate change policy. The Conservative party and current Liberal government have different views in terms of tackling the issue.
The Canadian government is set to impose a federal carbon system on provinces that don't have their own systems to fight carbon pollution. However, Conservative leaders across Canada have united to fight the carbon tax.
In October 2018, it was announced that the provinces of Ontario, New Brunswick, Manitoba and Saskatchewan would be facing the federal system beginning in 2019.
"I think we will see … from a federal prospective what happens to climate policy," Hornung said. "It is likely that [the] climate policy will be an important issue in the election."
Hornung added that the outcome of the elections will determine the speed at which wind energy will be installed in the years ahead. "If we are serious about climate change, we need to be moving as quickly as we can," he said.
Cleantech outlook 2019: EVs in the spotlight
As noted in INN's cleantech trends article, electric vehicles (EVs) have emerged as a hot subvertical of cleantech as provinces look to reduce emissions.
In the first week of December, news hit that Volkswagen (ETR:VOW3) will stop developing internal combustion engine vehicles in 2026 as it seeks to focus on EVs. The news from Volkswagen followed General Motors' (NYSE:GM) late November announcement that it intends to shift its focus to EVs.
In a bid to "accelerate transformation," GM said that it will double its resources allocated to electric and autonomous vehicles. It will also "unallocate" production to five plants in North America.
Jerry Kroll, CEO of Electra Meccanica (NASDAQ:SOLO), told INN a November announcement from the BC government regarding a move towards zero-emission vehicles, along with the news from General Motors, adds further value to EVs.
"I would not want to be a gas car company in today's car-buying market. [General Motors] just announced the closing of at least four car plants in the US and Canada, and Ford (NYSE:F) is getting out of the gas car business like crazy," Kroll said via email. "The EV car business is where you want to be."
With Electra Meccanica recently opening a production facility, the company is set to deliver 5,000 units of its single-seater electric car, called SOLO, in 2019. Kroll believes that the delivery of its EVs, especially in Los Angeles, will be a big catalyst for the company.
"When people in the [Los Angeles] market start seeing two or three SOLOs each day, and their neighbors parking them next door, we will have a whole different level of awareness for the SOLO, and Electra Meccanica. We'll see an entirely different appreciation for our innovative vehicle," he said.
Cleantech outlook 2019: US battles Trump headwinds
In the first week of December, the EPA announced that it is revising the New Source Performance Standards, which outline how much CO2 can be emitted by coal plants.
Initially introduced under the Obama era, the revised rules from the Trump administration allow newly constructed power plants to emit 1,900 pounds of CO2 per megawatt hour as compared to 1,400 pounds per megawatt hour.
Ironically, the EPA along with 12 other federal agencies, said in a report in November that emissions from fossil fuels should be reduced and that climate change is real, with its impacts "being felt" across the country. However, US President Donald Trump said that he "doesn't believe" in climate change.
The move from the Trump administration might not completely stall the transition to renewable energy, although the pace of the transition might be slowed down in the country. Even so, major utilities across the US are making moves towards zero-carbon electricity, with Xcel Energy recently taking its first step.
The company announced that it will deliver 100 percent carbon-free electricity to its consumers by 2050. Further, the company plans to reduce emissions by 80 percent from 2005 levels by 2030.
Cleantech outlook 2019: Investor takeaway
In closing, Kroll added that investors should not look at components or resources when considering investing in the EV market.
"My advice is to not overthink the EV market by looking at cobalt, or lithium or other component or materials supplier streams," he said. "They are for sure needed to provide batteries and other components … [but] you're better off with the actual cars where brand building and innovation can make a big difference to your investment — and will result in brand loyalty and long-term growth."
Meanwhile, Hornung believes that 2019 is an "important year" for cleantech with regards to climate change policies and clarity on the future of renewables. "It's a year that has the potential to open up new opportunities for the industry," he said.
With so much promise, 2019 looks poised to redefine the cleantech sector despite political headwinds.
Don't forget to follow us @INN_Technology or real time updates!
Securities Disclosure: I, Bala Yogesh, hold no direct investment interest in any company mentioned in this article.
Editorial Disclosure: The Investing News Network does not guarantee the accuracy or thoroughness of the information reported in the interviews it conducts. The opinions expressed in these interviews do not reflect the opinions of the Investing News Network and do not constitute investment advice. All readers are encouraged to perform their own due diligence.