Top Canadian Blockchain Stocks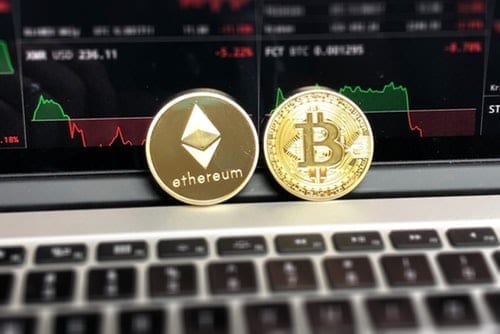 What were the top Canadian blockchain stocks of 2021? Here's a look at the top five risers and what may have moved their share prices.
Click here to read the latest top Canadian blockchain stocks article.
The blockchain industry continues to mature, and in 2021 it may see more mainstream adoption.
Prices for Bitcoin rose about 300 percent from the start of 2020 to the end of the 12 month period, closing at just over US$29,000. Heading into 2021, there is plenty of bullish sentiment — in fact, Bloomberg recently predicted an eye-popping price of US$400,000 for one bitcoin by Q4 2021.
Unsurprisingly, companies focused on blockchain technology went along for the ride in 2020, enjoying share price momentum in the last several months of the year, when Bitcoin prices were rocketing higher. Into the first quarter of 2021, blockchain technology companies with a strong cryptocurrency focus are still dominating in terms of gains seen in the sector.
Here's a look at the five top Canadian blockchain stocks by performance so far in 2021. All figures were obtained using TradingView's stock screener on April 12, 2021; all companies listed had market caps of at least C$10 million at that time and were trading on either the CSE or TSXV; TSX-listed stocks were considered, but did not make the list.
1. TechX Technologies (CSE:TECX)
Year-to-date gain: 1,077.14 percent; current share price: C$1.02
TechX Technologies focuses on emerging technologies in the cryptocurrency, blockchain, artificial intelligence, Internet of Things and cloud-based technology sectors. The company provides a variety of services to customers in Canada, such as security analysis, contract distribution, token contracts, analytics, secure wallets, integration and consulting.
TechX announced in early April that its subsidiary Catalyx Exchange is aiming to list its Canadian stablecoin CADX on the Bittrex Global Exchange. One of the world's 10 top cryptocurrency exchanges in terms of liquidity, Bittrex is highly popular because it provides the widest selection of cryptocurrencies. Expected to come online the week of May 10, CADX is set to become the first Canadian dollar-backed stablecoin to be listed on a top global crypto exchange.
The news rocketed TechX's share price to its highest point of the year so far, coming in at C$1.48 on April 7. For much of 2020, the company's stock had traded below C$0.10.
2. Voyager Digital (CSE:VYGR)
Year-to-date gain: 578 percent; current share price: C$33.74
Voyager Digital is a holding company whose subsidiaries operate a licensed crypto asset platform that provides investors with a commission-free solution to investing in and trading crypto assets.
The company's March 2021 metrics reveal that it had US$2.4 billion in assets under management at the time. "March was another record-setting month for Voyager as our retail-focused, zero-commission platform continued to attract an active community for both Bitcoin and our industry leading offering of over 50 altcoins," said Stephen Ehrlich, co-founder and CEO of Voyager. "All of our significant revenue-driving metrics increased in excess of 35% during the month of March from the previous month."
The news gave Voyager Digital's share price a boost to its highest point for the year so far: C$37.96 on April 6. Not bad for a company that started the year as a C$4 stock.
3. Intellabridge Tech (CSE:INTL)
Year-to-date gain: 577.42 percent; current share price: C$1.04
Intellabridge Tech develops blockchain applications for mobile and web platforms, and provides consulting services across a variety of sectors, including identity management, electoral systems, supply chain management and telecommunications.
The company launched the Alpha version of its Kash app in March. Kash is a decentralized mobile banking app that delivers secure financial blockchain products for savings, checking and investment applications. Intellabridge shares reached their highest point for this year on April 5, trading at C$1.12.
4. iMining Blockchain Cryptocurrecy (TSXV:IMIN)
Year-to-date gain: 515.38 percent; current share price: C$0.38
iMining Blockchain Cryptocurrency is a blockchain and cryptocurrency-mining company that in addition to mining cryptocurrencies also provides infrastructure and energy to its colocation clients.
iMining acquired CanETH Staking Services in March, making CanETH a wholly owned subsidiary of the company. CanETH offers its clients a simplified staking solution for Ethereum 2.0. "CanETH's proprietary secured, reliable, and scalable staking process is a major asset to iMining's existing services, and will give our organization a significant edge in the crypto sector," said iMining CEO Robert Eadie.
The highest point for iMining so far in 2021 was C$0.86 on March 12.
5. CurrencyWorks (TSXV:CWRK)
Year-to-date gain: 483.33 percent; current share price: C$3.12
CurrencyWorks is a financial technology blockchain company that designs platforms for digital currencies, assets and security tokens. The company provides services for companies to develop and integrate blockchain and digital currency technologies into their operations.
CurrencyWorks announced in mid-March that it will expand its existing non-fungible token platform to accept Bitcoin and Ethereum as payment methods. In late March, the company signed a partnership with Liquid Media to create a multi-token intellectual property platform that "will serve the evolving needs of film, entertainment, and gaming industry professionals, and capture opportunities to conceptualize and create content once, then monetize it in perpetuity."
The highest point for CurrencyWorks' share price year-to-date was C$4.64 on March 22.
Don't forget to follow us @INN_Technology for real-time news updates!
Securities Disclosure: I, Melissa Pistilli, hold no direct investment interest in any company mentioned in this article.