Weekly Round-Up: Commodities Shrug Off Spain Bailout
The Eurozone group's deal to bail out Spanish banks did little to stop profit-taking among commodities investors. Markets have been rattled by mixed US economic data as well as China's push to keep a lid on the housing market which would cap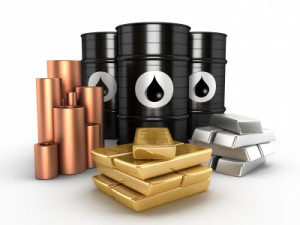 Profit-taking has taken a bite out of commodities' recent gains, with base metals as well as energy prices ending the weak lower. Patchiness in US economic recovery has been weighing down bullish sentiment, while investors brushed aside the Eurozone's approval to bail out Spain.
European finance ministers approved a package on Friday to provide up to 100 billion euros to Spain to help its banking sector, which will be disbursed by the end of next year. The deal did little to comfort commodities investors who continue to fret about the broader, longer-term challenges facing the Eurozone to reach financial stability.
In the United States this week, the slowdown in existing home sales offset market expectations for a strong recovery in the housing sector. Earlier in the week, the US Department of Commerce reported June's housing starts rose to its highest level in nearly four years, gaining 6.9 percent to 760,000 units. Later on, however, the National Association of Realtors reported that existing home sales slumped 5.4 percent in June to 4.37 million units. US manufacturing also showed signs of slowdown, as the Federal Reserve Bank of Philadelphia reported its manufacturing index continued to contract for the third consecutive month at minus 12.9. The number, however, was better than the minus 16.6 posted the previous month.
Beijing's push to keep a lid on the housing market has also put a damper on commodities demand, with state news agency Xinhua reporting bureaucrats have been instructed to keep supply tight. "Local authorities must strictly implement the property-control policies. They should not relax the control and relevant requirements unauthorized," Xinhua quoted an "urgent government notice." China accounts for over 40 percent of the global copper market, and is a major consumer of energy as well as other commodities due in part to its robust construction sector.
In early morning trade Friday, Brent crude is down 1.2 percent at $106.54 a barrel, while copper is 2.3 percent lower at $3.45 a pound, and gold is down 0.3 percent at $1,576.40 an ounce.
Oil and Gas
Oilfield services giant Schlumberger (NYSE:SLB) reported second quarter net profit rising 5 percent from the same period a year ago to $1.40 billion, or $1.05 a share, while revenue rose 16 percent to $10.45 billion. Oil drilling rose despite oil prices falling 8.8 percent on year to average $93.35 a barrel, with the number of oil rigs rising 6.6 percent to 3,372.
China Petroleum & Chemical (NYSE:SNP) reported crude output rising 4.3 percent during the first half of 2012 to 163.09 million barrels. Better known as Sinopec, the Chinese oil giant reported overseas production surging 82 percent to 11.13 million barrels due largely to a resumption in output in Angola.
Meanwhile, Chevron (NYSE:CVX) is facing the wrath of the Brazilian government as the National Petroleum Agency reported this week that the company could have prevented last year's offshore oil leak which is now believed to be larger than once expected. A full report by the government agency will be released later Friday. Separately, General Electric won a $600 million contract from Chevron to maintain compressors as well as other equipment for the energy group's Gorgon natural gas project in Australia.
Georox Resources (TSXV:GXR) reported that the initial earning well on its Coteau Lake prospect in Saskatchewan has been completed. The well's production rate is expected to be around 140 barrels of oil per day initially and increase with time.
Houston-based Enhanced Oil Resources (TSXV:EOR) reported oil production for June averaging 360 barrels of oil per day, down 15 barrels from the previous month. The lower output was due to its Crossroads 102 well remaining offline for the month, and it will "return to production in due course," the company stated.
Copper
Copper cable and wire production in Japan rose 1.0 percent from a year ago in June to 57,300 metric tons as the country rebuilds from the record-breaking earthquake and tsunami in March 2011, according to the Electric Wire and Cable Makers' Association. Output for the full year is expected to reach 695,000 metric tons.
Anglo American (LSE:AAL) reported second quarter copper production rising 7 percent from a year ago to 161,100 metric tons on the back of higher output at its six Chilean mines, most notably Los Bronces. Copper output for the first six months of the year rose 14 percent from the same period last year to 329,500 metric tons.
As for First Quantum Minerals (LSE:FQM), it was named as a top pick by Jefferies Group. Meanwhile, Dundee Securities' David Charles stated that the company could potentially triple its copper production capacity over the next five to six years.
Vancouver-based VMS Ventures (TSXV:VMS) reported that 84 percent of the grouting at its Reed project in Manitoba is complete and should be completed within the next week. The company expects trenching of the portal area to begin later this month. VMS has a 30 percent stake in the Reed project, while 70 percent of shares are held by Hudbay Minerals (NYSE:HBM).
As for Kombat Copper (TSXV:KBT), it has completed the necessary corporate restructuring to formalize ownership of its copper project in northern Namibia, which the company acquired in April. Kombat expects to restart production at the Kombat mine by the fourth quarter of 2013.
Gold
Newmont Mining (NYSE:NEM) has been blamed for the death of a worker at its gold mine in northeast Nevada by the US Mine Safety and Health Administration. The worker died from inhaling toxic vapors while fixing a tire on a mining dump truck. The agency's report also cited Purcell Tire & Rubber for using tires with toxic chemicals.
Speculation is growing among investors that Canada's third largest gold producer Kinross Gold (TSX:K) may be taken over by Barrick Gold (NYSE:ABX). Such talk has been on the rise since the company was forced to write down $2.78 billion for its Tasiast gold mine in Mauritania in January.
QMX Gold (OTCQX:AXSMD) reported producing 5,300 ounces of gold at its Lac Herbin mine in Quebec. For the full year, the company expects to be on track to produce 18,000 to 20,000 ounces of gold, having produced 10,800 ounces of gold to date this year.
Rackla Metals (TSXV:RAK) has granted incentive stock options to its executives and employees to purchase up to 1.32 million shares exercisable for 10 years at a price of 15 cents a share.
Meanwhile, Tanzania-focused Tembo Gold (OTCQX:TBGPF) began trading on the OTCQX International market this week.
Securities Disclosure: I, Shihoko Goto, hold no direct investment interest in any company mentioned in this article.