Weekly Round-Up: Fiscal Cliff Handcuffs Commodities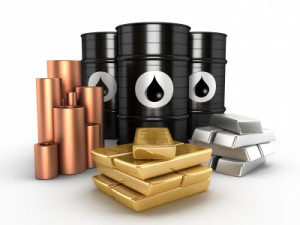 Commodities are ending the week lower as talks to resolve the fiscal cliff in the US remain stalled. An agreement must be in place before January 1, or a wave of sharp tax hikes and spending cuts will kick in. That could push the US economy back into recession.

On Thursday, Republican House Speaker John Boehner attempted to ratchet up pressure on President Obama by introducing his so-called "Plan B" in the House of Representatives. However, the vote was canceled Thursday night after Boehner failed to muster enough support to pass it from within his own party. The initiative proposed extending tax cuts enacted by former president George W. Bush for all Americans except those who make more than $1 million. Obama favors a lower threshold of $400,000.
The canceled vote all but ensures that there will be no deal before Christmas. Lawmakers are now heading home for the holiday and aren't expected back in Washington until December 27.
The failure sent stock markets lower on Friday morning, and investors anticipate that it is a setback that will move the country closer to going over the cliff.
In morning trade Friday, Brent crude is down 1.23 percent, at $108.87 a barrel, while copper is up 1.03 percent, at $3.57 a pound. Gold is up 0.64 percent, at $1,656.40 an ounce.
Gold

Turquoise Hill Resources (TSX:TRQ,NYSE:TRQ) expects to finish commissioning the ore-processing equipment at its Oyu Tolgoi mine in Mongolia during the week of December 23. Oyu Tolgoi is the world's largest undeveloped copper-gold project. Turquoise Hill owns a 66-percent stake in it; the Mongolian government owns the rest. The company's press release notes that the mine is on track to start commercial production in the first half of 2013.
African Barrick Gold (LSE:ABG) rose this week on speculation that state-owned China National Gold will soon make an offer to buy a 74-percent stake in the company from Barrick Gold (TSX:ABX). Such a move would cost China National about $2 billion, according to China Daily. African Barrick produced 688,000 ounces of gold in 2011.
Fancamp Exploration (TSXV:FNC) announced a non-brokered private placement consisting of 8.2 million flow-through units at a price of $0.165 each; that amounts to aggregate gross proceeds of $1.3 million. The offering is expected to close later this month. Fancamp will use the funds to cover exploration expenses at its properties in Quebec.
Oil and gas
Talisman Energy (TSX:TLM,NYSE:TLM) completed its previously announced joint venture agreement with Addax Petroleum UK, a wholly owned subsidiary of China Petrochemical (Sinopec Group). Under the deal, Sinopec paid Talisman $1.5 billion for 49 percent of Talisman's operations in the North Sea, which consist of interests in 46 fields. Talisman also operates 11 offshore installations and an onshore terminal.
The company will use the proceeds to strengthen its balance sheet, fund its capital program and invest in future opportunities.
Blackbird Energy (TSXV:BBI) closed its previously announced acquisition of Ruger Energy. Blackbird issued 47.1 million transaction units to pay for Ruger. Each unit consists of one common share of Blackbird and one-half of a one-share purchase warrant that is exercisable at a price of $0.24 until April 5, 2014.
Ruger is a junior exploration company with a 100-percent working interest in 680 acres in the Alsask area on the border of the Canadian provinces of Alberta and Saskatchewan. As of September 25, 2012, it held about $3.6 million worth of cash and cash equivalents.
Cabot Oil & Gas (NYSE:COG) reported that its Marcellus shale gas operations have surpassed 1 billion cubic feet of gross production per day — a new record. The increase is mostly the result of the start up of new wells and the addition of new infrastructure.
Copper
Rambler Metals and Mining (LSE:RMM,TSXV:RAB) announced that its Ming mine, located in the Canadian province of Newfoundland and Labrador, produced a total of 4,955 wet metric tons (wmt) of concentrate in the quarter ended October 31, 2012. Since the start of commissioning in May, the mine has produced 7,450 wmt. The concentrate averaged 27 percent copper, with 6 g/t gold and 49 g/t silver. Milling recovery rates were 90 percent for copper and 65 percent for gold.
The company sold 4,797 wmt of the mine's output for an average of $3.49 per pound of copper, $1,668 per ounce of gold and $31.16 per ounce of silver, which put Rambler's total revenue at $9.5 million for the quarter. The company lost $718,000, or $0.005 per share, compared to a loss of $845,000, or $0.007 a share, a year earlier.
Gold Reach Resources (TSXV:GRV) announced assay results for its 100-percent-owned Ootsa property near Smithers, British Columbia. Highlights include hole S12-133, which intersected 262 meters grading 0.65-percent copper equivalent, including 130 meters of 0.75-percent copper equivalent. Hole S12-136 intersected 354 meters of 0.58-percent copper equivalent, including 146 meters of 0.81-percent copper equivalent.
Securities Disclosure: I, Chad Fraser, hold no positions in any of the companies mentioned in this article.