A review the leaders of the silver mining industry, their properties, production figures and exploration activities. These companies set the stage for the silver mining industry, and their actions dominate the future of the silver market.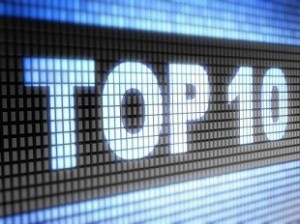 A list of the top silver producers for 2011 has yet to be released. However, based on the Silver Institute's report here is a list of the top 10 producers from 2010, along with an update of  their activities and plans, which may be  helpful in determining what the 2011 top producer list will look like.
BHP Billiton (NYSE: BHP,LSE:BLT,ASX:BHP)
Silver production: 46.6 m/oz
Market Cap: 208.94 billion
BHP Billiton is the world's largest diversified resource company, possessing an array of assets including some that produce iron, it's main profit driver. Although the company is not a primary silver producer, Cannington in Australia is the world's top silver producing mine. In 2010, this single source was credited with 38.6 million ounces of silver.
Despite strong overall results in 2011, the company's silver production figures may be below those in 2010 because BHP Billiton has been reporting a decline in silver production, attributed largely to below average ore grades at Cannington.
Silver production: 38.6 m/oz
Market Cap: 1.25 trillion
In 2010, Fresnillo held the title of world's largest primary silver producer. Though the company also mines gold over half its revenue is generated from the white metal. Its operations are based in Mexico and its largest mine, also named Fresnillo, is the world's second largest silver mine. Fresnillo mine was credited with 35.91m/oz in 2010.
The company's goal is to produce 65 m/oz of silver by 2018. But for 2011, it reported production of 41.9 m/oz, similar to 2010. 38 m/oz came from its mines and an additional 3.9 m/oz was obtained through its Silverstream Agreement. Fresnillo faced a decline in production from the Fresnillo mine due to a decline in ore grades. Further declines are expected and the company's 2012 outlook forecasts production to remain largely unchanged.
KGHM Polska Miedz S.A. (WSE:KGHM)
Silver Production: 37.3 m/oz
Market Cap: 10 billion
Though KGHM Polska Miedz is considered to be a copper miner, the company ranked third among the global silver producers. Among its mines, which are all located in Poland, is the Lubin mine. The company notes that there, the copper content is low, but the silver content is high, averaging 65 grams per ton.
Pan American Silver (NASDAQ:PAAS,TSX:PAA)
Silver Production: 24.3 m/oz
Market Cap: 2.65 billion
Though it ranks forth in production, Pan American Silver is the second largest primary silver producer. It extracts the white metal from mines in Peru, Argentina, Bolivia, and Mexico, where its flagship Alamo Dorado is located.
The company had previously announced expectations to produce 23-24 m/oz in 2011. However, due to lower silver grades and recoveries at several of its mines, including Alamo Dorado, it revised its forecasts to 22.5 m/oz. On the upside, the company also reported production gains from a number of its operations.
Silver Production: 23 m/oz
Market Cap: 36.19 billion
Though silver is a by-product for Goldcorp, they produce a lot of the white metal. Moreover, investors should keep an optimistic eye peeled for this company to move toward the top of the list of silver producers in the future.
In 2012, Goldcorp is forecasting production of 34 m/oz of silver. This is expected to be possible in large part because of its Penasquito mine in Mexico, which began commercial production in the latter part of 2010. From that site alone, the company is expecting to produce 26 m/oz of silver this year.
Silver Production: 20 m/oz
Market Cap: N/A
Volcan Compania Minera takes pride in announcing that it is the first miner to produce over 20 million ounces of silver in Peru. The above listed figure is an estimate that the Silver Institute notes as including production from minority subsidiaries. The company reported production of of 10.2 m/oz of silver concentrate for 2010.
Though Volcan Compania Minera also considers zinc and lead to be its main metals, the 2011 Q3 results, which showed that silver escalated to represent 54 percent of its sales, highlights the metal's growing importance. This is also revealed by the companies investments in projects to boost its silver production. Notable among them is the Pasco Pyrite project, which the company reported as contributing 900,000 oz to its silver production despite being in pre-operating stage.
Hochschild Mining (LSE:HOC)
Silver Production: 17.8 m/oz
Market Cap:169.04 billion
Hochschild is an underground miner of silver and gold. It owns or is part of joint ventures in Peru, Argentina, and Mexico. The company reported 2011 silver equivalent silver production of 22.6 m/oz. Of that 15 m/oz was actually silver and the remainder was gold. Hochschild has set a 2012 production target of 20 m/oz silver equivalent.
JSC Polymetal (LSE:PMTL)
Silver Production: 17.3 m/oz
Market Cap: N/A
Given that it mines both gold and silver, JSC Polymetal considers itself to be a precious metals miner and one of the top five primary silver producers. The sites from which it produces silver are located in three regions of Russia. Dukat is its spotlight mine and the company reported that silver production at the site increased 72 percent year-on-year.
JSC Polymetal reported its 2011 silver production to be 19.9 m/oz. Not only is this an increase over the previous year, but its an all time record for the company. Ready to outdo themselves once again, the company has set its 2012 production target for 21-23 m/oz, which could result in it also capturing a higher spot on the global silver production list.
Coeur d'Alene (NYSE:CDE,TSX:CDM)
Silver Production: 16.8
Market Cap: 2.38 billion
Coeur d' Alene is the largest US based primary silver producer but its operations are not confined within the borders. Its flagship mine, San Bartolome, is located in Bolivia.
The company experienced expected higher throughput at San Bartolome during 2011 Q4 to result in higher production. Coeur expressed optimism about the outcome of a record year, estimating its 2011 production to be 19.5-20.5 m/oz. At the end of the first 9 months Coeur appeared to be on a positive track, reporting a 15 percent year-on-year increase with 13.8 m/oz produced.
Silver Production: 14.4 m/oz
Market Cap: 1.36 trillion
Sumitomo is a Japanese general trading company that is involved in a wide range of businesses including transportation and construction, media, and of course mining. Its presence on the top silver producer's list stems from its San Cristobal mine in Bolivia where zinc and lead are also mined, which was reported as a leading profit driver for the company in six month period ended on September 30, 2011. To achieve its goals of increasing value, the company has announced continued improvement of recovery rates and exploration at the site as company focuses.
Securities Disclosure: I, Michelle Smith, hold equity interests in Goldcorp.
Featured
Investing News Network websites or approved third-party tools use cookies. Please refer to the cookie policy for collected data, privacy and GDPR compliance. By continuing to browse the site, you agree to our use of cookies.