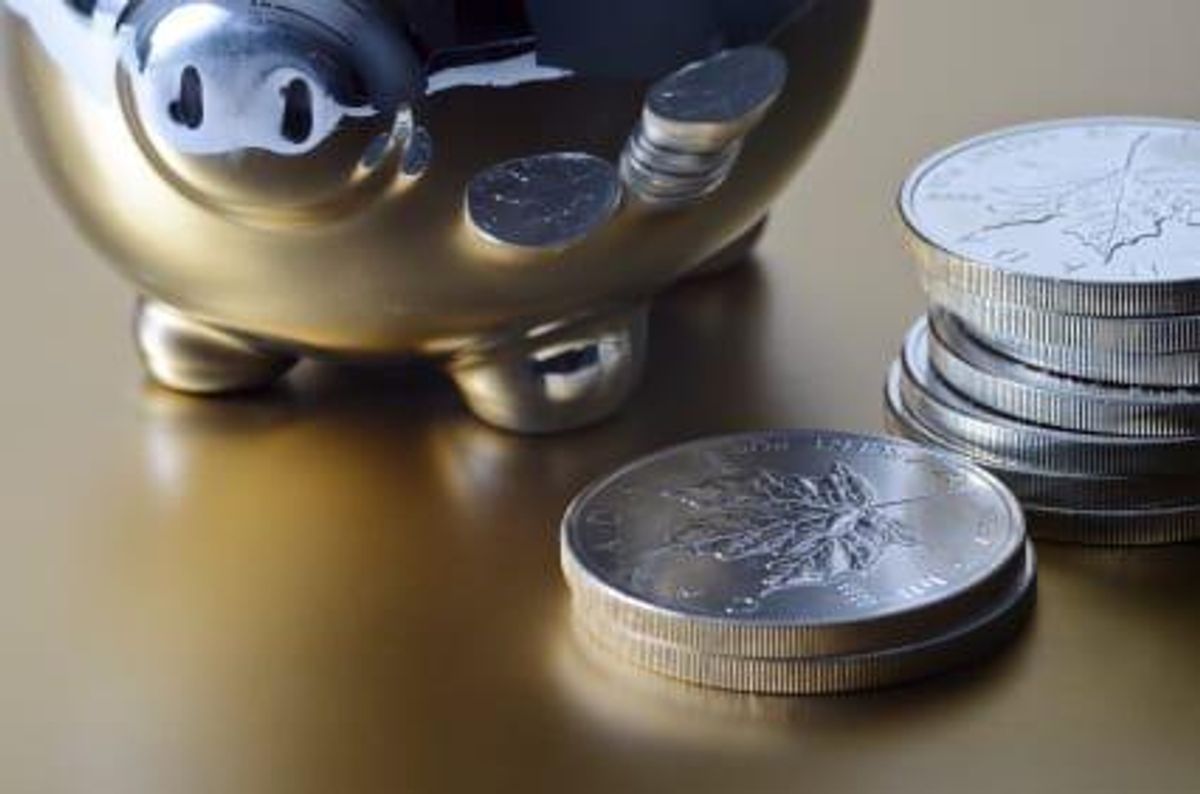 What will happen to silver prices in 2017? Analysts predict a promising year for the precious metal.
Silver prices have been surging in 2016 due to political concerns and uncertainty worldwide, including Brexit results and proposed policies from incoming US President Trump.
A weak US dollar also favored silver's price that averaged $17.32/oz until November, which was 9.9 percent higher than the same period in 2015.
Silver hit its lowest price or $13.83/oz at the beginning of the year but then steadily increased until the end of July, reaching a high of $20.28/oz.  The silver market is expected to be in physical deficit for a fourth consecutive year in 2016 with a total annual shortfall of 52.2 Moz, the GFMS Silver Institute reports.

What to watch for in 2017
Looking forward to 2017, there are key factors to look at that will affect the price of silver throughout the year. By the end of 2016 the Federal Reserve interest rate may rise for a second time in a decade, influencing the US dollar demand. Political developments worldwide, in particular Trump's implementation of policies, will have an impact on silver price as well as the forecast of a higher demand and a tight supply for the precious metal.
The Federal Reserve interest rate and the US dollar. Interest rates are forecast to go up in the US due to inflation expectations. After Trump's election, Janet Yellen, the Federal Reserve chairwoman, said that interest rates could rise "relatively soon".
Jim Paulsen, chief investment strategist at Wells Capital Management, told CNBC: "Everyone thinks the dollar's going to go higher because the Fed's going to raise rates. There have been five major rate hikes during recoveries by the Federal Reserve, and every one of them resulted in a lower dollar, not a higher dollar."
Steen Jakobsen, investment chief at Saxo Bank, also said that historically the dollar often weakens after the US Federal Reserve raises rates as investors sell the currency after buying it in anticipation of higher rates.

Political developments and concerns worldwide. Much of this year's silver price peaks had a strong correlation with political events in the world. The tight results from Brexit and the US election were the main drivers of silver prices surging. The uncertainty of Trump's upcoming presidency may also change how prices will fluctuate next year.
HSBC analysts forecast a price range of $16 to $21.50 for 2017. "Any resurgence in investor uncertainty or 'safe-haven' demand, possibly based on geopolitical concerns, will bolster silver in 2017," they said.
CEO and Chief Investment Officer of US Global Investors, Frank Holmes, recently said:"At this point we're digesting this change.The fact is that Trump is going to own the highest ever level of debt in America. And he's not afraid of borrowing.
"Inflation is going to be running with his programs if he goes through with a trade war. And then if interest rates go up too quickly and too high, the housing market basically implodes. So, the country is in a "big drama" state."
Strong demand and tight supply. A strong investor demand for silver coins and bars as well as growth for silver from the jewelry industry will increase demand in the upcoming year. But the highest demand will come from the solar industry, since the precious metal is a great conductor of both heat and electricity making it a perfect conductor for solar panels. The GTM Research and the Solar Energy Industries Association expect photovoltaic installation to triple between 2015-2020.
However, silver supply will decrease significantly due to a decline in mine production. HSBC analysts expect a decline of 872 million ounces next year from 887 million this year, with a total supply deficit of 116 million in 2016 and 132 next year.
The GFMS silver institute also estimates that mine supply peaked in 2015 and will trend lower in the next years. This decrease in total supply will be a driver of annual deficit in the silver market in the near future.
Analysts forecast
In a recent interview with Investing News Network, analyst David Morgan said he is more favorable to a longer consolidation period but that 2017 will definitely see a lift throughout the year for silver and gold prices.
He suggested that investors should diversify if they are leaning towards the precious metals, and said: "and then that portion of your portfolio, which I then recommend 10 maybe 20 percent if you are a full-fledged gold or silver bull."
Speaking about the resource sector in 2017 and after the US election, Sprott US Holdings' President and CEO, Rick Rule, said to INN: "If the resource sector that you're referring to is primarily precious metals, I think the direction is a little lower first because there's a lot of confidence in the economy, and then much higher."
Similarly, Ed Steer, former analyst at Casey Research and now author of Ed Steer's Gold and Silver Digest, said: "How well silver does for the rest of 2016 and in 2017 will depend upon the paper trading in the Commodity Futures Exchange and that is pretty much controlled by JPMorgan Chase. But I am an optimist, I am expecting the silver price to be much higher in 2017 and to be a big year for the precious metals."

Companies to watch out for
About following companies in the market he said: "I would suggest any new investor to buy the Global X Silver Miners ETF (SIL), which owns 15 to 20 companies that will keep up with the research. Instead of following single stocks, let somebody else worry about it.
"If I had to start from scratch all over again, I would buy that ETF plus a couple of other things like First Majestic Silver (TSX:FR), because I am the type of guy that buys and holds, and forgets about it."
Investor Takeaway for Silver in 2017
It seems that silver will have a promising 2017 reaching higher price peaks than this year. A rising demand from the solar industry and a lower mine production could make next year a big one for the precious metal. However, investors should keep an eye on political developments worldwide as well as interest rates, which are the main factors that can impact silver's performance in 2017.
Don't forget to follow us @INN_Resource for real-time news updates!
Securities Disclosure: I, Priscila Barrera, hold no direct investment interest in any company mentioned in this article.

Investing News Network websites or approved third-party tools use cookies. Please refer to the cookie policy for collected data, privacy and GDPR compliance. By continuing to browse the site, you agree to our use of cookies.