Platinum and Palladium Price Manipulation?
BASF Metals, Goldman Sachs, HSBC Bank USA and Standard Bank are accused of rigging platinum and palladium prices for their own benefit. The complaint suggests that the firms were able to profit substantially by colluding during daily platinum and palladium price fixings.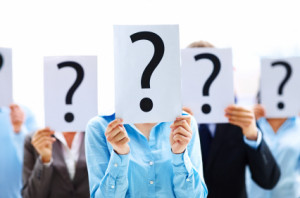 The term "price manipulation" is usually applied to the silver and gold markets, but this month it's being used elsewhere. On Tuesday, a class-action lawsuit was filed that accuses BASF Metals, Goldman Sachs (NYSE:GS), HSBC Bank USA and Standard Bank of rigging platinum and palladium prices for their own benefit.
The complaint, filed on behalf of Florida-based jewelry company Modern Settings, claims that the companies' participation in twice-a-day teleconferences used to "fix" prices for platinum and palladium "allowed them to glean information about the direction of platinum and palladium prices" ahead of the rest of the market. It also alleges that the parties used that information "to manipulate and make artificial the prices of physical platinum and palladium and platinum- and palladium-based financial products."
As a result of those actions, the firms have been able to profit substantially while other purchasers of the precious metals have been injured, according to the document. Substantiating those claims, the plaintiffs have cited expert analyses as concluding that the price movement of platinum and palladium around fixing times is "highly anomalous and suggestive of price artificiality," suggesting that something other than macroeconomic factors could be driving prices for the metals.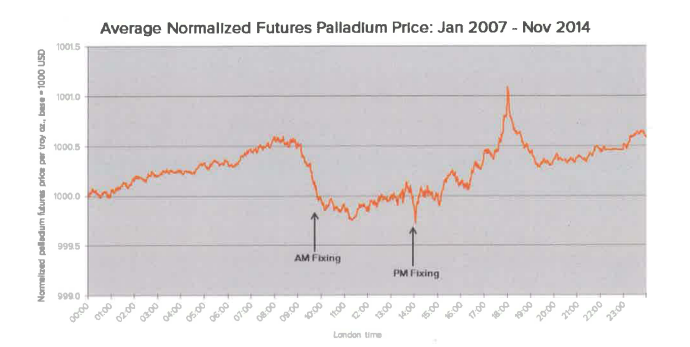 From Modern Settings vs. BASF Metals et al., US District Court, Southern District of New York, No. 14-09391.
Too little too late
To be sure, there has been increased scrutiny of precious metals benchmarks as of late. As with gold and silver, the platinum and palladium fix is set for a big overhaul — beginning December 1, the London Metal Exchange will handle price fixing for the white metals using an electronic process rather than teleconferences.
Still, the plaintiffs say those changes "have come too late" for themselves and other members of the class in the lawsuit as they have already been harmed by the actions of Goldman, BASF and others over the past several years. Accordingly, Modern Settings is claiming damages against the companies, although the complaint does not specify an amount.
Gregory Asciolla, a partner at Labaton Sucharow, the firm representing the plaintiffs, said in a statement, "[t]his new case involving price manipulation in the platinum and palladium markets demonstrates that the global benchmark manipulation scandals are far from over. Businesses and investors were injured by an eight-year long global conspiracy run by these commodities dealers."
Not the first time
Though Labaton Sucharow is calling the case the "first nationwide class action against major platinum and palladium dealers," this isn't the first time this fall that controversy has plagued the platinum-group metals space. Less than a month ago, MF Global (OTCMKTS:MFGLQ) settled class-action lawsuits accusing itself, former MF Global trader Joseph Welsh and hedge fund Moore Capital Management of manipulating platinum and palladium futures contracts between May 2006 and June 2008, according to Reuters.
Settlement documents called for the plaintiffs to receive a cool $21.1 million, as well as $5.25 million from MF Global's insurer and $1 million from MF Global in return for "assigning their claims against a former trader to the company."
What's next?
Certainly, precious metals investors will welcome the recent changes in price fixes, but as an article from Forex Magnantes notes, both PGM manipulation cases "[highlight] the importance of oversight and monitoring of firms by regulatory bodies," and the dangers of allowing firms to use self-regulatory approaches to the market.
Goldman, HSBC and BASF did not comment when contacted by Reuters and The Wall Street Journal with regards to the news.
Securities Disclosure: I, Teresa Matich, hold no direct investment interest in any company mentioned in this article.