Palladium steady despite precious metal price retreat
Palladium was the only precious to be on the positive track on Monday, as the equity rally deteriorated the flight to safe haven investments. Palladium's near term outlook remains bleak, as reports from Europe said that car registrations dropped 18 percent in February.
By Leia Michele Toovey- Exclusive to Palladium Investing News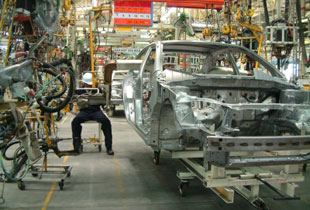 Palladium was the only precious metal to be on the positive track, as the equity rally deteriorated the safe haven investments, gold, silver and platinum. However, palladium's near term outlook remains bleak, as news out of Europe showed new car registrations declined 18 per cent in February. For the palladium market, automotive catalysts are the largest consuming sector, accounting for 63 per cent of demand. Electronic equipment accounts for 21 per cent; dental alloys, 12 per cent and jewelry, 4 per cent.
U.S. palladium imports fell -23.6 per cent in January from a month ago, and were down -69.0 per cent from the previous year, the Commerce Department reported Friday. U.S. palladium exports rose 341.2 per cent in January from the previous month, and were up 128.5 per cent from the previous year.
Palladium's price has been on a rollercoaster ride in 2009. The metal has traded down to the $180 per oz range several times, but quickly retraced on positive signals. On the short to intermediate time frames, palladium's strength will be determined by how it responds to the corrections in the gold and silver markets. Corrections in these markets are anticipated as the economic conditions around the globe improve. If during this corrective phase palladium can hold above 180 while the other metal's prices collapse, then it is highly likely that the palladium market is about to take a swift rebound.
Company News
North American Palladium posted its fourth-quarter losses. North American Palladium's results were hurt as it wrote down it's investment in mining interests and temporarily cut production at its Lac Des Iles mine. The palladium and platinum producer posted a quarterly net loss of C$112.4 million, or C$1.31 a share, compared with year-ago loss of C$11.1 million, or 19 Canadian cents a share. The fourth-quarter 2008 results included a non-cash impairment charge of C$90.0 million, or C$1.05 per share, to write down it's investment in mining interests, due to market conditions. Palladium production for the quarter ended Dec. 31, was 21,373 ounces down 70 per cent from a year-ago, mainly due to the temporary closure of the Lac des Iles mine in Thunder Bay, Ontario, on Oct. 29. Palladium sales that were settled during the fourth quarter, realized an average of $207 per ounce, a decrease of 41 per cent compared with $348 per ounce in the same period last year. The company said the temporary closing of the Lac des Iles mine will reduce expenses and help maintain its cash position. Lac des Iles is the company's only mine and has historically produced about 4 per cent of global palladium supply, according to the Toronto-based company.
In other news, the company announced it plans to acquire gold assets or gold companies, as part of its strategy to build itself into a mid-tier precious-metals company "with multiple mines", president and CEO Bill Biggar said. "The objective is to position NAP as an attractive investment vehicle for investors seeking exposure to multiple precious metals while minimizing currency and political risks, Biggar said on a conference call. At Lac Des Illes, palladium prices would probably need to recover to around $300/oz for the firm to consider reopening the mine, "although it is a bit of a moving target", he said. The company is also working on a prefeasibility study for a second underground zone – the Offset zone – at LDI, and has an extensive drilling program under way. A preliminary assessment in May last year estimated that the Offset zone could be mined for up to ten years, and may yield an annual production of 250 000 oz of palladium, 16 000 oz of platinum, 17 000 oz of gold, 2-million pounds of nickel and 4-million pounds of copper. The prefeasibility report is scheduled for completion by midyear.
Stillwater Mining Co. announced that it lost $131.9 million in the fourth quarter, citing the world economy's steep slump and weak platinum-group metal prices. The fourth-quarter results included impairment charges of $70.7 million and amounted to $1.41 per share, on revenues of $182 million. That was down from net income $100,000, or less than $0.01 per share, on revenues of $162.4 million, in the year-ago period. Stillwater mines palladium and platinum from two underground mines located in south-central Montana. In 2008 the company reported a net loss of $112.7 million, or $1.21 per share, on revenues of $855.7 million, which compares to a 2007 loss of $15.5 million, or $0.17 per fully share, on revenues of $673 million. "The 2008 results are truly disappointing, in particular after the company's comparatively strong performance earlier in the year," said Francis R. McAllister, Stillwater chairman and chief executive.