"We're in the Beginnings of a Very Important Gold Market": Frank Giustra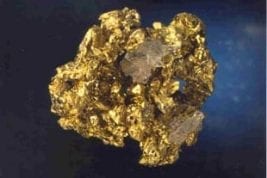 Giustra is also bullish on silver, uranium and zinc.
Frank Giustra wears many hats. While he made his name as a mining financier in the 80s and 90s, he's also a well-known philanthropist, the founder of Lions Gate Entertainment (NYSE:LGF) and a close friend of the Clintons.
This past weekend, Giustra brought his mining expertise to the stage at the Vancouver Resource Investment Conference. Speaking to a packed room early on Sunday, he said words that were music to many investors' ears: "I think that we're in the beginnings of a new bull market in metals, but I am really mostly bullish about gold."
There are a number of reasons for his positivity, but the overall uncertainty in the world today is key. "We are now living in an unprecedented time in history," Giustra explained — there is too much debt, the world is more interconnected than ever and "things that have never happened before in history" are taking place. Put simply, the situation is worse, not better, since gold soared to $1,900 per ounce, and he believes that can only mean the future is bright for gold.

What's an investor to do?
Giustra is putting his money where his mouth is, and recommended that other investors do so as well. He said gold should account for 10 to 15 percent of the average investor's portfolio, but admitted that he has more than that in his own portfolio. "And it's going to stay that way because one of these days I'm going to be right — so right that it will make up for all past mistakes," he quipped.
He didn't specify how that 10 to 15 percent should break down in terms of physical gold and stocks, but did note that he sees gold stocks having "the most torque" in the coming bull market. He also said he's got money in three exploration-stage gold companies right now — one is operating in Latin America, one is operating in Japan and the third is working in the Klondike.
Jurisdictions Giustra isn't keen on include the "stans," as well as Bolivia, Venezuela, Egypt and Turkey. He's also not interested in anywhere that Boko Haram is operating. On the flip side, he said that Argentina, long considered a risky place to invest, is becoming a good opportunity.
Specific stock recommendations didn't come up in Giustra's talk, though he suggested that investors looking for guidance pay attention to what successful investors like Ross Beaty and Lukas Lundin are doing. He also expressed regret that political factors forced him to sell his shares in Northern Dynasty Minerals (TSX:NDM,NYSEMKT:NAK). "It was very sad, it sucks to be me," he said.

Final thoughts
Before signing off, Giustra briefly gave his thoughts on a wide range of commodities. Notably, he said he's bullish on silver, uranium and zinc, though he admitted that silver will be more volatile than gold. He thinks potash is due for a turnaround, but is only "so so" on copper, platinum and palladium. In addition, Giustra said he's bearish on natural gas and sees oil ranging from the current price up to $60 or $65 a barrel.
He also reiterated that he sees the overall resource space experiencing a turnaround. "I think we're in the beginnings of a very important gold market and an important resource market," Giustra said, adding, "if you're looking at it from an investment point of view, you've got to get in now."
Don't forget to follow us @INN_Resource for real-time news updates!
Securities Disclosure: I, Charlotte McLeod, hold no direct investment interest in any company mentioned in this article.