The Impact of Mali's Political Problems on the Gold Industry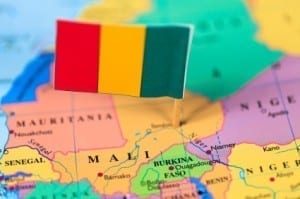 Mali's president was ousted in March and rebels have controlled much of the north ever since. How has the gold industry fared in the midst of the turmoil?
This article was first published on Gold Investing News on December 5, 2012
Mali has grown from having no commercial gold production in 1990 to being Africa's third-largest gold producer today. This accomplishment is indicative of both Mali's potential and the increasing interest in the gold sector. Mali hosts an array of gold miners and has earned a reputation as a mining-friendly nation. Yet much of the mainstream attention Mali has received this year has been associated with negative headlines; that's because of rebel activity in the north and a military takeover that snapped the country's 20-year record of democratic stability. These events have negatively impacted perceptions of Mali, but the question is: what — if anything — has changed for Mali's gold industry?
In March, a group of soldiers seized power in Mali, ousting President Amadou Toure. This coup was largely attributed to dissatisfaction over the government's handling of the Tuareg rebellion. Tuaregs are traditionally nomadic people who have a long-running desire for independence. The irony is that the mutinous action allowed the Tuaregs and other rebel groups to exploit the political instability and increase their control of Northern Mali. Now, the Malian government is facing the challenge of wrestling control from not only the Tuaregs, but also from rebels linked to al-Qaeda, whose goals include imposing widespread sharia law.
Post coup
Gold mining accounts for about 80 percent of Mali's mining activity and is one of the nation's leading industries. While challenges remain for the government, most companies in the gold space have reported limited impact from this year's political events.
"At that time [following the coup], some of the equipment couldn't come in[to the country] and some companies didn't want to send in their workers due to insurance purposes," Joel Jeangrand, president, CEO and director of Great Quest Metals (TSXV:GQ), told Gold Investing News (GIN).
"But to be honest, it was perfectly fine to come into Bamako [Mali's capital]," he said.
"Some of the government buildings were attacked, so there was a bit of mayhem for about a month," Joelgrand explained. "After that, the existing mines minister left. They appointed a temporary mines minister. They finally put together this government of public union with a new minister of mines, but most of the team below him haven't changed. Even after the event our permits and licenses all were being issued. It worked," Jeangrand said.
Still, amid the uncertainty following the coup, some mining companies suspended activities on their projects. While it may seem that the political turmoil caused significant delays, much of the rescheduling resulted from temporary suspensions preceding the rainy season, which lasts from July to October.
Legend Gold (TSXV:LGN), for example, deferred its planned field activities for the second quarter due to the coup. But then its board of directors decided to defer field exploration activity further until after the rainy season, pushing plans to restart drilling into the fourth quarter.
Avnel Gold Mining (TSX:AVK), perhaps best known as operator of Kalana, the oldest commercial gold mine in Mali, also has a Kalana exploration project underway.
The company said its exploration partner, IAMGOLD (TSX:IMG,NYSE:IAG), curtailed drilling after the coup. In its quarterly report for the period ended June 30, 2012, Avnel reported that drilling had recommenced, activities at the mine were proceeding normally and gold dore exports were continuing as usual.
But, after taking into account the political developments and the onset of the rainy season, Avnel opted to expand the exploration phase of the Kalana permit until December 31,2012. The report notes that the company was expecting a similar expansion with respect to the Fougadian exploration project, where IAMGOLD is also its partner.
Taking the time to report on the conditions in Mali, Avnel said, "the surrounding communities are completely calm. Communications remain open as normal and the supply of locally procured consumables such as diesel continues. Importation of equipment and spares has continued as normal."
Likewise, drilling was suspended from March 27 through June 25 at Merrex Gold's (TSXV:MXI) Siribaya project, where IAMGOLD, is also a joint venture partner.
"While internal Mali issues created concerns for both management and our shareholders, I am pleased to report we, along with many other resource sector companies, are back to 'business as usual,'" said Merrex's president and CEO, Greg Isenor, in an October announcement regarding the companies' plans for a 2013 exploration program.
"Our Siribaya Gold project is in the far southwest corner of West Mali near the Guinea and Senegal borders, over 1,000 kilometres from the nearest insurgent activity in northern Mali and about as distant as one can get from the insurgents and still remain in Mali, so we see no risk of trouble at our location. Southern Mali is politically stable with government institutions running smoothly," he added.
The negative implications of the term "coup," combined with suspended activities, helped create a perception of chaos and instability that for the most part never materialized in Mali. This false perception has been exacerbated by reports of the ongoing, unchecked rebel activity in the north, which some warn is a threat to regional stability and a breeding ground for the proliferation of organized crime.
However, gold mining activities, like the majority of the population, are concentrated in the south and thus have been largely unaffected.
Conditions in the north
Great Quest is more adversely affected by Mali's political issues than most miners because its shift in focus from gold to phosphate placed its flagship project, Tilemsi, in the northeast.
Drilling at Tilemsi remains suspended, which has delayed the increase of the resource from inferred to proven. As the area is occupied by rebels, with the exception of a few locals, the company almost wholly avoids accessing the site right now.
"If foreigners go to the north they take a big risk that they will have a problem," Jeangrand said. "In that part of the world, unfortunately, kidnapping of foreigners is a business."
"But," he added, "it's not a genocide or an ethnic war. It's just that no local authority or power has stayed in place there. The army is gone. The police are gone. But local Malians can — and do — come and go back and forth as they please. As long as they are not military, elected officials or foreigners."
Jeangrand said that even for Great Quest, the effects of the coup have been limited because the company has already identified 50 million tons of phosphate. It does not really need to be on the ground right now. At this stage, Great Quest is working to complete a preliminary economic assessment. After that, its focus will be on marketing and logistics.
Sentiment and investment in Mali
For miners, one of the most profound effects of this year's political issues may be the negative impact on access to capital.
Some companies' shares are trading at significant discounts as elevated political risk is baked in. Though some investors have started to recognize that there are bargains to be had, many equity investors, like financiers, are the sidelines, envisioning risk levels that are out of tune with the reports from the ground.
Robex Resources (TSXV:RBX) never stopped working at it flagship Nampala project. Days after the coup, the company said it had not suffered any interference. Then, on April 3, Robex announced that it had received a production permit that will be valid for 30 years. However, the company's positive progress was overshadowed by negative sentiment.
"Since receiving the final operating licence from the Malian government in April 2012, the Robex team has hired key personnel and worked tirelessly on the technical planning of the mine. It has also collaborated with a number of finance providers in order to secure necessary funding to get the project up and running. However, the political situation in Mali has rendered the latter task extremely difficult, with banks reluctant to extend project financing in the current environment," said president and CEO, Andre Gagne.
Gradually some willing investors are emerging.
Gagne made the aforementioned comments in October, when Robex announced the receipt of $14.8 million in financing, allowing the company to move toward its goal of becoming a gold producer. The funding included an $8-million equity investment from a the Cohen family, a European group, and $6.8 million in debt financing from Imagri, the main contractor constructing the mine.
Jeangrand, who has met with groups of investors, also admitted that the financing environment is not easy. But Great Quest still managed to complete two private placement deals for over $1.1 million in September.
The company has five gold properties, all of which it aims to sell or joint venture, and Jeangrand said that Great Quest has been approached by several potential buyers.
Legend Gold completed a $300,000 private placement in July. And, in a deal valued at $389 million, Endeavour Mining (TSX:EDV,ASX:EVR,OTCQX:EDVMF) acquired Avion Gold, whose portfolio includes the Tabakoto mine and Kofi exploration concession in Mali. Endeavour hopes the acquisition will boost its gold production.
Mali still an attractive gold mining location
Investments by companies such as Endeavour and IAMGOLD and juniors' determination to advance their projects both reflect the generally unwavering view within the mining industry that Mali is a good country for investment.
In addition to the favorable geology in the southern and western areas of Mali, the nation is still seen as stable and is subject to the rule of law. It maintains a reputation for respecting its contracts, even with this year's revised mining code, which does not appear to have ruffled the industry's feathers. And there is adequate access to labor, including good geologists, contractors and equipment.
Furthermore, the nation's gold mining industry is set to become even more attractive as Swiss Bullion Company (SBC) and PAMBC, a Malian firm, are partnering in a $58-million joint venture aimed at building a gold refinery.
Kankou Moussa will be the most modern gold refinery in Africa, John Perkins of SBC told GIN, noting that the facility will employ over 400 people and will further benefit Malians by allowing the collection of taxes on the facility's exports.
He said events this year have not any postponing effects on the project, which is set for delivery at the end of 2013. Perkins said SBC has a long relationship with Mali and insists it is a great place to do business.
Perkins portrayed the decision to build the facility in Mali — as opposed to elsewhere — as common sense.
"We are in the gold business, Mali is the third [largest producer] in Africa. Why would we go to another country?" he said.
With regards to risk, he was largely dismissive.
"What happened this spring is behind us," he said with regard to the coup. "Whoever knows Mali knows whatever happens in the north has almost zero influence in the south. People still live the same way in Bamako as last year," he said of the rebel activity.
"Risk is everywhere," Perkins said. "Investing in the stock market in the USA or in a gold mine in Mali. Where is the most risk? It is not necessarily where you think it is."
"So should we stop believing in people and stay home? Or build a refinery in south side of Chicago, where more than 400 people were shot since the beginning of the year?"
The market is currently in desperate need of this refinery, not only locally, but also outside of Mali, and Perkins said it will provide the region with an alternative to refining in Europe, which is too far away.
The project has the support of the population and of gold producers. It also has the strong support of the Malian government, which understands that it is key to the country's development and that gold mining is an important part of the economy, said Perkins.
Reassessing the risk
Overall, this year's political issues appear to have had virtually no impact on Mali's gold mining industry. Mali's mining sector is considered a growth industry and participants in the sector seem commmitted to helping the nation retain that element of its reputation. That suggests it may be time for a wide-scale adjustment of sentiment. Otherwise, Mali could prove to be an example of false perceptions causing many investors to miss ripe opportunities while a select few cash in.

Securities Disclosure: I, Michelle Smith, do not hold equity interest in any of the companies mentioned in this article.