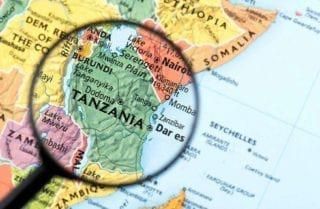 Gold companies have been under pressure since President John Magufuli introduced reforms to overhaul the country's natural resource industry.
New mining regulations in Tanzania have put gold companies under pressure and slowed investment in the country.
Earlier this year, President John Magufuli introduced reforms to increase transparency and ensure that the nation benefits from its resources. Since then, mining companies have laid off workers, and have canceled exploration plans and takeover bids.
"There will be no nickel and gold exploration in Tanzania for the foreseeable future," a source told Reuters. The source, who is the head of a company operating in the country, asked not to be named to avoid jeopardizing their relationship with the government.

Tanzania's reforms were introduced in July, and among other things, they
allow the government to renegotiate or revoke existing mining and energy contracts. They also give the state the right to own at least a 16-percent interest in mining projects, and increase royalties from 4 to 6 percent.
Full details still remain unclear, and as a result
many international mining companies are reevaluating their investment plans in the country.
"Minerals may not be mobile but the capital that funds the mines is," said Ben Gargett, head of PwC's Australia-Africa practise. "Investors are saying, 'On our risk radar, Tanzania has just gone a lot further down on the list.'"
The mining industry contributes 3.5 percent to the gross domestic product of Tanzania, which is currently Africa's third-largest gold producer. Magufuli wants to increase that amount to 10 percent by 2025.
Gold companies suffer
Gold miner Acacia Mining (LSE:ACA) is one of the gold companies that has suffered following Tanzania's crackdown on mining firms. Its share price has lost more than 50 percent since January.
Acacia decided to reduce operations in the country after the Tanzanian government accused the company, which is majority owned by Barrick Gold (TSX:ABX,NYSE:ABX), of operating illegally and evading taxes for years. The government says the company owes $190 billion in taxes, penalties and interest for the period between 2000 and 2017.
Another company affected by the changes is junior Manas Resources (ASX:MSR), which expected to complete the acquisition of the Victoria gold project by early next year. The company's share price has lost 25 percent since the beginning of the year.
"Because of the changes in legislation and the time being taken to implement new regulations, the sector has slowed down to a point where it is impacting exploration activities and our capacity to finalize the deal," Manas CEO Phil Reese told Reuters.
Similarly, Shanta Gold (LSE:SHG) canceled a takeover bid for Helio Resource (TSXV:HRC) shortly after the reforms were introduced, also citing the new laws. The share prices of both companies have dropped more than 60 percent since January.
Despite those drastic losses, some market watchers believe Tanzania is doing the right thing. Alex Cobham, CEO of the London-based Tax Justice Network, said that what is happening in Tanzania is the natural result of a process that has been going on for decades.
"It's unfortunate the steps taken by the Tanzanian government have been seen to be unlawful and a deterrent to investor confidence, but their actions are understandable given how badly some of the companies have behaved," he said.
Others aren't so sure. Racheal Chagonja, a coordinator at HakiRasilimali, an association of civil society groups that focuses on Tanzanian resource extraction, said that while efforts to derive more benefit from the country's mineral riches should be welcomed, the government's approach is flawed.
"The way we are carrying on threatens the sustainability of Tanzania. We need investors and they need us," Chagonja told Bloomberg.
Don't forget to follow us @INN_Resource for real-time news updates!
Securities Disclosure: I, Priscila Barrera, hold no direct investment interest in any company mentioned in this article.