Nexus Gold: 'Elephant Hunting' at Walker Ridge in Nevada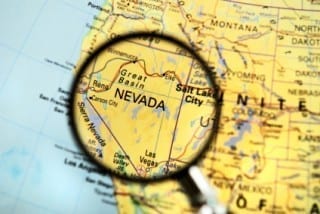 Nexus Gold President, CEO and Director Peter Berdusco on what's in store for his company in 2016.
CEO interviews are paid content requested by clients advertising on the Investing News Network. Client news is contextualized by CEOs and the interview is disseminated to the Investing News Network audience because it has value to market watchers.
We interview a CEO for an understanding of their perspective on the company, the investment potential of the company and market news related to the company.
The information contained here is for information purposes only and is not to be construed as an offer or solicitation for the sale or purchase of securities.
---
Nexus Gold (TSXV:NXS) holds the Walker Ridge gold project at the Jerritt Canyon-Independence Trend, one of five major gold trends in Nevada. In 2014, a geophysical survey using innovative exploration techniques helped to identify 34 points of interest occurring in eight clusters over approximately a 2-square-mile area on the property.
Nexus Gold's 2015 drill program focused on one of the largest of these clusters. The company recently released initial assay results from drill hole WR-2015-01, confirming that gold and silver mineralization has been discovered at Walker Ridge. Intersections of mineralization were encountered over a 355-foot section in the lower plate host rocks, including 1.57 g/t over 15 feet (including 3.22 g/t over 5 feet), 0.46 g/t over 10 feet and 10.6 g/t over 205 feet (including 18.25 g/t over 20 feet) of elevated silver.
The Investing News Network spoke with President, CEO and Director Peter Berdusco to get some insight into the results and what Nexus has in store for 2016.
INN: You've released drill results for the Walker Ridge project in Nevada that you're excited to talk about, but first please give us some background on this project.
PB: Walker Ridge is on the Jerritt Canyon-Independence Trend in Northeastern Nevada. It is 1 mile south of the Big Springs deposit — which currently holds more than 1 million ounces of gold. About 5 miles south of us is the Jerritt Canyon mine. This mine has had over 12 million ounces discovered historically with current reserves of almost 4 million ounces.
Notably, within the last six months, Mr. Eric Sprott of Sprott Asset Management has taken a majority interest in Jerritt Canyon and the mill. The mill is currently operating under capacity and is only 7 miles line of sight from our property. They would make a perfect partner to a toll mill agreement should we be fortunate enough to get to that stage.
Speaking further to the infrastructure surrounding the project, we're 40 miles north of the mining hub of Elko. So in terms of infrastructure, having a mill nearby, being on trend, having successes north and south of us, it was the perfect project for us to take on.
INN: Nexus has been engaged in "elephant hunting" at Walker Ridge. Can you explain what that means and give us some background on the exploration work you've completed leading up to the 2015 program?
PB: In Nevada, the larger elephant-type of deposits tend to be the buried ones. The open-pit deposits have all been generally discovered in Nevada. So you need to go underground to these buried, covered deposits in the lower plate. And these are generally large, multi-million-ounce type of deposits. This is why we say we are elephant hunting in the lower plate, or more specifically, the Roberts Mountain and the Hanson Creek formations.
When we acquired the property we also inherited excellent legacy geochemistry work that had identified a halo of antimony with a large bullseye of mercury measuring about 2 square miles in total. These are the indicators you look for at surface when conducting geochemical sampling for gold exploration and it's why we grabbed this property.
We've done some additional geophysical work that consisted of resistivity and gravity work and continued to complement the legacy geochem. The data from our geophysical work has continued to stack very well; the geochem and the resistivity and the gravity surveys were suggesting that at depth we had alteration. The model we've produced from this work is suggestive of a varied Carlin-type deposit in the lower plate.
INN: In preparation for your 2015 drill program, earlier this year you had a unique opportunity to "ground truth" an innovative technology that's had some success in the oil and gas space, but had not yet been proven in minerals exploration. Please tell us more about this technology, how it's been deployed at Walker Ridge and what value its added to your exploration program.
PB: Last year we were approached by a technology group, Vital GeoSurvey, with an innovative geophysical survey utilizing an element detection technology (EDT) that was having great success in the oil and gas space. They liked Walker Ridge and felt that this would be a great first move for them into the resource exploration space.
In essence, the technology scans for particular elements that you define. For us, it was gold and silver. When they run the survey, an energy signal is sent out and if a gold atom is present, it will signal the instrumentation at surface. When they ran the survey on Walker Ridge, the instrumentation lit up. We were really pleased with the survey, which identified 34 points of interest within our claim block. Basically, a point of interest is a positive location for gold atomization. These points of interest are all collected within eight clusters on the property.
What's really unique is that seven of the eight clusters fall within our traditional data set garnered from the legacy geochem and the geophysics work that we completed. Therefore, not only was the survey a success on the part of the technology itself, but it was also successful in complementing our data set.
We feel the technology allowed us to really define and target the drilling we conducted this summer. We were able to pinpoint our drilling within one of the clusters. It gave us an opportunity for success on our first hole. Early success can give you an advantage in raising further dollars and progressing the project to the next level.
INN: So the accuracy in pinpointing targets has led to success on your first drill hole. From an industry-wide perspective, this technology has huge cost-savings benefits.
PB: Yes, it really does have the potential to be a game changer. And I think you've hit it dead on there. It should put an exploration company in the position of more hits and less misses. And if you're having more hits and less misses, well, then you're spending your dollars wisely. You're not throwing out these wildcat type of holes. This is really precise drilling and your chances of hitting have increased tremendously.
INN: Now that we've got an understanding of the project's potential, please explain the significance of the first drill hole results at Walker Ridge. They confirm gold and silver mineralization in the lower plate host rocks, particularly in cluster three. Why is that important?
PB: Yes, this is significant for us. Our model of mineralization in the lower plate was conceptual. Now, with the success of our first drill hole, we can confirm that the lower plate host rocks do contain gold and silver mineralization. It's taken the guesswork out of the equation, which is fantastic for us.
More importantly, this confirmation leads us away from exploration and more towards defining a mineralized zone on the property. We are confident this technology can precisely define our premium targets, thereby maximizing gold grades and intersection lengths. Our objective is defining a Carlin-type, gold-bearing system or a Carlin-type deposit. So, our language is starting to migrate from exploration into definition. That's significant.
INN: So what's left for your 2015 exploration program? What other catalysts are on the horizon for Nexus Gold and Walker Ridge?
PB: We have another 1,700 feet of assays on this particular hole. And then, as we move forward here, we'll be looking to do two things. We'll be looking to potentially wedge off of our current hole, and drill the heart of the current cluster. And we're also looking to put in a second hole into the largest of our clusters, closer to the valley floor.
In terms of the 2016 program, we're currently in the permitting process for 25 drill pads to focus on additional point-of-interest targets and clusters identified by the EDT survey. This will be an extensive program where we'd be reaching into two or three clusters and putting down a number of vertical and angled holes into each. It's definitely going to be a busy time for Nexus.

Securities Disclosure: I, Melissa Pistilli, hold no direct investment interest in any company mentioned in this article.
Editorial Disclosure: The Investing News Network does not guarantee the accuracy or thoroughness of the information reported in the interviews it conducts. The opinions expressed in these interviews do not reflect the opinions of the Investing News Network and do not constitute investment advice. All readers are encouraged to perform their own due diligence.