Gold Price Update: Q1 2018 in Review
What happened to gold in Q1 2018? Our gold price update outlines key market developments and explores what could happen moving forward.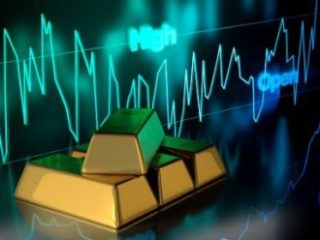 The gold price gained more than 3 percent in Q1 2018 despite a volatile February, when the yellow metal experienced its first monthly loss of the year.
A weaker US dollar and inflation supported gold over the period. While gains were initially offset by expectations over a US Federal Reserve interest rate increase, gold trended upward after the hike became official.
Given those factors, many industry insiders believe that gold is prime for a price increase, with its safe-haven nature allowing it to stand against a chaotic market.
Read on for an overview of the factors that impacted the gold market in Q1, plus a look at what investors should watch out for in the next few months of the year.
Gold price update: Q1 overview
As mentioned, gold rose 3.61 percent in Q1. As the chart below from Kitco shows, gold experienced several ups and downs during the period, but reached its highest point toward the end of January.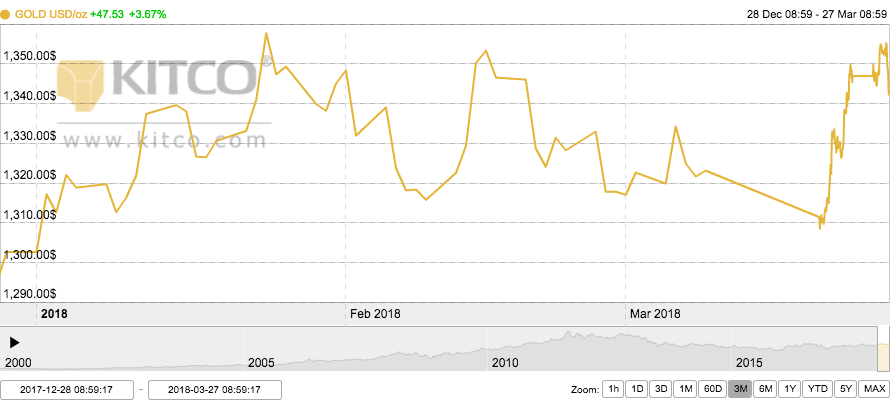 Chart via Kitco.
The yellow metal found its highest level on January 24, reaching US$1,357.70 per ounce. On that day, the price edged up to its highest since August 2016 as the US dollar hit three-year lows.
Meanwhile, gold hit its lowest point of the quarter on January 1, trading at US$1,302.50. The metal hit another low point on March 20, when it fell to US$1,308.40. The precious metal decreased as the US dollar strengthened ahead of the Fed's first rate hike of the year.
Gold price update: Factors to watch
As the second quarter of the year begins, investors interested in the gold market should be aware of a number of factors that could impact the precious metal's price.
Most analysts agree that political uncertainty, increased interest rates and the state of the US dollar will continue to be key drivers for the gold price in 2018.
According to analysts at FocusEconomics, "[f]ears of a potential trade war followed US President Donald Trump's decision to place import tariffs on steel and aluminum, supporting demand for gold, as it both increased the precious metal's appeal as a hedge against uncertainty compared to US bonds and equities, and put downward pressure on the US dollar."
Similarly, Brien Lundin, editor at Gold Newsletter, addressed the tariffs, stating, "I think they're terrible. They're a terrible idea. I think it creates uncertainty, which creates volatility in the market. There is a scenario in which gold can benefit from that, but I don't look at it as a long-term driver of gold prices. I think it's a long-term driver from uncertain in the economy."
Similarly, an analyst for UBS (NYSE:UBS) said, "[a]s choppier markets seem likely, gold will remain a good hedge against unexpected spikes in equity market volatility and geopolitical tensions, in our view."
Other political concerns stem from frequent changes within the Trump administration. Earlier this month, departures of two key officials, former Secretary of State Rex Tillerson and top economic advisor Gary Cohn, left investors worried. This political shakeup resulted in a weakened dollar, which made bullion cheaper for holders of other currencies.
Another factor driving the gold price during the first quarter was an anticipated rise in interest rates. "There's a battle going on right now. Interest rates going up in the US and the dollar strengthening, but the government down there wants it lower," said Rob McEwen, chairman and chief owner at McEwen Mining (TSX:MUX,NYSE:MUX).
He added, "and so it's going back and forth, and investors are saying, 'well if interest rates go up, gold's going to go down because the dollar's going to go up.' And gold is quoted in dollar terms. But often you've seen periods where both interest rates and gold are going up at the same time."
The Fed and its rate hikes took on a major role for gold toward the end of Q1. Three increases are forecast for 2018, the first of which took place on March 21. Gold faced a decline prior to the hike's implementation, but then experienced gains on the back of an announcement making the raise official.
According to Bilal Hafeez, strategist at Nomura, the US dollar's movements aren't being driven by actual rate increases, but rather expectations of what may happen in the future. Hafeez believes that markets "are all about expectations," and that it is likely that the expectation of the first hike of 2018 is what was "helping the dollar."
"The actual hike, then, would naturally reset those expectations and would lead to a 'buy the rumour, sell the fact' dynamic in the dollar. Indeed, the dollar has followed a pattern of trading relatively well into Fed hikes, but selling off after," he noted.
Investors should keep an eye out to see what will happen to gold if the Fed keeps its forecast and raises interest rates again later this year. 
Gold price update: What's ahead?
Many market watchers predict that gold will not only have a bullish Q2, but will also experience a bull market for the majority of 2018.
According to John Kaiser of Kaiser Research, gold could trade between US$1,600 and US$2,000 this year. "There's a growing demand for gold that could push up the real price as opposed to inflation or the US dollar declining," Kaiser said. "A real price increase is critical. A move into the US$1,600 to US$2,000 range is very plausible without it being inflation driven. I think this is going to happen this year."
Other experts also see a bullish forecast for gold — in fact, their predictions for the yellow metal reach much higher levels than Kaiser's. McEwen, who is well known for his call for US$5,000 gold, uses historical figures to predict a high price for gold.
Meanwhile, Goldman Sachs (NYSE:GS) analysts believe that "the dislocation between [gold] and US rates is here to stay," and expect the yellow metal to "outperform" in the coming months. 
Finding some balance, FocusEconomics panelists estimate that the average gold price for Q2 2018 will be US$1,302. The most bullish forecast comes from JPMorgan (NYSE:JPM), which is calling for a price of US$1,380; Société Générale (EPA:GLE) is the most bearish with a forecast of US$1,200.
Don't forget to follow us @INN_Resource for real-time news updates!
Securities Disclosure: I, Nicole Rashotte, hold no direct investment interest in any company mentioned in this article.