Gold Mining and Exploration in Mexico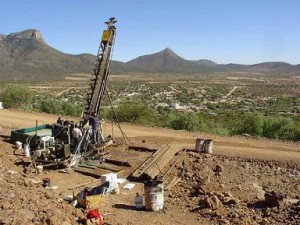 This article was first published on Gold Investing News on August 23 2010.
By Dave Brown – Exclusive to Gold Investing News
Mexico,  a country with a rich mining history that spans almost 500 years, still weighs amongst the world's largest metal producers. Investors will know it best for its production of silver with over 10 billion ounces mined; however, the country is also abundant in quantities of gold, copper, lead and zinc.  The majority of gold production in the nation comes from mines where gold is obtained as a co-product of silver and copper operations or as a by-product to polymetallic deposits.  This may be of interest to investors as earlier this month in an interview with the Financial Post, the founder of Barrick Gold Corp. (TSX: ABX), the world's biggest gold miner said, "the future of gold mining likely lies in mixed-metal mines."
Investment Climate
The current administration, under the stewardship of President Felipe Calderon, passed energy reform measures in 2008 and fiscal reforms in 2009. Mexico's GDP decreased 6.5 percent in 2009 as global demand for exports declined and asset prices weakened, but GDP is expected to post positive growth later this year. The administration continues to faces several economic challenges, including improving the public education system, upgrading infrastructure, modernizing labor laws, and fostering private investment in the energy sector. President Felipe Calderon has stated that his top economic priorities remain reducing poverty and creating jobs.
Relative political and financial stability, legal security for investors and its location next to one of the world's top importers of resources are all positive factors impacting Mexico's gold mining industry today. These factors are, however, countered somewhat by the highly unionized nature of Mexican mining and metallurgical workers, a lack of potable water, corruption and possible socio-economic issues generated by low wages and under employment as potential impediments to the continued prosperity of the gold mining industry.  The country ranks 14 out of 51 in the most recent Fraser Institute's Survey of Mining Companies: 2010 Mid-Year Update, positioned between Utah and South Australia on its policy potential index.  In national terms, this is a relatively strong result as only Canada, Finland, Chile, United States, and Botswana scored higher.
Mining and Exploration Opportunities
Mexico's ever-expanding gold mining industry is well positioned for a strong year in 2010, with output expected to increase by an additional 880,000 ounces to nearly 2.5 million ounces, representing an approximately 50 percent increase over 2009's projected figures.
A significant portion of the increased marginal output will come from escalating production levels at the world-class gold and silver Penasquito mine in Zacatecas State. This mine is owned by the world's fifth largest gold producer, Goldcorp Inc. (TSX: G). It began operations October 13, and is expected to start yielding up to 500,000 ounces of gold per year producing both lead and zinc concentrates.   In February, the company acquired Canplats Resources Corporation which owned the Camino Rojo deposit, hosting 3.44 million gold ounces and 60.7 million ounces of silver in close proximity to the prolific Penasquito mine. The senior gold producer is considered to be a low cost and growth oriented miner, last month reporting a record operating cash flow of $382.6 million for the second quarter due to higher realized gold prices.
Three other mines are also scheduled to reach full production status this year. They include the Pinos Altos gold and silver mine, where Agnico Eagle Mines (TSX: AEM) plans to generate 190,000 gold ounces a year. Idaho-based Coeur d'Alene (TSX: CDM) (NYSE: CDE) is aiming to increase its output to 92,000 gold ounces from its Palmerejo underground and surface gold and silver mine.
Timmins Gold Corp. (TSXV: TMM), a Vancouver-based junior resource company engaged in the acquisition, exploration and development of projects in Mexico is on target to produce up to 80,000 gold ounces this year and 100,000 ounces in 2011.  The company forecasts an average cash cost of approximately $410 per ounce for the life of the mine.  Pouring its initial gold bars last December at its San Francisco gold mine in Sonora State, it became one of a small number of "primary" Mexican gold producers, contrasted with the mining of gold on a small-scale as a by-product of silver or lead mining.
Cream Minerals (TSXV:CMA)  is another exploration and development company focused on a gold and silver project in the Nayarit State, a region located on the central west coast and a well known host of large deposits of gold silver, lead, and copper.  Earlier this month the company announced that it is currently in discussions with a number of companies concerning the Nuevo Milenio Silver-Gold Project intended to explore all avenues available to achieve maximum shareholder value. The company has additional properties in Canada and Sierra Leone.
Vancouver-based New Gold Inc. (TSX: NGD) (AMEX: NGD) is a company that appears well positioned to becoming an intermediate gold producer, regarding Mexico as a key location to fulfill its growth mandate with the relatively low cost, 'heap leach' Cerro San Pedro gold and silver mine in central Mexico. Now on target to produce around 100,000 gold ounces a year, the open pit mine became productive in 2008 when New Gold bought the Canadian gold junior, Metallica Resources.  Last month, the company reported some uncertainty regarding the Mexican government's environmental regulatory agency potentially canceling the company's Environmental Impact Statement (EIS). Although the company was informed by the court that the decision was negative, New Gold has not yet been provided the full decision including the written reasons for the denial.
New Gold has been growing gold reserves since 2007, from a standing start with no output at the time by acquiring other emerging gold producers or ones that are near production readiness. New Gold has made several high profile acquisitions over the last three years in a number of jurisdictions including Chile, Australia and the United States.  Earlier this month, the company reported an 82 percent increase in cash flow from operations for the second quarter and reiterated its full year guidance of 330,000 to 360,000 ounces of gold production at a total cash cost of $445 to $465 per ounce.
August 23rd's Gainers: Top 5 Best Performing Gold Stocks of the Day
| | | | | |
| --- | --- | --- | --- | --- |
| Company | Symbol | Price | Currency | Growth |
| Great Basin Gold | TSE:GBG | 2.22 | CAD | 4.72% |
| Nevsun Resources Ltd. | TSE:NSU | 4.78 | CAD | 2.58% |
| Yamana Gold Inc. | TSE:YRI | 10.66 | CAD | 1.62% |
| Lihir Gold Ltd. | NASDAQ:LIHR | 39.47 | USD | 0.71% |
| Colossus Minerals Inc. | TSE:CSI | 7.63 | CAD | 0.40% |