Mine production rose "fractionally" from 3,263 tonnes in 2016 to 3,268.7 tonnes in 2017, the World Gold Council says in its latest report on demand trends.
Gold demand rallied in Q4 2017, gaining 6 percent year-on-year to hit 1,095 tonnes. But full-year demand for the precious metal fell 7 percent, to 4,071.7 tonnes, according to the Word Gold Council (WGC).
In its latest Gold Demand Trends report, the WGC says ETF inflows were positive last year, but fell behind growth seen in 2016. Central banks added 371.4 tonnes to official global gold reserves, 5 percent down from 2016.
Bar and coin demand fell 2 percent last year on declining US retail investment. Meanwhile, though jewelry demand recovered by 4 percent, led by India and China, it "remain[ed] below historical averages." Demand for gold in technology such as smartphones and vehicles increased for the first time since 2010.
Notably, the WGC says that gold mine production rose "fractionally" from 3,263 tonnes in 2016 to 3,268.7 tonnes in 2017; that's the highest annual total ever recorded. Output fell in several countries, but the declines were offset by rising production in other jurisdictions.
Gold output trends by country for Q4
Gold mine production fell 2 percent year-on-year in Q4 2017, to 833.1 tonnes, impacted by issues in China and Tanzania. In China, the world's leading gold producer, production dropped 10 percent in Q4, with output expected to be 9 percent lower than in 2016. The country implemented stricter environmental regulations related to cyanide in tailings, shuttering some marginal operations.
Tanzanian mine production decreased by 15 percent year-on-year in Q4, impacted by a concentrate exports ban that was introduced in March. It affected output from Acacia Mining's (LSE:ACA) Buzwagi project. The WGC notes that the company is also working to reduce operations at its Bulyanhulu project to help manage losses. Q4 gold production in the US, Brazil and Mali also fell in 2017 compared to 2016.
Overall, gold mine production growth has slowed in recent years: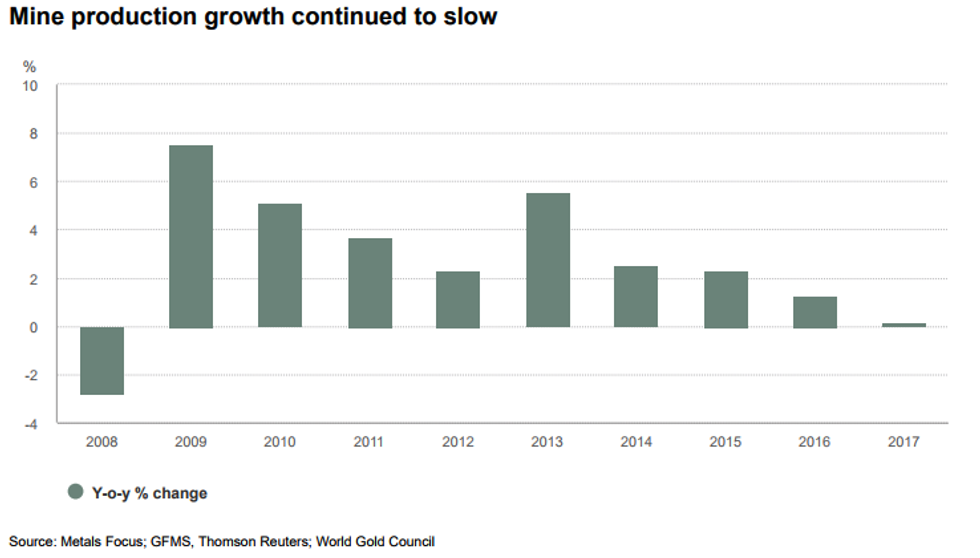 Chart via the World Gold Council. 
Output from Russia saw a year-on-year increase in Q4 as Polyus Gold's (LSE:PLZL,MCX:PLZL) Natalka mine began commissioning in September and poured its first dore in December.
In Indonesia, the mining of higher-grade ore at Grasberg, which is majority owned by Freeport-McMoRan (NYSE:FCX), helped boost Q4 mine production by 11 percent.
Gold production increased in Canada by 5 percent in Q4 as new projects, including TMAC Resources' (TSX:TMR) Hope Bay mine and Pretium Resources' (NYSE:PVG) Brucejack mine, came into production. The WGC says new Q4 startups such as New Gold's (TSX:NGD,NYSE:NGD) Rainy River mine and Atlantic Gold's (TSXV:AGB) Moose River mine contributed to the rise in production in Q4 as well.
The WGC notes that there have also been several West African startups, including B2Gold's (TSX:BTO) Fekola mine and Hummingbird Resources' (LSE:HUM) Yanfolila mine in Mali. Endeavour Mining's (TSX:EDV) Hounde mine in Burkina Faso also entered production towards the end of 2017.
Don't forget to follow us @INN_Resource for real-time news updates!
Securities Disclosure: I, Melissa Shaw, hold no direct investment interest in any company mentioned in this article.