Gold Going to $1,847 This Year: GFMS
Gold bugs had something to celebrate this week when Thomson Reuters GFMS stated in a report that gold will reach record highs in 2013.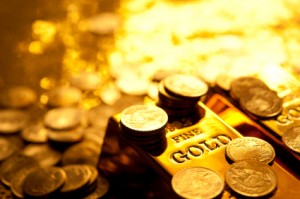 A continuation of the US government's money-printing program, euphemistically known as quantitative easing, will push the gold price to new highs this year, according to the latest gold survey by Thomson Reuters GFMS.
GFMS, which presented its findings in Toronto on Wednesday, also said gold production will have a "stronger tone" in 2013, with expected gains of 1.25 percent, or 35 more tonnes than in 2012, Proactive Investors reported.
Philip Klapwijk, global head of metals analytics for GFMS, told Mineweb that the backtrack in the gold price that occurred in 2012 is an aberration, and 2013 will be a banner year for the metal due mostly to continued loose monetary policy in the United States and central banks' ongoing interest in buying gold.
"It may be that 2012 turns out to be the pause that refreshes — the 6% rise in annual average prices is still not that bad [but]… we still think that the outlook is pretty positive for 2013 given the expected economic and financial backdrop this year which should support a high if not higher level of investor and also in fact central bank interest on the buy-side in gold," Klapwijk told Mineweb's Geoff Candy.
He went on to say that a recent US Federal Reserve statement, which indicates that the central bank may end QE3 by the end of the year, has "been completely misinterpreted," meaning there will likely be no cessation to the cycles of quantitative easing, which since 2008 have been a boon for gold and other precious metals.
Earlier this month Gold Investing News reported that gold bulls could be disappointed in 2013 based on predictions by certain banks, including Societe General, which predicts gold will average $1,700 this year; HSBC, which lowered its price by nearly $100 to $1,760, and CPM Group, which has a lowball estimate of $1,666. These bearish predictions compare to bulls like Morgan Stanley, which predicts that gold will average $1,853 in 2013, and Commerzbank, which has gold cresting to $1,950 on average.
Gold rises to four-week high
Gold climbed on Thursday to a four-week high as traders stepped in to snap up bargains, despite pressure on the metal earlier in the day due to strong US employment and housing data. COMEX gold futures were up, with February gold last trading up $7.60 an ounce, while spot gold closed at $1,687.40, up $7.40 from Wednesday's session.
Germany to repatriate 674 tonnes of gold
The Bundesbank, Germany's central bank, has taken a page out of (Venezuelan president) Hugo Chavez's book by announcing that it will bring home 674 tonnes of gold that are stored in bank vaults in the United States and France. Chavez in 2011 ordered 180 tonnes of gold brought back to Caracas from London and elsewhere. Associated Press reported the Bundesbank will ship 374 tonnes of gold stored in the Banque de France in Paris and 300 tonnes held by the US Federal Reserve in New York. The haul, worth over US$180 billion, will be repatriated to Germany in a high-security operation spread over eight years.
US, South Africa gold production down
Gold production is down from mines in the United States and South Africa, numbers released this week indicate.
The US Geological Survey reported that 5.626 million ounces of gold were produced in the first nine months of 2012, slightly less than during the same period in 2011. Most of the gold (76 percent) was poured in Nevada, while Alaska produced 11 percent. In South Africa, gold output has been affected by a series of strikes at major gold producers. The country's gold output fell by 32.2 percent in November, according to Statistics South Africa. Total mineral production was 1.1 percent higher than November 2011 and production of platinum group metals edged up 3 percent. In Russia, gold production increased by 4.9 percent in the first 11 months of 2012, to 6.54 million ounces, according to the Gold Industrialists' Union.
Company news
Alamos Gold (TSX:AGI) has made a $750-million offer in cash and shares for Aurizon Mines (TSX:ARZ), which owns the Casa Berardi mine in Quebec, Canada. Alamos operates a gold mine in Mexico and picking up Aurizon would boost the company's gold production by 65 percent, to about 300,000 oz. Aurizon is targeting production of between 125,000 and 135,000 gold ounces this year. The offer has yet to be approved by shareholders.
Barrick Gold (TSX:ABX,NYSE:ABX) said Tuesday that it reached commercial production at its Pueblo Viejo mine in the Dominican Republic. A joint venture between the two biggest gold miners, Barrick and Goldcorp (TSX:G,NYSE:GG), Pueblo Viejo is the largest foreign investment in the history of the Caribbean nation. The mine cost $3.7 billion to build and it is expected to produce over a million ounces annually for the next five years.
Two gold companies encountered public pressure this week due to threats to the environment from their gold mining operations. In Greece, Eldorado Gold (TSX:ELD,NYSE:EGO) faced hundreds of demonstrators who protested last weekend against the Hellas gold project in Northern Greece. The company was granted an exploration license in 2011, but opposition groups have so far thwarted the project from moving forward. In El Salvador, the government has asked the International Human Rights Commission to intervene against Goldcorp's Cerro Blanco gold-silver project, which is located across the border in Guatemala. Mining.com reported that a top public official has claimed that the mine will endanger water quality in the Lempa River, which supplies water to Guatemala, Honduras and El Salvador.
Another company, Nevsun Resources (TSX:NSU), is defending itself against claims of abuse at its Bisha mine in Eritrea. Human Rights Watch issued a report this week alleging that a contractor used forced labor during construction of the mine.
Junior company news
Homestake Resource (TSXV:HSR,FWB:B6IH) announced assay results from the second phase of drilling on the Homestake Ridge project in British Columbia, Canada. The drill results include 10 of 13 diamond drill holes that total 4,250 meters. Highlights include a 3-meter interval averaging 5.4 g/t gold and a 0.8-meter interval averaging 14.4 g/t gold found in drill hole HR12-242; as well as a 5.8-meter interval averaging 2.3 g/t gold and a 0.6-meter interval averaging 12.2 g/t gold found in hole HR12-248.
Lago Dourado Minerals (TSXV:LDM) announced results from the second phase of drilling at its Juruena project in Brazil. "Of these holes, Hole JRND062 identified a new high grade structure within close proximity of the Uiliam Zone that returned an intercept of 9m @ 15.39g/t Au at a depth of 204m including 0.9m @ 79.60g/t Au and 1.3m @ 46.20g/t Au," the company stated.
Bellhaven Copper & Gold (TSXV:BHV) provided updates from activity at the La Mina project and outlined plans for 2013. "The last round of drilling at La Garrucha ended with +1.0 g/t gold in the bottom of hole LME-1047, so the drill is moving there this month to follow up that result. Garrucha is a known porphyry gold-copper system that appears to be the heart of the La Mina district as we currently understand it," said Patrick Highsmith, Bellhaven's CEO.
Securities Disclosure: I, Andrew Topf, hold an equity position in Goldcorp.
Related reading: