Gold Eyes US$1,300 Following China's Tariff Retaliation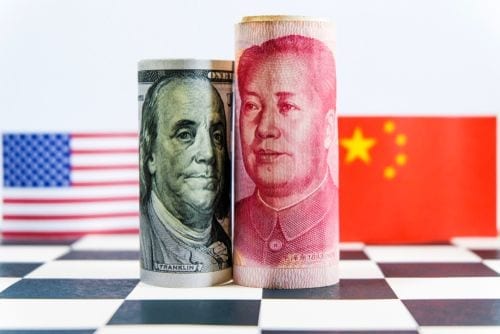 Thanks to geopolitical concerns stemming from China and the Middle East, investors are turning their attention to gold as a safe haven.
Gold reclaimed the US$1,300 per ounce level during Monday's (May 13) session thanks to Beijing declaring a retaliatory tariff hike in response to the US raising tariffs on Chinese goods last week, sending investors towards the safe haven of the yellow metal.
China revised its US tariff target list to US$60 billion as a way to hit back at Washington for tariffs imposed on US$200 billion of Chinese goods.
"China retaliating as fast as they did was a clear signal they're not going to be pushed around," Samantha Azzarello, global market strategist for JP Morgan Asset Management, said to Bloomberg.
Upon news of China's retaliation, US President Donald Trump said that he will meet Chinese President Xi Jinping next month to address the growing trade war tensions between the two powerful countries. The statement sent the global markets into a state of insecurity and fear.
"Markets would like a little bit more play nice and maybe even a bit of complacency from China," Azzarello added.
In addition to the US dollar retreating as trade concerns grew, US Treasury yields fell to six week lows in Monday's session, as investors threw additional support behind gold.
However, as of Tuesday (May 14) morning, the yellow metal had retreated slightly as the US and China came to the decision to take a more optimistic tone in regards to their trade dispute.
"The most recent noise around the trade tensions has been settling a little bit," said Carsten Menke, an analyst at Julius Baer (OTC Pink:JBARF,SWX:BAER).
"We're hearing voices out of the US that the talks are going to continue and (also) see a little bit of recovery in equities. So it's not all as negative as it had been in the past few days and that's the reason gold is consolidating," he added.
On Tuesday morning, Trump made remarks that recent discussions with China should prove successful and that he is optimistic that a resolution to the trade dispute is near.
Looking ahead, investors are now turning their attention to the intensifying tensions between the US and Iran after Saudi Arabia revealed that two of its oil tankers were included in attacks that took place off the coast of the United Arab Emirates.
"The Middle East escalation news brings us a step closer to a significant US military reprisal. Fears that China will weaponize US Treasuries in trade war retaliation is scaring the daylights out of markets even if it is unlikely," said Stephen Innes, head of trading and market strategy at SPI Asset Management.
These geopolitical concerns are likely to keep the precious metal in the US$1,300 range for at least the next few sessions. As of 10:55 a.m. EDT on Tuesday, gold was trading at US$1,296.
Don't forget to follow us @INN_Resource for real-time news updates!
Securities Disclosure: I, Nicole Rashotte, hold no direct investment interest in any company mentioned in this article.