Gold Exploration and Mining in the Cariboo
Historic gold production in the Cariboo area has been approximated to total more than 3.8 million ounces. The region currently hosts a number of interesting gold and mixed metal projects in various phases of production, development and exploration with opportunities that might prove worthwhile for investors.
By Dave Brown – Exclusive to Gold Investing News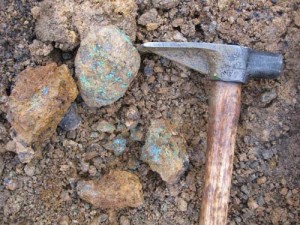 The original Cariboo Gold Rush was a period of feverish migration of workers into the Horsefly Creek area in British Columbia in 1859 following the first gold discovery by Peter Curran Dunlevey. This was closely connected by subsequent strikes at Keithley Creek and Antler Horns Lake in 1860; and by 1862, widely publicized stories surrounding prosperous finds throughout the Williams Creek district resulted in a full swing gold rush.
Historic gold production in the Cariboo area has been approximated to total more than 3.8 million ounces, which can be segmented into 2 million ounces from placer operations and 1.8 million ounces from lode deposits. The totals can only be estimated as any extraction prior to 1874 was not recorded.
Almost 90 percent of the placer gold was recovered from late Pleistocene, pre-glacial and interglacial gravels in buried paleo-channels of modern stream valleys. The placer operation from a bullion pit mine at Likely produced 175,000 ounces of gold and 1,800 ounces of platinum.
Last month, Gold Investing News covered a broader look at the entire region of British Columbia; but within a more narrow and introspective scope the Cariboo region offers some interesting properties that investors might deem as worthwhile opportunities.
Potential Regional Exposure
The Cariboo region hosts a number of interesting gold and mixed metal projects in various phases of production, development and exploration with considerations that could yield desirable returns for investors:
Imperial Metals Corporation's (TSX:III) key properties are the Mount Polley open pit gold and copper producing mine in the Cariboo region. The company's other operations include the Huckleberry open pit copper and molybdenum producing mine in northern British Columbia, the development stage Red Chris property in northwest British Columbia, and the development stage Sterling gold property in southwest Nevada. The company reports that current exploration is focused on locating high grade ore to replace a pit mill feed mined over the past three years and drilling at several zones has returned significant intervals of high grade gold /copper mineralization. On August 5, the company reported one of the longest mineralized intercepts obtained to date at Red Chris, which the Supreme Court of Canada allowed to advance to final permitting earlier this year.
Dajin Resources Corp. (TSXV:DJI) is a mineral exploration company that has polymetallic mineral claims in the Cariboo as well as lithium interests in a highly prolific region of Argentina. In August the company reported on the sampling phase of a geochemical soil sampling program that was recently completed on the Addie 1 claims. The sampling program was a follow up to positive results of soil sampling in 2009, which indicated the presence of a new anomalous gold region that may be up to 1.5 km long. The recent sampling program consisted of approximately 900 samples collected at 25 meter intervals along lines spaced at 100 meter intervals and located between the widely spaced lines of the earlier program.
Barkerville Gold Mines Ltd. (TSXV:BGM) has also been very prominent in exploring and developing a mining operation in the Cariboo region. The open pit mine on Cow Mountain is located within the Rainbow, Sanders and Pinkerton Zones, which are centered on a large knoll located approximately 85 km east of Quesnel. These zones were discovered in the 1930s by the Cariboo Gold Quartz Mining Company, and were subject to some underground mining during the period of operation of the Cariboo Gold Quartz mine. Last week, it was announced that the company's first gold dore bar was poured on September 8th weighing 314.1 troy ounces and that continuous, full gold production has now been achieved at the QR Mine and Mill. The company anticipates producing 50,000 ounces of gold in its first year of production.
Spanish Mountain Gold Ltd. (TSXV:SPA) currently is developing a gold property located about 6 kilometers from the village of Likely, in the Cariboo region, approximately 70 kilometers north-east of the city of Williams Lake. The project is host to a potentially bulk mineable, large tonnage, sediment hosted gold deposit. Current economic and engineering studies will focus on defining preliminary economic parameters for the deposit that include potential operating costs, capital expenditures and scale of production. One of the primary goals of these studies will be to determine realistic cut-off grades of the deposit and the company anticipates that assay results should be available later in this quarter.
Broader Perspective
In February. a press release announced a $10 million commitment for engineering, environmental assessment and aboriginal consultation for a new power line project along the Northwest Transmission Line (NTL). Gold mining and exploration interests in the Cariboo region could interpret any provincial policy improvements to be a tailwind towards prosperity. According to the Mining Association of BC, "the project has the potential to attract $15 billion in new capital investments." Last April, the government also increased weight limits for trucks to haul larger mining loads from the Yukon. These developments underscore the provincial and federal governments' initiatives to work with mining interests to advance projects that are key to attracting potential investment.
September 20th's Gainers: Top 5 Best Performing Gold Stocks of the Day
| | | | | |
| --- | --- | --- | --- | --- |
| Company | Symbol | Price | Currency | Growth |
| Allied Nevada Gold Corp | TSE:ANV | 28.21 | CAD | 4.64% |
| Jaguar Mining Inc. | TSE:JAG | 6.78 | CAD | 4.31% |
| Kinross Gold Corp. | NYSE:KGC | 18.82 | USD | 3.41% |
| Red Back Mining Inc. | TSE:RBI | 34.85 | CAD | 3.20% |
| CGA Mining Limited | TSE:CGA | 2.84 | CAD | 2.90% |