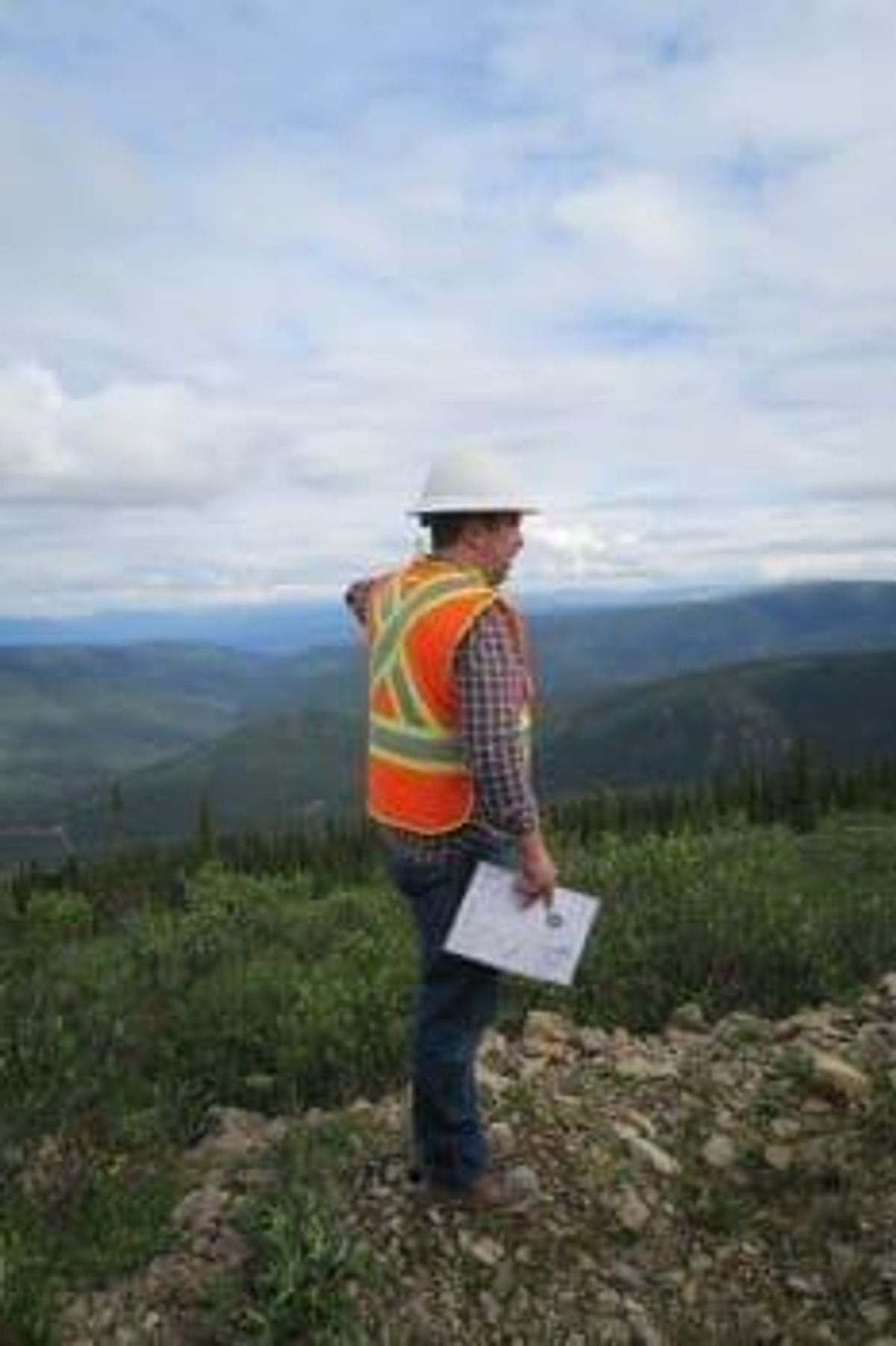 The Investing News Network had the chance to visit Victoria Gold's fully permitted Eagle project this past month. Here's a look at what the company has been up to, and what to expect next.
Investors look at a number of different factors when it comes to development stage mining projects, including the grade and size of a deposit, strip ratios and local infrastructure. But without permitting in place, it's impossible to bring a project forward, no matter how great the deposit is.
The Investing News Network had the chance to visit Victoria Gold's (TSXV:VIT) fully permitted Eagle project this past month, as part of a media tour of mining exploration and development projects in Canada's Yukon territory.
The 2.3 million ounce gold reserve will be developed as a conventional open-pit, valley heap-leach project, targeting annual production of 200,000 ounces per year. Eagle currently has a ten-year mine life, but Victoria president and CEO John McConnell stated that there's plenty of potential to expand the mine for increased production and a longer mine life–Eagle holds another 1.4 million ounces of gold in indicated resources and 1.5 million ounces of gold in inferred resources.

And as Victoria executive vice president Mark Ayranto explained while driving up the winding dirt road to the top of the future mine pit, the pit geometry at Eagle is favourable to expansion, since it is shaped like a scallop out of the side of the hill.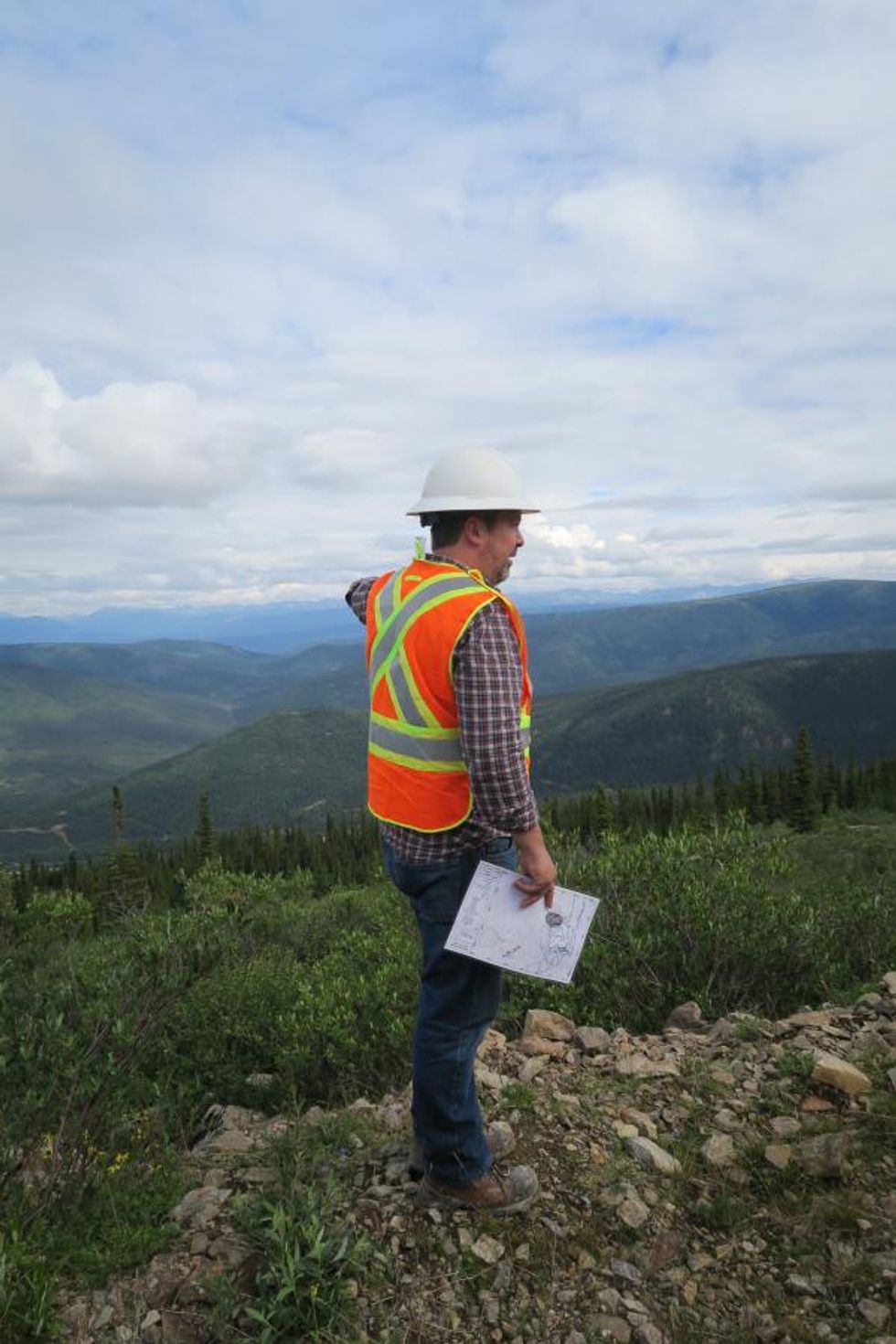 Mark Ayranto pointing out the top of the future Eagle gold pit.
While Eagle holds a large reserve and is technically simple, McConnell believes that the main positive at this point is the fact that the project is fully permitted. "I can't say 'fully permitted' enough," he said during a presentation. "Even though you think you're 99 percent of the way there, regulators can throw some surprises at you."
As an example, McConnell pointed to the
pushback
being faced by Sabina Gold and Silver (TSX:
SBB
) regarding permitting for its Back River gold project in Nunavut.
With permits in hand, Victoria is now looking to complete an updated feasibility study this Fall (the existing study is from 2012) with updated metals prices, exchange rates, and other numbers. Key changes will include the potential addition of a second heap-leach pad to process low-grade ore that would previously have been treated as waste, and the consideration of innovative cost cutting measures being implemented by Victoria.
For example, in July, Victoria
purchased a used 110-dorm room camp
for a fraction of the $7 million it had planned to spend building a new one.
"That camp that we purchased, we paid $275,000 for. We think it'll cost us about another $150,000 to move it to site, so that's already a savings of $6.5 million," McConnell said. "There's some great deals out there right now, and with our treasury where it is, we'll be taking advantage of those over the next six months."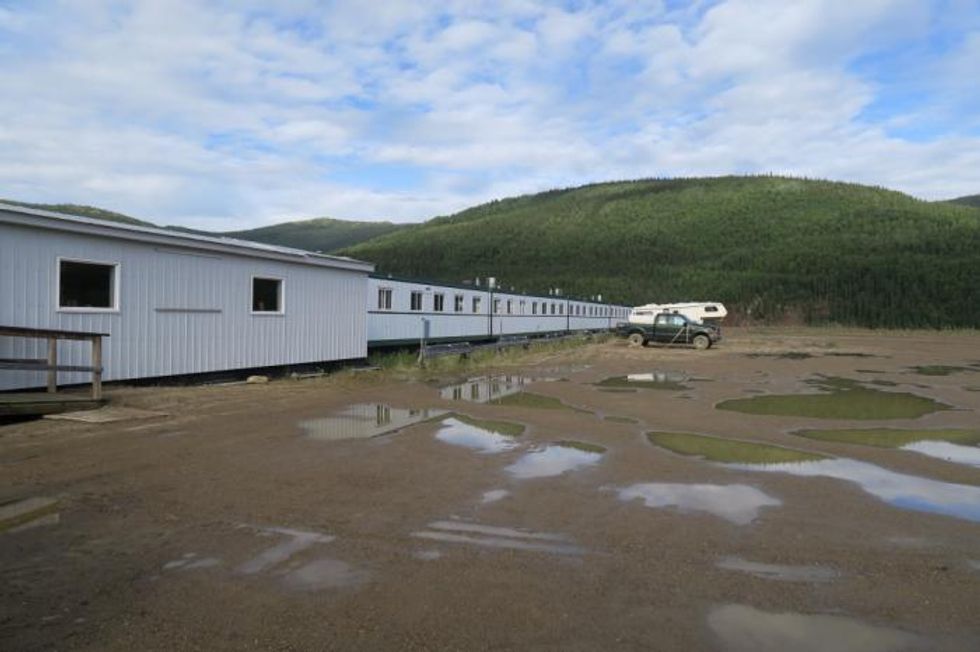 Victoria Gold's camp, where we stayed overnight ahead of our property tour.
Victoria has approximately $40 million in cash and no debt.
Additionally, there are also Victoria's Olive and Shamrock zones to consider. Located 2.5 kilometers from Eagle on Victoria's Dublin Gulch property, the Olive-Shamrock area is shaping up to be a small, higher grade deposit (Eagle reserves have a grade of 0.78 grams per tonne of gold). A 12,000 meter drill program was completed at Olive in June, aimed at upgrading indicated resources to the inferred category for inclusion in the company's upcoming feasibility study.
"It'll either be a nice starter pit or a nice pit we can go to to blend in higher grade material," McConnell said of Olive.
Highlights of drill results from Olive included intercepts of 38.1 meters at 2.1 grams per tonne of gold, 144.5 meters at 1.2 grams per tonne of gold and 73.8 meters at 1.6 grams per tonne of gold. Victoria recently
released
assay results from Shamrock as well.
Checking out some core.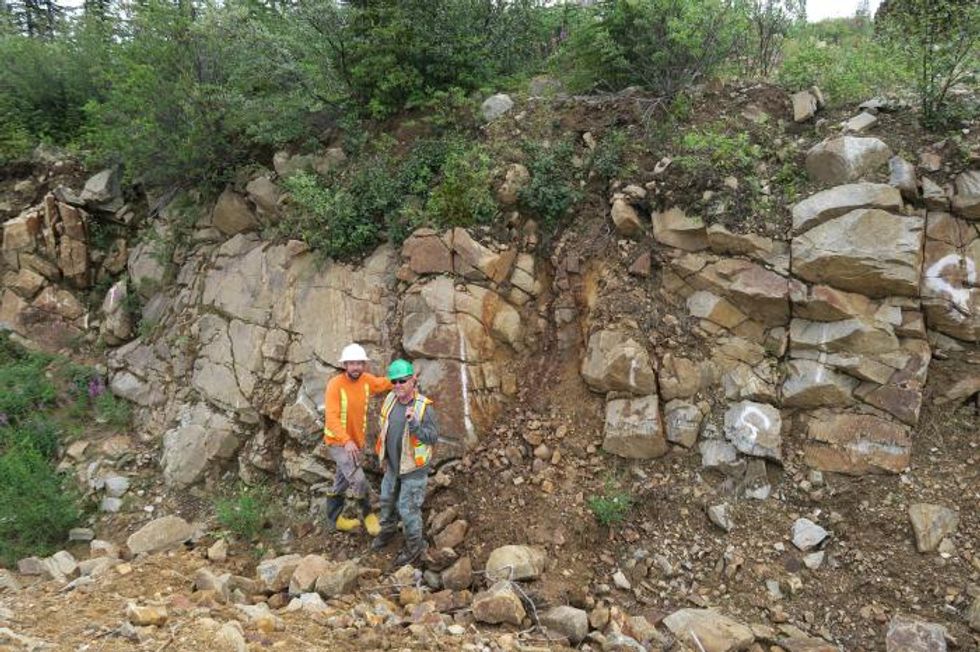 Mickey Fulp, the Mercenary Geologist, getting into the trenches at the Olive-Shamrock zone with Geologist Paul Gray.
Meanwhile, Victoria has a number of key strategic investors providing support, with examples including Sun Valley Gold, Electrum Strategies Fund, and Kinross Gold (TSX:
K
). Notably, in addition to participating in nearly all of the Victoria's financings, Kinross has given the company free access to its For Knox gold mine in Alaska, another cold-climate heap-leach project with similar geology.
"We've been able to learn from their mistakes and incorporate what works in a northern heap leach into the designs of Eagle," McConnell said.
In terms of financing, the 2012 feasiblity study put the initial capex for Eagle at C$400 million for a post-tax net present value of C$366 million and an internal rate of return of 23.45 percent. Speaking to McConnell at the Yukon Investment Conference, he appeared to feel positive about securing the funding needed to move the project ahead.
"Eight months ago we had a market cap of $40 million. There's no way we were going to do it," he said. "Today we've got a market cap of $280 million, so it's starting to get more doable."
"Our plan is to get this updated feasibility study out in the Fall, use that document to get some debt in place—I think probably on the order of $200 million,—and if the moons are aligned and the capital markets are in good shape, we'll do $200 million in equity, and then we're away to the races."
McConnell expects to start production in early 2017, moving into full production in 2018.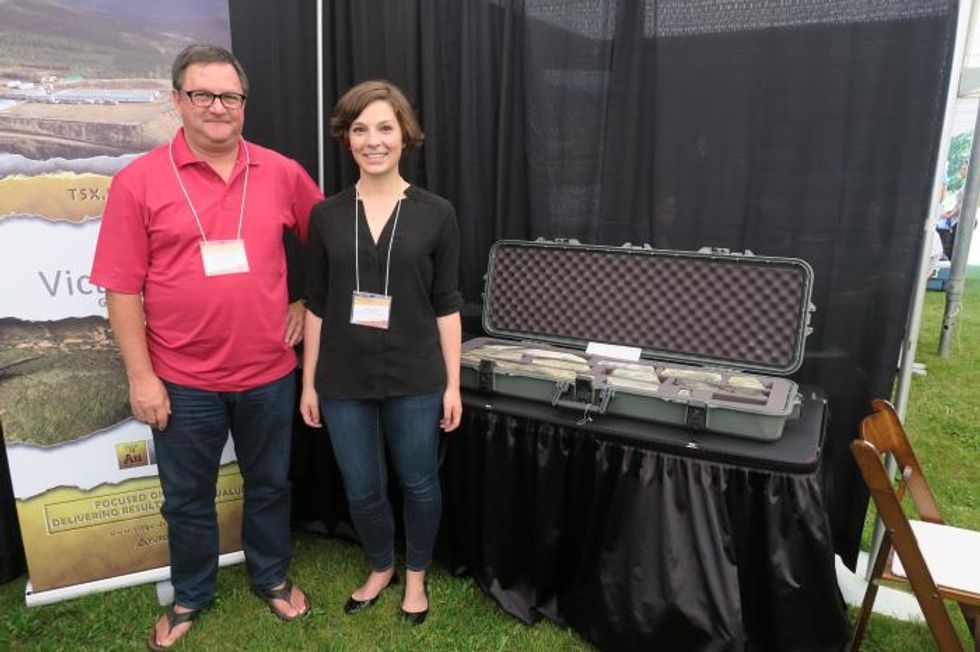 McConnell at Victoria Gold's booth at the Yukon Investment Conference in July.
Don't forget to follow us @INN_Resource for real-time news updates.
Securities Disclosure: I, Teresa Matich, hold no direct investment interest in any company mentioned in this article.
Investing News Network websites or approved third-party tools use cookies. Please refer to the  cookie policy for collected data, privacy and GDPR compliance. By continuing to browse the site, you agree to our use of cookies.