Yukon Mining and Exploration in Pictures
The 1890's Klondike gold rush may be long over, but mining is still very much at the heart of Canada's Yukon. Here's a look at several mining development and exploration sites around the territory.
The 1890's Klondike gold rush may be long over, but mining is still very much at the heart of Canada's Yukon.
While the territory was hit hard during the recent downturn in metals prices—Capstone Mining's (TSX:CS) Minto mine is now the only currently producing mine in the territory—rising metals prices and government support for the industry could help bring exploration and development projects forward.
This past week, INN was in Yukon for a whirlwind tour of the territory's exploration and mining properties. It was quite a week, as we managed to fit in eight site visits in addition to the Yukon Mining Alliance Investment Conference in Dawson city.
Sponsored by the Yukon Government's Department of Economic Development, the tour allowed for a firsthand look at what companies in the territory are doing to advance their projects. From early stage exploration plays to advanced stage development projects, we saw plenty of what the territory has to offer.
Company sites we visited included:
Every company on the list has seen a substantial increase in share price year-to-date. Specifically, Golden Predator is up 584 percent to $0.89 per share on the TSXV, while Alexco and Western Copper are up 431 percent and 236 percent respectively on the TSX.
Other companies represented at the Yukon Investment Conference included Strategic Metals (TSXV:
SMD
), Northern Freegold (TSXV:
NFR
) and Banyan Gold (TSXV:
BYN
).
Here are a few highlights from the week, in pictures.
Stay tuned for more in-depth coverage of companies on the list:
Golden Predator

First stop, the 3 Aces project, located 160 kilometers north of Watson Lake in southeast Yukon.


Searching for visible gold at the Sleeping Giant vein at 3 Aces. A few flakes were previously marked, but it wasn't hard to find more.


Visible gold!
Rockhaven Resources

Checking out some core at Rockhaven Resources's Klaza property with geologist Kelson Williams and project geologist Jared Tarswell.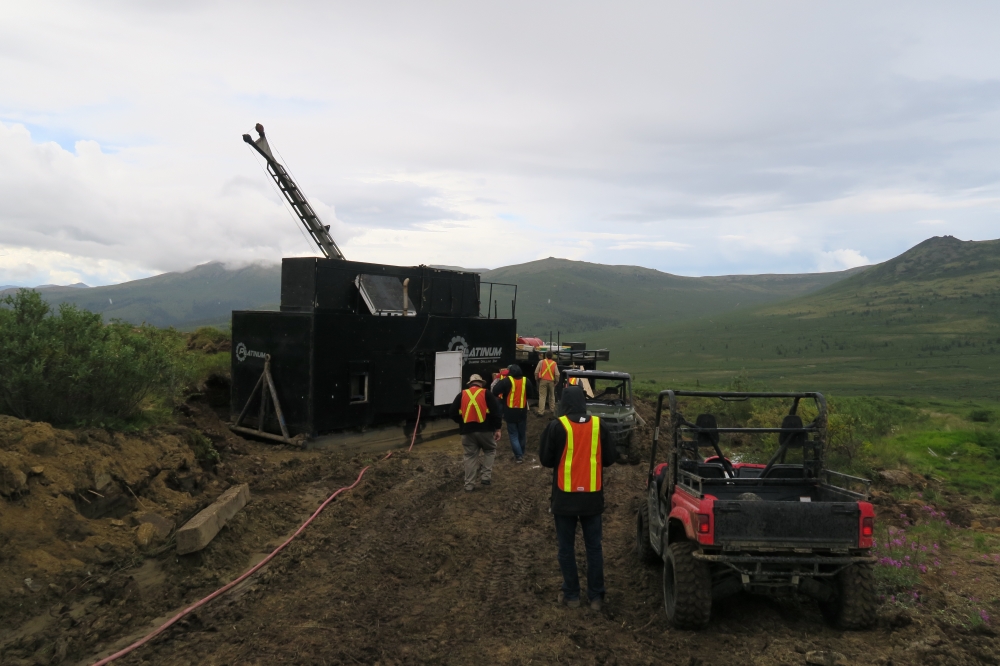 Drilling in action at Klaza.
Alexco

Alexco VP of exploration Alan McOnie pointing out the Bermingham discovery in the company's Keno Hill silver district.
Alexco put its Bellekeno mine in the district on care and maintenance in 2013 due to low silver prices. The white metal has recently gained back ground and is now hovering around $20 per ounce, but CEO Clynt Nauman wants to get more of an understanding of Bermingham before restarting operations.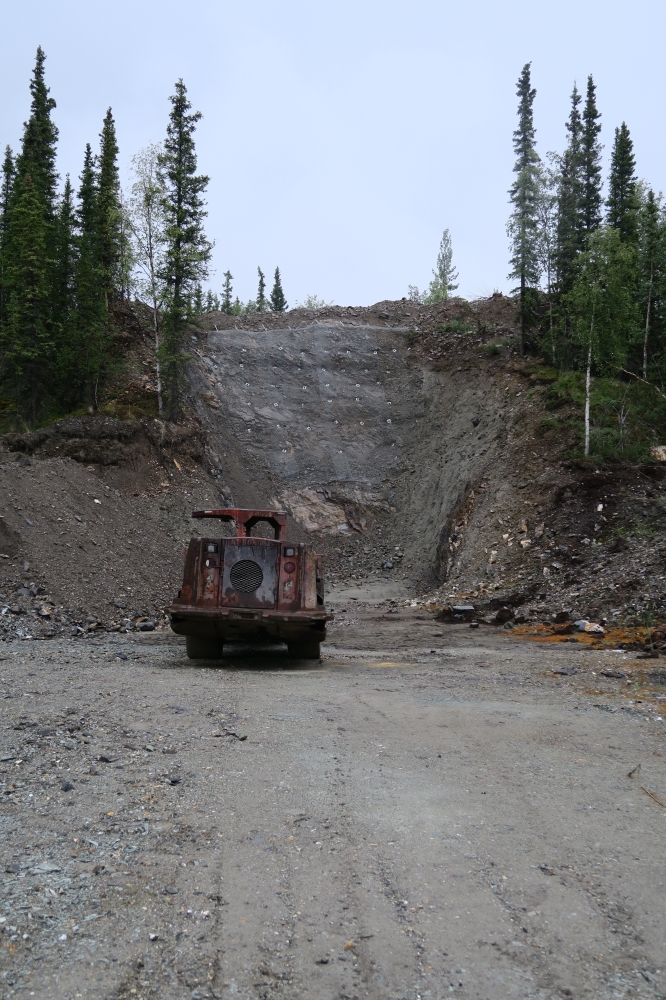 The entry point for underground mining at Alexco's Flame & Moth deposit. The company is starting construction of the underground ramp portal and infrastructure necessary for future development of the deposit.


Nauman and McOnie in front of Alexco's mill at Keno Hill.
ATAC Resources

A beautiful setting for ATAC's Rackla gold project in central Yukon. The project covers 1,700 square kilometers and is located 55 kilometers north of Keno.


ATAC VP of Exploration Julia Lane giving us the rundown on Carlin style mineralization in the Yukon. ATAC first identified Carlin style mineralization in the Nadaleen trend in 2010.
The Rackla project also includes the Rau trend, which hosts the Tiger deposit. ATAC filed a PEA for the Tiger deposit on July 14.


ATAC CEO Graham Downs answering questions from Mercenary Geologist Mickey Fulp in the core shack.
Victoria Gold

We spent a night at the Victoria Gold camp. The company recently purchased an additional used camp with 110 dorm rooms, which it expects will save approximately $6 million in upfront capital costs for the Eagle mine.


Victoria Gold Executive Vice President Mark Ayranto pointing out where the future pit, heap leach pad, and other parts of the Eagle mine will be located. He's standing above the pit, which will begin near the tree line.


More visible gold! This bit of core is from Victoria's Olive discovery. The company is planning to complete a resource estimate for Olive with the aim of tying it into its feasibility study update for Eagle.

Western Copper and Gold

View from the top of the future open pit at Western Copper and Gold's Casino project. The pit will extend to a point on the road below.


Dr. Paul West-Sells, Western Copper CEO, laying out the mine plan for Casino. Currently undergoing environmental assessment, the Casino project holds 4.5 billion pounds of copper, 8.9 million ounces of gold and 6.5 million ounces of silver in proven and probable reserves.
Wellgreen Platinum

A look at where the starter pits would be located for the Wellgreen project. Wellgreen released an updated preliminary economic assessment for the project in February 2015.
Goldcorp/Kaminak Gold

A beautiful day at the Coffee project, 130 kilometers south of Dawson City. Goldcorp announced a bid to acquire Kaminak Gold and the Coffee project in May, and shareholders voted in favour of the deal on July 12.


Standing with Kaminak chairman John Robins, Latte deposit in the background.


A trench at the Supremo deposit with some not-so-exciting looking rocks. Robins remarked, "I wonder how many prospectors walked past these mountains, not knowing that there was a huge gold deposit underneath."
Don't forget to follow us @INN_Resource for real-time news updates.

Securities Disclosure: I, Teresa Matich, hold no direct investment interest in any company mentioned in this article.Editorial Disclosure: Western Copper and Gold is a client of the Investing News Network. This article is not paid for content.