Currency Markets Driving Gold Prices
Further affecting precious metals prices of late is the fear paper currencies around the globe may be in peril, making gold as a hard asset much more attractive.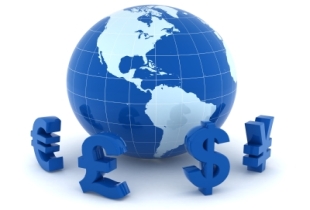 By Melissa Pistilli—Exclusive to Gold Investing News
After posting 2 per cent gains for February, spot gold is on a tear this week reacting to volatility in the currency markets, uncertainty over European debt issues, as well as higher copper and oil prices.
On Monday, gold reached a one-week high in New York to close at $1118 an ounce, climbed to a record 744.85 an ounce in sterling and hit 823.66 an ounce in euros.
But the real gains in gold came Tuesday as prices rose to their highest level in over six weeks on a stronger euro vs. the dollar. Gold in euros reached 836.72 an ounce and 759.86 an ounce in sterling. The yellow metal closed at $1134.50 an ounce in New York.
Gold continued to post gains Wednesday climbing as high as $1146 an ounce as the dollar lost ground to the euro. More optimistic sentiment entered the market after Greece announced plans for a 4.8 billion euro austerity package meant to curtail its financial woes. Gold closed the day at $1139.60 an ounce.
Further affecting precious metals prices of late is the fear paper currencies around the globe may be in peril, making gold as a hard asset much more attractive.
Despite today's somewhat good news out of Greece, analysts maintain the euro is still on shaky ground because there are no guarantees the government's corrective measures will actually be implemented and there are concerns such measures, if enacted, will slow economic growth in Europe as a whole.
"Currency volatility is by far the biggest factor supporting gold on Tuesday," said Frank McGhee, head precious metals trader at Integrated Brokerage Services.
The Impact of Europe's Debt Issues on the Gold Market
According to the World Gold Council Gold Demand Trends 2009 report, despite gold's historical role as a safe haven asset, in 2008 and 2009 more investors turned to gold at times when economic conditions seemed to be improving than when fear of financial crisis dominated. Hence, gold has become a risk play over the past few years rather than a safe assurance.
But, the financial situation threatening to boil over in the euro zone seems to be returning gold to its historical role as investors look for the safety of hard assets, decoupling gold from the dollar.
"The market is looking for some security with gold," said Eugen Weinberg, an analyst at Commerzbank. "The problems in the euro zone, and the problems in Greece, may well pull people into the gold market as they look for diversification and security."
Greece's debt crisis is so bad Prime Minister George Papandreou is calling on civil servants and pensioners to take cuts in pay. And the upcoming UK election looks like it could result in a hung parliament making any critical debt reducing strategies almost impossible to implement.
Rising Physical Demand
Activity in the physical and ETF gold markets was flat over the past few weeks, but this week investor demand for gold bullion holdings is heating up once again.
"The fact that gold is pushing higher in most currencies is a clear indication of good physical buying interest," said Standard Bank in a research note.
Metals guru Ira Epstein says import data from India shows the country has more than tripled its imports from this same time last year, up to about 28 metric tonnes for February.
Commerzbank analysts also point out that along with "robust jewelry demand from India and the high interest of speculation financial investors, ETF demand could also support the gold price in holding up against the firm U.S. dollar and in advancing toward the $1,200 an ounce mark."
Bralorne Gold Mines
BC-based miner Bralorne Gold Mines [TSX.V: BPM] announced this week that it has encountered more high grade results from the BK zone including a grade of 35.23 g/t over 36.5 metres, adding to a growing list of high grade assays sampled in the zone.
The BK zone lies between the historic Bralorne and King Gold mines located 150 km north east of Vancouver. Discoveries like this come as no surprise on the property where a 2006 exploration program encountered one hole that assayed at over 11.6 ounces per ton of gold. Historically, the Bralorne/Pioneer/King Mines produced 4.15 million ounces from just 7.9 million ton of are at an average grade of over 0.53 ounces per ton.
Bralorne plans to put the existing 120 ton per day mill into production in early 2011 before expanding the mill to accommodate up to 280 ton per day soon after. For the BK zone's narrow vein high grade system, 280 ton a day is the optimal rate for production and still economical with grades as low as 7 g/t at a gold price of $800. Exploration in the area is advancing with the goal of blocking out new zones to provide ongoing sources of high grade mill feed. Technical reports on the property can be found here.
On Wednesday, shares of Bralorne on the TSX.V were trading at 0.84 cents.