Brazil Resources to Acquire Whistler Gold-Copper Project in Alaska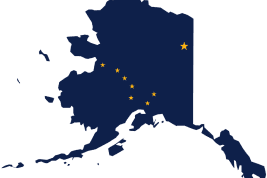 Brazil Resources has entered into a definitive agreement with Kiska Metals to acquire its Whistler gold-copper project in Alaska. The project also includes 304 State of Alaska mineral claims, a 50-person all-season exploration camp, an airstrip and an assortment of equipment.
Though gold has had a difficult week, some positivity continues to come out of the space. Brazil Resources (TSXV:BRI) said Tuesday that it has entered into a definitive agreement with Kiska Metals (TSXV:KSK) to acquire its Whistler gold-copper project in Alaska. Brazil Resources will also acquire 304 State of Alaska mineral claims, a 50-person all-season exploration camp, an airstrip and an assortment of equipment.
In return, Kiska will receive a total of 3.5 million shares of Brazil Resources — that equates to approximately $1,610,000 based on the company's closing price on June 20, and represents dilution of 4.5 percent.
The project is a whopping 170 square kilometers and hosts several gold-copper porphyry deposits, including the Whistler Orbit gold-copper porphyry prospects, the Island Mountain gold-copper porphyry deposit, the Muddy Creek intrusion-related gold target and several other copper-gold targets outlined in the map shown below.
Kiska completed a NI 43-101 resource estimate on the Whistler deposit in 2011, and it points to an indicated resource of 2.25 million gold equivalent ounces and an inferred resource of 3.35 million gold equivalent ounces. It was based on 48 drill holes covering a total of 19,870 meters.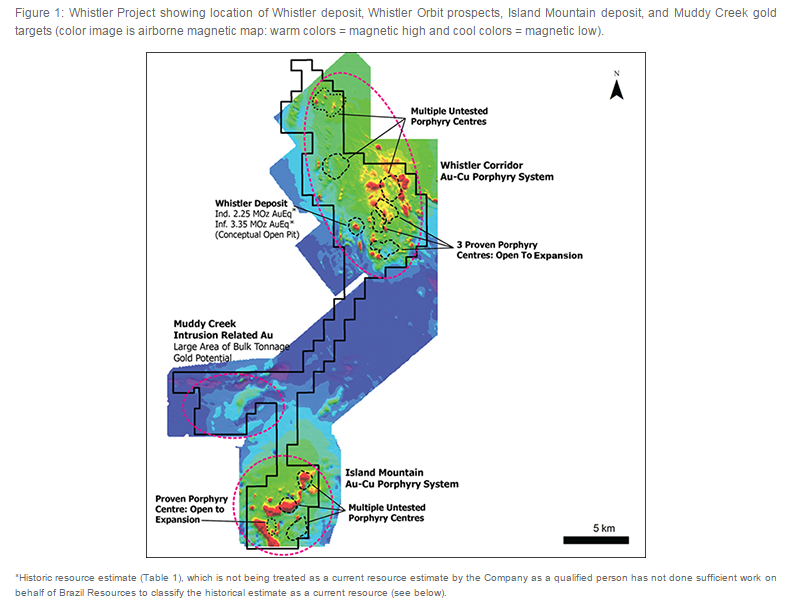 Brazil Resources said the resource estimate provides an indication of the potential of the property and is relevant to future exploration. However, the company plans to treat the data as a historic estimate and will complete its own updated NI 43-101 technical report once the transaction is complete.
"No new drilling or sampling have been completed on the Whistler deposit since the above resource estimate was completed, however, following closing of the acquisition of the Project, an independent qualified person on behalf of Brazil Resources will be required to, among other things, examine the cut-off grade with reference to today's metal prices, verify historic sampling and results and re-issue the estimate in a NI 43-101 Technical Report before Brazil Resources can treat the estimate as current," the company's press release states.
Rob Chang of Cantor Fitzgerald found the news to be of interest, noting that "this new asset would represent Brazil Resource's the third distinct project, joining the Sao Jorge gold project in Brazil and the Rea uranium project in the Athabasca Basin."
Mining in new territory
Upon releasing the news, Brazil Resources CEO Garnet Dawson said that the company is pleased to "acquire this emerging gold-copper district in a stable mining jurisdiction." While it will be a bit different from the company's other projects in Brazil and Canada, there are quite a few benefits to working in Alaska.
For one thing, Alaska's long history of mining and its dependence on the industry creates benefits for both the mining companies and the local economy. Gold miners began exploring the area in the 1800s, and the state's capital, Juneau, was established following the discovery and development of the AJ and Treadwell gold deposits.
According to the Alaska Miners Association, "[t]hrough direct and indirect jobs, state and local tax revenues, and royalties transferred to Native corporations, the mining of gold, silver, copper, zinc, lead, and coal mineral mining plays a vital role in sustaining Alaska's economy. Mining today plays an active role in Alaska's growth and economic well-being."
More specifically, roads, docks, bridges, buildings and renewable energy sources, including hydro plants in the southeast, were built on mining investments, giving companies better access while benefiting residents.
For its part, Brazil Resources will also have Kiska's management at its disposal as it has entered into a management services agreement that will see Kiska "provide certain ongoing support and maintenance services in respect of the Whistler Project for a fee of $10,000 per month for 15 months following closing of the Transaction."
Dawson concluded that while his company remains dedicated to its gold development projects in Brazil, he is pleased "to acquire another project with a historic multi-million ounce resource, large expansion potential, relatively low holding cost and the support of Kiska's superior technical team, which is also in joint ventures with First Quantum Minerals Ltd. and Teck Resources Ltd. This acquisition is a superb addition to our existing project base and represents another milestone in our strategy to build shareholder value through targeted accretive transactions."
At close of day Tuesday, Brazil Resources' share price was up 6.52 percent, at $0.49. Year-to-date it's down 15.52 percent.

Securities Disclosure: I, Kristen Moran, hold no direct investment interest in any company mentioned in this article.