Diamond Outlook 2019: Technology Driving Sector Change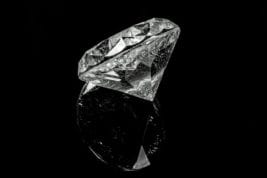 It was an interesting year for the diamond market, but what is the diamond outlook for 2019? We asked experts to share their thoughts.
The diamond sector has experienced a number of major developments over the last 12 months. From record-setting discoveries, to the emergence of digital platforms and the unveiling of the world's first lab-grown fashion jewelry line, 2018 was eventful for the gem sector.
In 2017, global diamond production grew by 19 percent year-over-year, reaching a four-year high of 151 million carats. Analysts expect overall production tallies for 2018 will not meet 2017 highs, but will remain on par for the last decade.
Here the Investing News Network takes a look at what catalysts occurred in the diamond industry during 2018, and what market watchers can expect to see in the space in the new year.
Diamond trends 2018: A divided year
The first half of 2018 played out much like market watchers predicted, with demand in China, the US and India driving the market. However, in the latter half of the year a strong US greenback prevented the sector from maintaining those early gains.
The ups and downs seen in the diamond market this year came as a surprise to many, including sector analyst Paul Zimnisky, who expected a little more stability and less turbulence.
"I thought fundamentals were setting up for higher prices in 2018, and we did see this in the first half of the year — rough prices were up as much as 5 to 6 percent," explained Zimnisky.
"In the second half of the year excess supply of smalls has become more apparent, the Indian consumer market is underperforming and there is some macro concern with regards to the Chinese consumer market due to a weak yuan and a stock market that has sold off," he continued.
With two of the largest consumer markets for diamonds taking a more conservative position, this situation was bound to impact the greater sector. However, as Zimnisky noted, this decreased consumer sentiment wasn't the only influence.
"I see the weakness of rough prices the last few months [as] more related to the state of industry's midstream segment and not so much end-consumer demand falling off.
"While the overall longer-term diamond consumer demand trend is positive, there is a general trend of tighter monetary policy in developed markets as the cycle turns, which is likely to result in a moderation of global growth in the coming years, which will likely impact consumer spending a bit," he said.
Junior diamond company Dunnedin Ventures (TSXV:DVI) saw the year play out much the same way.
"We expected to see increasing diamond prices because of declining diamond production combined with strong retail demand, driven by robust economic growth in key markets such as the US, China and India," said President Claudia Tornquist.
"Diamond stocks generally declined, more than we expected, particularly towards the end of the year in a challenging commodities market," she added.
The slowdown, which occurred during the latter half of the year, was especially tough on companies focused on exploration, like Dunnedin.
"Exploration companies were challenged to raise capital in a difficult commodities market, and investors were opting for more familiar assets such as gold and copper," she said.
But while other juniors may have struggled to secure funding, Dunnedin leveraged its network of experts and investors. "So we were able to fully fund our exploration program this year," said Tornquist.
Diamond outlook 2019: Large finds and record sales
While the market for diamonds didn't gain the traction analysts had expected, 2018 was a year of record-setting discoveries and sales.
In January, Gem Diamonds (LSE:GEMD) unearthed its largest diamond to date: a 910-carat rough stone in Lesotho. The massive find set the exploration tone for the year.
The spectacular stone then sold at auction in March for US$40 million.
In addition to the record-setting discovery, 2018 was marked with record sales and auctions.
In February, Sotheby's (NYSE:BID) brought a rare 102.34-carat white diamond to auction, and the gigantic gem sold for more than US$30 million.
Mid-year, Russian miner Alrosa (MCX:ALRS) sold its most expensive stone, the 51-carat Dynasty diamond. The polished and cut stone was part of a larger collection that brought in approximately US$10 million.
2018 was the year large stones reigned supreme for a couple of reasons, according to Zimnisky.
"[I]t's important to note the significant dislocation in price between rough diamond sizes and categories: smaller, lower-quality goods have underperformed, as medium and larger categories have outperformed," he explained.
If anything trumped large diamonds in 2018, it was fancy colored diamonds, which also set records and captivated the world with their beauty.
In May, Lucapa Diamond (ASX:LOM) unveiled a tremendous 46-carat pink diamond from its Lulo diamond mine in Angola. Then, later in the month, the Australia-based miner unearthed a 25-carat yellow diamond in Lesotho.
Last month, Christie's Geneva set a new auction record when it sold the Pink Legacy, an exquisite 18.96-carat pink diamond, capping off the year of the colored diamond.
Yaniv Marcus, colored diamond expert at the Diamond Investment and Intelligence Center, offered an explanation on why colored stones have fared so well.
"In 2018, fancy color diamonds continued to have a strong position in the market, simply because they are generally rare, although some colors have had soft prices for the last few years."
Speaking about yellow diamonds, Marcus commented, "[prices for] the lower intensities … have been soft," he said. "Fancy vivid yellow prices have continued to appreciate mainly due to their rarity. We are seeing more and more vivid yellows reaching well above US$100,000 per carat."
While brightly tinged yellow diamonds performed well in 2018, pink and blue diamonds outperformed all gems in the sector.
"Blue diamonds continued to outpace all colors in terms of value due to extremely high demand and an extremely acute supply," explained Marcus. "Prices are almost at double-digit growth for the last few years. No new rough of significant size is coming out of mother nature, and the majority of sales in auctions are from the secondary market, meaning previously owned."
Pink diamonds also proved rare, and increased demand has helped drive up the price of the stones.
"Argyle pink diamonds have had at least a 400-percent increase in value in the last 18 years, and will surely have a further increase as the Argyle mine is set to close in 2020. This will cut the supply a further 90 percent after that," added Marcus.
The colored gem expert believes that once the Argyle mine in Australia closes, the price of pink gems could reach parity with their blue counterparts.
"There is no steady supply of pink and blue diamonds so most likely prices will continue to appreciate," he said. "[T]here is a constant supply of yellow diamond roughs in general, but those of vivid intensities continue to be rare and we see it in their prices.
Diamond outlook 2019: More ways to buy diamonds
As mined colored gems become more valuable and more scarce, investors will see the emergence of more lab-grown diamonds, which have the same chemical composition as their mined counterparts.
While synthetic diamonds have been around for awhile, 2018 was a catalyst year for the sector, with the launch of the first fashion jewelry line comprised entirely of lab-grown diamonds.
In late May, diamond powerhouse De Beers launched Lightbox Jewelry, a line of lab-grown white and colored diamonds in jewelry settings.
The news reverberated through the industry and asserted synthetic stones as a viable alternative to traditionally mined gems.
In May, INN spoke with Steve Coe, general manager of Lightbox Jewelry, about the brand-new fashion jewelry line and the demographic the gems are geared towards.
"I think our demographic is pretty broad," said Coe.
"Personally, I think we hope to open up the opportunity with younger women. In an accessible price range, which I think would be quite appealing to them. Equally in our research, we found that older owners who already have a number of pieces of natural diamond jewelry were quite interested in this because it's something different and they've already got all the traditional diamond staples. It's the chance to experiment and try something a little bit different."
The man-made stones are more affordable compared to the traditionally mined variety, which has caused some speculation that they will detract attention and ultimately weigh down the rare diamond market.
Coe doesn't believe that will happen. "[W]e strongly believe that this is an additive opportunity that is going to add growth for the overall market," he added.
Analyst Zimnisky thinks it is too early to tell. "It will probably take a few years to see the full implication of this play out," he said.
Aside from record-topping discoveries and sales, 2018 also saw the rise of digital diamond platforms. In February, Lucara Diamond (TSX:LUC) bought Clara Diamond Solutions, a secure digital sales platform designed for rough diamonds.
The application uses blockchain technology to modernize the diamond supply chain and offer transparency and real-time tracking.
By October, Lucara was had announced its first digital diamond tender was scheduled for November.
Diamond outlook 2019: The big and shiny year ahead
Moving into the new year, market participants remain optimistic that prospects will improve for diamonds and the resource sector at large.
"We do notice that companies making new discoveries in gold, copper and other minerals over the last year have been rewarded, so we hope to join that list in 2019," said Tornquist. "On the macro side, we see a continuation of the retail jewelry demand led by the US and a decline in the supply of rough diamonds."
Zimnisky is "forecasting nominal diamond jewelry demand growth of about 3.5 percent next year and nominal supply in dollars down small to unchanged, which [he thinks] will result in higher diamond prices in the low to mid single-digit percentage range."
He also hopes to see market growth in key areas.
"It would be nice to see the Indian consumer market improve next year. Medium to longer term that is one of the most opportunistic consumer markets for the industry," he added. "India is an important market for the industry and can really move the demand needle."
For the rare and fancy colored diamond sector, Marcus doesn't see much change ahead.
"I believe that 2019 will continue to be healthy for fancy color diamond investment and more money will arrive from investors into this already small niche market," said Marcus.
"[R]arity continues to be the key factor in value. Investors are looking to buy only the best and rarest pieces and are willing to pay top dollar. They intend to keep these pieces for a longer-than-average period of time, especially in current uncertain times, both political and financial."
For its part, Lightbox Jewelry sees 2019 as an opportunity to steadily grow its consumer base, while raising awareness about its products.
"We are building a new manufacturing facility in the US," said Coe. "Construction is underway on that at the moment and that will come online in early 2020. So that's a very important development process because that will significantly increase the volume of jewelry that we can produce."
Don't forget to follow us @INN_Resource for real-time news updates!
Securities Disclosure: I, Georgia Williams, hold no direct investment interest in any company mentioned in this article.
Editorial Disclosure: Dunnedin Ventures is a client of the Investing News Network. This article is not paid-for content.
The Investing News Network does not guarantee the accuracy or thoroughness of the information reported in the interviews it conducts. The opinions expressed in these interviews do not reflect the opinions of the Investing News Network and do not constitute investment advice. All readers are encouraged to perform their own due diligence.