Uranium Spot Price Slides on Supply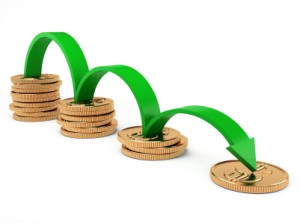 The uranium spot price plunged $1.35 this past week, to $40.90 per pound U3O8, as new supply entered the market, according to TradeTech. "The lack of market activity and reports of new problems with import licenses at the Chinese border prompted some sellers to lower offer prices," reported the industry consultancy firm. "However, the drop in the spot price has yet to attract extensive buying interest and only two transactions are reported for the week."
Estimated 2013 uranium production from the world's leading uranium producer, Kazakhstan, is pegged at 22,821 tons U3O8. The Central Asian nation plans to "annually boost" its uranium production in order to keep its top-dog status, according to Tengri News. A look at Kazakhstan's nuclear power agency's 2012 to 2016 strategic plan shows yearly production targets of: 24,019 tons U3O8 in 2014; 24,754 tons U3O8 in 2015; and 25,602 tons U3O8 in 2016.
Last week, the Canadian Nuclear Safety Commission and India's Department of Atomic Energy finalized arrangements for Canadian companies to export nuclear products and fuels to India. "The agreement ensures Canadian exports only go to facilities in India under International Atomic Energy Agency safeguards," reported the National Post. India plans to construct 12 new nuclear reactors by 2021, and its annual uranium purchases are expected to triple to about $650 million.
The United Arab Emirates expects to have a nuclear power capacity of 5,600 megawatts by 2020, reported Bloomberg Businessweek. In 2015, AREVA (EPA:AREVA) will be supplying nuclear fuel for the Jordan Research and Training Reactor (JRTR), currently under construction in the Kingdom of Jordan, reported The Wall Street Journal. "Construction of the JRTR research reactor by the KAERI/DAEWOO consortium is an essential step for Jordan in acquiring the capabilities required for nuclear R&D and producing nuclear power," states the report.
Company news
Energy Resources of Australia (ASX:ERA) has set its sights on building a new mine in the Northern Territory, reported The Australian, in an effort to "extend the life of its declining and unprofitable open-cut Ranger mine in Kakadu National Park." The company is planning to start underground exploration drilling of the Ranger 3 Deeps exploration decline in the second quarter of this year.
Junior company news
The Patterson Lake area in Saskatchewan's prolific Athabasca Basin is once again taking center stage in this week's mining headlines, with more positive exploration results out of the Patterson Lake South (PLS) property and further land acquisitions in the area.
Monday, Alpha Minerals (TSXV:AMW) and its joint venture partner, Fission Energy (TSXV:FIS), reported radioactivity results from the final 10 drill targets of their winter 2013 exploration program at the PLS property. Further drilling at the R00E zone has extended the strike length of high-grade mineralization to more than 120 meters, with widths of up to 50 meters.  Highlights include hole PLS13-059, which intersected 26.5 meters of mineralization (55 to 86 meters), with a total of 9.9 meters of off-scale (>9999 cps) radioactivity, including a 6.5-meter section of continuous off-scale radioactivity.
Skyharbour Resources (TSXV:SYH) completed its acquisition of a 100-percent interest in 285,000 acres in the Patterson Lake region, which is strategically located near the PLS uranium discovery. In total, the company has acquired six properties, totaling 388,000 acres, in the region.
Aldrin Resource (TSXV:ALN) entered into an option agreement to acquire a 70-percent interest in the Triple M uranium property, which is located in the Patterson Lake region. The 12,001-hectare property borders the PLS property 9 kilometers south to 11 kilometers west of the recent discovery. The press release notes that the property contains: a segment of the Patterson Lake fault along strike from the discovery at Patterson Lake; a segment of a southwest-trending fault zone parallel to and south of the one at Patterson Lake; and a segment of a southwest-trending fault zone parallel to and northwest of the one at Patterson Lake. The company stated that it has commenced a technical report describing the Triple M uranium property.
TAD Mineral Exploration (TSXV:TJ) acquired about 4,000 hectares of prospective land through staking in the vicinity of the PLS prospect. The company plans to put boots on the ground shortly.
Zadar Ventures (TSXV:ZAD) entered into a purchase agreement to acquire a 100-percent interest in the BullRun uranium project in the Southwestern Athabasca Basin. The BullRun project is comprised of three claim groups totaling 9,185 hectares. Block A is located 30 kilometers north of the PLS property and 40 kilometers south of the Shea Creek uranium deposit. Block B is located 50 kilometers east of PLS and 50 kilometers west of the Centennial uranium deposit. Block C is located 12 kilometers west of the Centennial uranium deposit.
Kivalliq Energy (TSXV:KIV) discovered "radioactive mineralization associated with a geophysical conductor located between, and along strike from, the Eastern Extension and J4/Ray Zones" at the 340,268-acre Angilak property in Nunavut, Canada. Phase 1 of the 2013 exploration program will continue through June and will include approximately "3000 metres of NQ core, with one diamond drill rig, on advanced targets within the Lac 50 Trend and new targets such as Dipole and VGR located on the western side of the Angilak Property," according to the company's press release.
Paladin Energy (TSX:PDN,ASX:PDN) released its Quarterly Activities Report for the first quarter of 2013. Highlights include strong sales revenue of US$106 million for the quarter and sales of 1.92 million pounds U3O8 at an average price of $55.22 per pound. Langer Heinrich production totaled 1.23 million pounds U3O8 while production at Kayelekera totaled 761,992 pounds U3O8. Production guidance for 2013 (8 to 8.5 million pounds U3O8) remains well on target.
Energy Fuels (TSX:EFR) is looking to restore the Sheep Mountain uranium mine, a past-producing open-pit and underground mine in Wyoming. Construction of an on-site processing facility is planned for spring 2014 and mine construction could start in late 2015, despite the fact that the company is awaiting federal and state regulatory clearance and needs about $60 million in start-up costs, the Casper Star-Tribune reported. Sheep Mountain has a projected mine life of 15 years and is expected to produce 1.5 million pounds of uranium annually. Once operational, the project will be Energy Fuels' second production facility, behind the White Mesa Mill in Utah.
Securities Disclosure: I, Melissa Pistilli, hold no direct investment interest in any company mentioned in this article.
Related reading: 
Emerging Uranium District in Saskatchewan's Patterson Lake Region