Drill Tracker Weekly: NexGen Intersects Longest Radioactive Interval to Date at Rook 1
NexGen Energy announced assays from the most continuous interval of high-grade radioactivity to date at its basement-hosted uranium discovery at the Arrow Zone.

Drill Tracker Weekly is not exclusive to Resource Investing News and is published with permission from Mackie Research Capital Corporation. It highlights drilling results in context with our database of over 10,000 drilling and trenching results. The purpose of this report is to highlight drilling and trenching results that stand out from the pack and compare them to their peer group. This report does not constitute initiation of coverage or a recommendation.
NexGen Energy (TSXV:NXE)
Price: $0.455
Market cap: $77 million
Cash estimate: $4.7 million
Project: Rook 1
Country: Canada
Ownership: 100 percent
Resources: N/A
Project status: exploration drilling
NexGen Energy announced assays from the most continuous interval of high-grade radioactivity to date at its basement-hosted uranium discovery at the Arrow Zone. The 100-percent-owned Rook 1 project is located in the Southwestern Athabasca Basin 2.1 kilometers north of Fission Uranium's (TSX:FCU) Patterson Lake project.
Angled drilling intersected steeply dipping zones of basement-hosted mineralization in the A2 shear zone, including 11 meters grading 8.95 percent U3O8 within a wider zone of 70 meters of 2.2 percent U3O8 starting at a depth of 522 meters. An additional hole intersected 16.5 meters averaging 2.46 percent U3O8, including a 3-meter interval of 12.85 percent U3O8 followed by a second interval of 40 meters of 2.88 percent U3O8 starting at 621 meters. Assays remain pending for drill hole AR-15-41, which returned two zones totaling 24.52 composite meters of off-scale mineralization.
The A2 zone has now been outlined over an 88-meter strike length and a 340-meter vertical extent with an estimated true width ranging from 11 to 27 meters. The larger A3 zone extends over a 73-meter strike length, a 420-meter vertical extent and a significantly wider true width ranging from 30 to 78.6 meters. The two zones remain open in all directions.
The Arrow discovery was initially announced on February 19, 2014, when drilling on the edge of the gravity low intersected narrow, brecciated shear zones with one intercept that returned 5.75 meters grading 0.37 percent U3O8

in RK-14-21.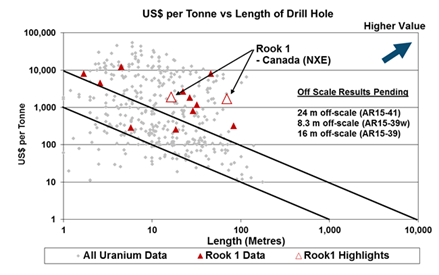 Discovery hole (February 2014): 5.75 meters at 0.37 percent U3O8
Current holes: 16.5 meters at 2.46 percent U3O8, including 3 meters at 12.85 percent U3O8; 40 meters at 2.88 percent U3O8; 24.52 meters off-scale radioactivity
Risks Analysis
Data contained in DRILL TRACKER WEEKLY is based on early stage exploration activity. The results are obtained at the very early stages of exploration and therefore, individual results may not be reproducible with additional trenching or drilling, nor may the results ultimately lead to the discovery of an economic deposit. Delineation of a resource body requires an extensive data gathering exercise according to guidelines set out in National Instrument 43-101 before investors can be reliably assured of a competent body of mineralization that may be of economic interest. DRILL TRACKER WEEKLY is designed to highlight individual trench or drill results, which stand out as being materially anomalous and are particularly worth of note – a type of early warning flag for a particular property that warrants further attention. Hence, DRILL TRACKER WEEKLY does not provide a recommendation to buy, sell or hold a specific equity – it is an information reference source to help quantify the meaning and relevance of early stage exploration results.
Relevant Disclosures Applicable to: Drill Tracker Weekly
The research analyst or a member of the research analyst's household owns and/or has options to acquire shares of the subject issuer. At the date of this release the author, Wayne Hewgill, owns shares in the following company: Fission Uranium Corp. (TSX.FCU)
Integra Gold Corp. (ICG) is currently under coverage at Mackie Research Capital by analyst Peter Campbell
In March 2014, Peter Campbell visited the Lamaque Gold Project in Val-d'Or, Québec. Travel to and from the site in Val d'Or were paid by Integra Gold Corp.
Analyst Certification
I, Wayne Hewgill certify that the information in this report is sourced through public documents that are believed to be reliable but accuracy and completeness as represented in this report cannot be guaranteed. The author has not received payment from any of the companies covered in this report. This report makes no recommendations to buy, sell or hold. Each analyst of Mackie Research Capital Corporation whose name appears in this report hereby certifies that (i) the recommendations and opinions expressed in this research report accurately reflect the analyst's personal views and (ii) no part of the research analyst's compensation was or will be directly or indirectly related to the specific conclusions or recommendations expressed in this research report.
Editorial Disclosure: NexGen Energy is a client of the Investing News Network. This article is not paid-for content.