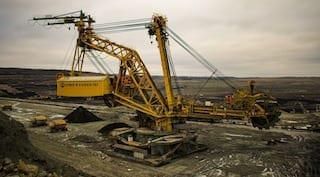 The program is aimed at growing the R1515W zone at PLS and at progressing towards a prefeasibility study at the project's Triple R deposit.
Fission Uranium (TSX:FCU) has begun drilling at its Patterson Lake South (PLS) project with the goals of growing the R1515W zone and progressing towards a prefeasibility study at the Triple R deposit.
In the announcement released on Tuesday (February 6), Ross McElroy, president, COO and chief geologist at Fission, commented "[t]he much-anticipated 2018 winter field program has commenced and drills are now turning."
McElroy added, "[c]ontinuing on the success of our 2017 summer program, we are excited about the prospects of the R1515W zone, as well as developing the Triple R deposit towards pre-feasibility. We look forward to sharing the scintilometer and assay results as they come in."
Drill program goals
As mentioned, the drill program will focus on two main areas:
1. Completing eight holes at the recently discovered, high-grade, land-based R1515W zone.
Drill results from R1515W have been "very encouraging to date," according to Fission, and include hole PLS17-564 (line 1545W), located 1.4 kilometers west of Triple R. It intersected 128 meters of total composite mineralization, including intervals such as 7 meters at 6.9 percent U3O8 in 14.5 meters at 3.39 percent U3O8.
2. Accelerating progress towards a prefeasibility study at Triple R.
Fission will complete 23 holes (3,840 meters) to advance Triple R to a prefeasibility study. The company plans to upgrade the resource classification for important high-grade, high-impact areas of the R780E zone from the inferred to indicated category (six holes at 1,980 meters).
Additionally, Fission intends to obtain geotechnical drilling and analysis of bedrock (three holes at 700 meters) and overburden (12 holes at 920 meters). Finally, the company will redrill hydrogeological holes required for long-term groundwater analysis, complete a second-phase metallurgical study that is already in progress, continue data collection and analysis of the baseline environmental study and continue engagement with First Nations, community and government.

About Fission's PLS
PLS is comprised of 17 mineral claims totaling 31,039 hectares, and is located in Canada's Athabasca Basin. The project hosts Triple R, which Fission says is the most significant high-grade, near-surface deposit in the region, along with other important zones.
Fission brought Triple R from discovery to resource estimate in just two years of drilling. The current resource estimate as detailed in a preliminary economic assessment filed in September 2015 is:
Indicated mineral resource — an estimated 2,011,000 tonnes at 1.83 percent U3O8 containing 81,111,000 pounds of U3O8, including the R780E high-grade zone, which is estimated to contain 45,079,000 pounds of U3O8 at 18.22 percent U3O81.
Inferred mineral resource — an estimated 785,000 tonnes at 1.57 percent U3O8 containing 27,157,000 pounds of U3O8, including the R780E high-grade zone, which is estimated to contain 13,898,000 pounds of U3O8 at 25.06 percent U3O81.
Fission's share price was sitting at C$0.73 at close of day on Wednesday (February 7). The company is down 5.81 percent year-to-date and 3.95 percent in the last year.
Don't forget to follow us @INN_Resource for real-time news updates!
Securities Disclosure: I, Nicole Rashotte, hold no direct investment interest in any company mentioned in this article.