As production begins at Shell's Pearl project, Qatar looks set to soon become the "GTL capital of the world"
By Robert Sullivan – Exclusive to Gas Investing News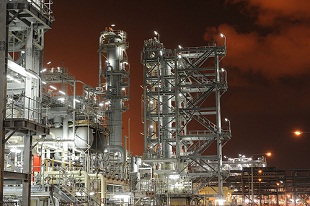 Many have predicted that natural gas will eventually supplant oil as the world economy's primary source of energy, but Shell is putting its money where its mouth is with a $19 billion bet on gas being the fuel of the future.
A joint venture with Qatar Petroleum, Shell's Pearl project, a gas to liquids (GTL) plant in Ras Laffan, Qatar, is by far the largest GTL facility in the world, with a projected capacity to convert 1.6 billion cubic feet (bcf) of natural gas into 140,000 barrels per day (bpd) of liquid fuel (260,000 barrels of  oil equivalent) once the final phase of the development is completed. Just last month, the facility produced its first barrels of gas-derived diesel, and with the plant gradually coming online Qatar is now set to become the world's GTL production hub.
Project background
The Pearl Project is the grand realization of an initiative Shell embarked on in 1993 when it opened its first GTL plant in Malaysia. The Bintulu facility has a comparatively tiny capacity of 14,700 bpd, but has provided Shell the opportunity to develop and refine its GTL process and plug that knowledge into the much more ambitious Pearl project, which is not only the world's largest GTL plant, but also the first GTL facility with integrated upstream capacity.
It was South Africa's Sasol, however, that established the first major GTL plant in Qatar, collaborating with Qatar Petroleum on the 34,000 bpd Oryx facility in Ras Laffan. That plant is now dwarfed by its neighbour, which will likely eclipse the Oryx facility once it reaches full production in 2012.
The Pearl project is a substantial development for the Dutch-British oil major. The plant will add nearly 8 percent to Shell's worldwide production capacity, and according to Shell's Country Chairman in Qatar Andy Brown, is projected to be "a foundation for Shell's future growth for decades to come."
Emerging GTL industry
Both Shell's optimism towards the Pearl development and the scale of the project are in large part due to the massive field it draws its supply of gas from. The North Field, which was first tapped by Shell in 1971, has reserves of natural gas in excess of 900 trillion cubic feet (tcf), making it the largest single gas field in the world.
Shell was originally one of the biggest players in Qatar, but packed up and left in the mid-90s after relations soured with their hosts. Sheikh Hamad bin Khalifa's vision of establishing Qatar as the "GTL capital of the world," however, was the perfect opportunity for a return to the tiny Gulf State given Shell's familiarity with both North Field operations and their pioneering GTL technologies.
If all goes to plan for Shell over the next year as production is ramped up, other majors and large independents will be hard-pressed to ignore at least contemplating a serious move into the GTL sector, as GTL products and the associated technology are expected to give Shell access to premium markets for high performance fuels and lubricants. Exxon had been pursuing a bold 154,000 bpd development in Qatar, the Palm project, before they abandoned it in 2007 due to spiraling costs.
Pearl project contractors and operators
Although there has yet to be a firm move by any major player, those who do follow Shell's lead in to GTL in the near future may look to some of the contractors and operators that designed, constructed, and will continue to service the mammoth project.
KBR Inc. (NYSE:KBR), formerly known as Kellogg Brown & Root, is a top American engineering and construction firm that was one of the lead contractors on the Pearl project.
JGC Corp. (TYO:1963), another leading contractor on the Pearl Project, is a Japanese engineering company that has been involved in the design and construction of a number of major gas developments in the Middle East and West Africa.
Honeywell International Inc. (NYSE:HON) is an American engineering and systems company that designed and will operate the plant's main control systems.
The Linde Group (ETR:LIN) is a German chemical engineering company, that supplied the machinery that is used in the plant's air separation systems.
MAN SE (ETR:MAN), another German engineering firm, provided the Fischer-Tropsch process reactors for the conversion of gasses into liquids.
Investing News Network websites or approved third-party tools use cookies. Please refer to the  cookie policy for collected data, privacy and GDPR compliance. By continuing to browse the site, you agree to our use of cookies.