Oil Prices Drop Below $100 per Barrel
For the first time since July, oil futures are down below $100 per barrel.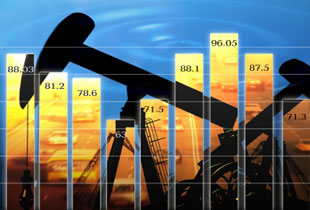 For the first time since July, oil futures are down below $100 per barrel. Crude for November delivery was down $1.59 yesterday, to $99.22. Meanwhile, West Texas Intermediate crude oil for December delivery was down $1.43, to $99.68 per barrel, on the New York Mercantile Exchange (NYMEX).
Partially responsible for falling prices are rising stockpiles in the US — this week, a report from the Energy Information Administration pointed to a 4-million-barrel addition to domestic supply for the week ended October 11. Other factors contributing to dropping oil prices include seasonal refinery maintenance, "substantive" meetings between Iran and the five powers of the UN over nuclear negotiations and OPEC's statement this weekend that the world is currently adequately supplied when it comes to oil.
Commenting on the impact that falling oil prices will have on investors was Phil Flynn, a senior market analyst at Price Futures Group in Chicago. He told Bloomberg that after having crossed below $100 per barrel of oil, "the fundamentals are heavy and people are starting to try to protect their oil position on the downside."
Good for investors?
Generally speaking, falling prices are not good for investors. However, Bloomberg's Adam Johnson makes a case for the benefits that sub-$100 oil prices can have for refineries — and, by extension, consumers and investors — by arguing that refineries tend to just scrape by when using a NYMEX futures product called the "3-2-1 Crack Spread" to hedge against refining costs.
NYMEX's 3-2-1 Crack Spread runs on the principle that three barrels of crude are equal to two barrels of gasoline and one barrel of heating oil, for instance. Looking at the spread, Johnson highlights that refiners are not profitable until the spread is around $10 per barrel. Lately, refineries have been producing at a proxy of at least $10/bbl, which brings up the argument that lower prices will be better for the refineries that are currently trading at "mid-single digit price-to-earnings ratios."
Recent rates have led to low earnings, meaning not much profit has been made. However, Johnson theorizes that if fundamentals continue to improve, and margins continue to widen, then the theoretical upside will be good for refiners, consumers and investors.
Company news
Recently, junior oil exploration company Taipan Resources (TSXV:TPN) signed a farm-out agreement with Premier Oil (LSE:PMO) for 55 percent of Taipan's licence interests in Block 2B, onshore Kenya. Block 2B is located in the Southern Anza basin; it contains the Pearl prospect, which holds an estimated gross mean prospective resource of 126 million barrels of oil in the initial well.
As per the terms of the agreement, "Premier will pay Lion Petroleum … a wholly-owned Kenyan-based subsidiary of Taipan, back costs of US$ 1 million. Premier will also pay Taipan's working interest share of the cost of drilling and testing the Pearl prospect and future costs on Block 2B up to a cap of US$ 13.275 million. Premier has the option to assume operatorship of any future development on the block."
Africa Oil (TSXV:AOI) is holding a US$450-million brokered private placement of an aggregate of 56,505,217 common shares at a price of SEK 51.75 (C$8.25) per share.
After completing its first exploration well off the coast of Sierra Leone, Russia's Lukoil has confirmed the presence of high-quality oil. The Russian government congratulated Lukoil on the find, saying that a full appraisal of the area's oil potential will be done by the end of the year, according to The Associated Press. Lukoil also has a 25-percent state in another block located nearby in Sierra Leone. Officials are looking to begin producing oil by 2017.
A 35-year production-sharing contract for the massive Libre pre-salt oil discovery in the Santos Basin, offshore Brazil, was awarded to a consortium of five companies yesterday. The consortium includes Royal Dutch Shell (NYSE:RDS.B), Petrobras (NYSE:PZE), Total (NYSE:TOT), CNPC and CNOOC (NYSE:CEO). Libra has a recoverable resource of between 8 and 12 billion barrels of oil, as estimated by Brazil's regulator, Agência Nacional do Petróleo.
"The Libra oil discovery in Brazil is one of the largest deep water oil accumulations in the world. We look forward to applying Shell's global deep water experience and technology, to support the profitable development of this exciting opportunity," said Peter Voser, CEO of Royal Dutch Shell, in a statement to investors.
The company's press release notes that Shell holds 20 percent of the consortium, while Petrobras holds 40 percent and is the operator. Total holds 20 percent and CNPC and CNOOC each hold 10 percent.
Securities Disclosure: I, Vivien Diniz, hold no investment interest in nay of the companies mentioned.