Frac Sand Companies: An Overview
The outlook for frac sand is pretty positive, especially considering today's tough markets. However, many frac sand companies are privately held. Here's a look at a few public ones that are giving investors reason to take notice.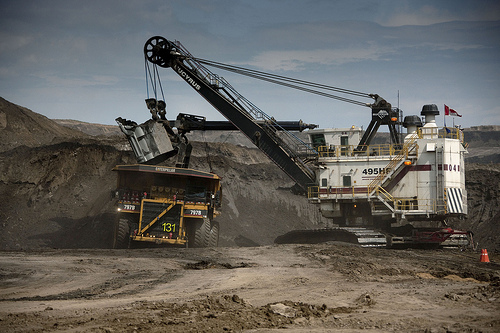 The price of frac sand has risen in 2014 thanks to high demand, and frackers are expected to use nearly 95 billion pounds of the material for the year, according to The Wall Street Journal.
Even more significantly, frac sand should continue to perform well despite low oil prices, a recent OilPrice.com article notes.
In today's tough markets, that's a pretty positive scenario, but unfortunately for investors looking to put money into frac sand companies, many are privately owned. Not all are, however — here's a look at a number of public frac sand companies that may be worth some attention.
US Silica (NYSE:SLCA)
Focusing on "performance materials that are essential to modern living," US Silica supplies proppants for fracking and also uses silica sand for markets as diverse as wind power, solar energy, paint, electronic devices and metal parts.
The company recently released its 2014 Q3 results, boasting a net income of $41.3 million. That marks a huge rise from the year-ago period, when its net income came to $21.3 million.
"I'm extremely pleased with our performance during the quarter," Bryan Shinn, president and CEO of US Silica, said in a media release. "Contribution margin for our oil and gas segment almost doubled year-over-year, volumes were up significantly and we continue to see very strong demand for our high quality products. In addition, our Cadre acquisition is performing above our initial expectations and our industrial and specialty products business is making steady progress in expanding margins and growing their bottom line."
Emerge Energy Services (NYSE:EMES)
Describing itself as a "diversified energy services company," Emerge has been making waves in two areas of the energy industry: sand production and fuel processing and distribution.
And just like US Silica, Emerge recently spotlighted its positive Q3 earnings, reporting net income of $26.1 million, up from $15.4 million in the year-ago quarter.
"Emerge Energy once again turned in our best quarter as a public company," Ted W. Beneski, chairman of the board of directors of the general partner of Emerge Energy, stated in a press release. "Our strong distributable cash flow is the result of our sand segment delivering on its promise of higher per-ton margins, while our fuel segment has done a tremendous job of managing through one of the worst backwardated refined product pricing markets we have seen in the past several years."
In addition, Emerge announced not long ago the first shipments of Northern White sand from its Wisconsin-based Arland Dry Plant.
Hi-Crush Partners (NYSE:HCLP)
Hi-Crush is an American company that produces and supplies monocrystalline sand for fracking.
Continuing the trend of celebrating revenue, Hi-Crush recently released its Q3 financial results as well. The company reported net income of $37.3 million for the quarter, up from $14.4 million during the same period in 2013.
"The third quarter was filled with important milestones, as we set records for revenues, sales volumes, EBITDA, earnings and we added production capacity, contracted more committed volumes and expanded silo storage in our distribution network," said Robert Rasmus, co-CEO, in a media release. "Our premium raw white sand, coupled with our extensive logistics offering, continues to drive customers to Hi-Crush as we have positioned ourselves to capture the growth in demand through our Sponsor's Whitehall facility and its development of a fourth production facility."
Victory Nickel (TSX:NI)
Though it holds one of Canada's largest undeveloped sulfide nickel inventories, in October Victory Nickel made a foray into the American frac sand market by acquiring a 100-percent interest in a land package totaling more than 300 acres in Southwestern Wisconsin. According to a press release, the land contains "one of the highest quality frac sand deposits in North America."
"This agreement establishes Victory Nickel as a property owner in what is recognized as one of the best quality frac sand producing areas in the world," Ken Murdock, CEO of Victory Nickel's 100-percent-owned subsidiary, Victory Silica, said at the time. "We have now secured a supply of premium-quality Wisconsin frac sand and continue to actively pursue Phase 2 of our business plan which includes the finalization of joint venture partnerships to combine this property with other known high-quality deposits of Northern White frac sand."
Phase 2 has since been approved by Victory Nickel's board of directors.
Athabasca Minerals (TSXV:ABM)
Athabasca Minerals currently operates the largest open-pit gravel pit in Canada: the Susan Lake aggregate operation. It also holds Alberta Metallic and Industrial Mineral Permits for 763,411 acres of land in the Fort McMurray region. That puts the company in the perfect position to service Fort McMurray's oil sands and infrastructure projects, which make up the country's largest construction site.
These traits helped give the company its highest quarterly sales revenue to date during the third quarter of 2014.
"We are pleased to see the demand for aggregates in the Fort McMurray region increase during Q3 2014, and anticipate continuing strength during Q4 2014, when demand for aggregates is traditionally highest during the second half of the year," said Athabasca Minerals President and CEO Dom Kriangkum in a press release.
More news from the company should be coming in the new year. Athabasca Minerals said earlier this month that its management team has received a copy of the preliminary economic assessment (PEA) for the Firebag silica sands project; it will be released once it has been reviewed by the proper parties.
Claim Post Resources (TSXV:CPS)
Soon to be known as Select Sands, Claim Post Resources is focused on providing white silica to oil and gas operations in the Bakken, Montney and Horn River basins.
The company's Seymourville silica sand project is made up of two adjoining properties, and Claim Post recently announced the results of a PEA for the project.
"The initial PEA demonstrates the potential for development of a low-cost economically robust quarry operation in Seymourville, Manitoba," the company stated in a media release. "At a Tier 1 frac sand price of CDN$110 per tonne, the Seymourville Frac Sand Project Base Case has an estimated CDN$617 million after-tax net cash flow, a CDN$151 million after-tax Net Present Value at a 10 percent discount rate, an after-tax Internal Rate of Return of 21 percent, and an initial capital expenditure of CDN$93 million for construction of a quarry, wash/screening plant and trans-loading truck to rail facility to produce 1.0 million tonnes per annum of product as of the third production year."
Since then, Claim Post has started a 20-hole sonic drill program at Seymourville.
Did we miss a frac sand company you'd like to hear about? Let us know in the comments!
Related reading: