Exxon Tie Up Deal With Rosneft To Explore Russian Arctic
After BP-Rosneft deal falls through, Exxon score a major coup with partnership that grants them access to untapped reserves that could top 110 billion barrels of oil equivalent.
By Robert Sullivan – Exclusive to Oil Investing News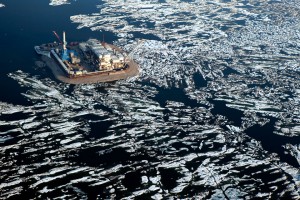 Exxon Mobil Corp. (NYSE:XOM) and OAO Rosneft (LON:ROSN) announced on Tuesday that a deal had been struck between the two companies to carry out joint exploration of blocks in the Kara Sea of the Russian Arctic.
The agreement will initially entail a 3.2 billion USD investment in exploration and development of East Prinovozemelskiy Blocks 1, 2, and 3 in the Kara Sea, and will also see broader cooperation between Exxon and Rosneft, including technology transfer as well as the opportunity for Rosneft to acquire equity interest in Exxon projects in the Gulf of Mexico, Texas, and Canada.
Rosneft will own 66.7 percent of the Kara Sea joint venture, similar to their stake in an earlier partnership with Exxon, announced in January, to explore the Tuapse Trough License Block in the Black Sea.
Estimates from Rosneft put the amount of recoverable oil resources in the Kara Sea blocks at 36 billion barrels, while total resources are suspected to be upwards of 110 billion barrels of oil equivalent (boe). The Tuapse Block, meanwhile, is believed to hold 1.2 billion barrels of recoverable oil resources, along with 9 billion boe.
Major coup for Exxon
Exxon's Arctic partnership is a major coup for the oil giant, who until a few months ago had only their much more modest Black Sea deal to celebrate.
It was BP (NYSE:BP), rather than Exxon, who had initially been slated to team up with Rosneft, a deal which looked to be sealed after securing the key approval of Prime Minister Vladimir Putin late last year. Terms of the deal included a 16 billion USD share swap between the two companies.
BP's imminent link-up with Rosneft, however, was construed as a breach of commitment by their Russian partners from TNK-BP, a Russian oil company co-owned by BP and the Alfa Access Renova (AAR) consortium. AAR contested that by entering into an agreement with Rosneft, BP would be breaking its promise to do business in Russia only via TNK-BP. An international tribunal eventually sided with AAR, and Rosneft promptly walked away from the proposed deal after failing to reach a joint agreement with BP to buy out AAR's 50 percent stake in TNK-BP.
Rosneft was quick to turn to Exxon after the BP deal fell through, and both companies have now secured a key prize – for Exxon, access to the vast reserves of oil and gas under the Arctic seabed; for Rosneft, access to the technology and operations behind deep water drilling and hydro-fracking, as well as a partner with the capacity to operate on the harsh Arctic sea shelf.
Risky Waters
While the prospect of the largest oil company in the world tackling some of the largest untapped reserves of oil in the world is decidedly enticing for investors, analysts have cautioned that there are still some hurdles facing Exxon.
Operating in the Arctic will likely prove to be extremely technically challenging, and the process of seismic studies, exploratory wells, and evaluations could take as long as seven years, according to Denis Borisov, analyst at Bank of Moscow.
Some also point to the business and political landscape in Russia, still a mine field for many Western companies and one that has already claimed Royal Dutch Shell (NYSE:RDS.A) and BP as major casualties.
Others counter, however, that it all comes with the territory. "There's political risk everywhere, even the US It's all relative", notes John Herrlin, Exxon Mobil Analyst at Societe Generale.
"The issue you're going to have with Russia is how will you be taxed in terms of what you're producing. But this is still too early. This is right now a science project, for the near-term. I think it's important to be exposed to these type of resources and deal with the political system as it is."
Cliff Kupchan of Eurasia Group, a political risk consulting firm adds that a company with the clout and track record of Exxon are likely to be well-prepared for a foray of this magnitude into Russia and the challenges that lie ahead.
"My instinct is that Exxon Mobil has kicked the tires, dotted the i's and crossed the t's. Doing that doesn't ensure success in Russia, but it increases the chances of it. I think the chances of this failing are significantly lower than previous deals."
Disclosure: I, Robert Sullivan, hold no direct investment interest in any company mentioned in this article.