Manganese in South America
South America has significant reserves of manganese, though operating in the area can present difficulties.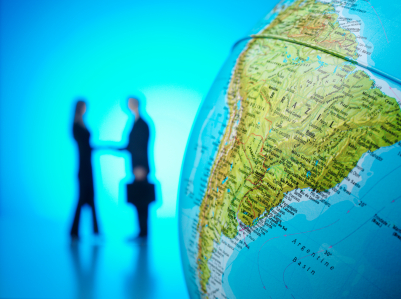 Outside of industrial circles, manganese is little known; however, by tonnage it is fourth on the list of most used metals, just behind iron, aluminum and copper. That's largely because the metal has no substitutes and is an essential ingredient for iron and steel production.
South America has significant reserves of manganese, according to the US Geological Survey, with Brazil in particular being a major producer. It's estimated that the country holds 110,000 metric tons (MT) of the metal.
Challenges in South America
While South America is a promising region for manganese miners, it also presents some difficulties. For instance, there is the fact that Vale (NYSE:VALE) accounts for 95 percent of Brazil's manganese production — many smaller companies find the major miner's dominance daunting. Talent acquisition is also an issue as many South American countries, including Brazil, now have a very low unemployment rate. That has led to high wages and fierce competition among companies for workers.
The region's heavy rains can also cause problems. In fact, in April 2012, manganese production in Brazil was virtually halted by prolonged wet weather.
However, the biggest issue, according to industry experts, is South America's poor logistical network and lack of energy infrastructure, both of which can make mining for manganese extremely difficult. Development in those areas will need to take place before many mining companies can start operating. '
On the bright side, South American governments generally want to attract foreign investment and as a result are hospitable to mining companies.
Who's operating in South America?
Here's a look at two of the companies currently operating in the South American manganese industry:
Reunion Gold (TSXV:RGD)
Reunion Gold made the news in 2012 when it announced plans to export manganese from Guyana for the first time in 50 years. Two years prior, the country's government granted the junior resource company a license to explore and develop manganese; it hopes to make mining a significant part of its economy.
"Guyana used to be an exporter of manganese, in the '60s, but at that time the technology wasn't very well developed," Guyana's president, Donald Ramotar, told Reuters in 2012. "It has become viable again. Next year the company will start commercial operations and will begin exporting around the same time. There are a lot of benefits. There is the opportunity to collect a lot of taxes there, and it will create jobs for people in the region."
Reunion's manganese comes from the Matthews Ridge manganese project, located in the northern part of the country. It is on and around the site of the abandoned Matthews Ridge manganese mine, which produced from 1962 to 1968. During that time the mine put out 1.66 million MT of manganese.
Cancana Resources (TSXV:CNY)
Cancana Resources recently started production at its Valdirâo manganese mine in Rondonia, Brazil. Cancana is also actively exploring in Brazil, and its subsidiary, MLB de Nogueira Mineracao, holds an extensive portfolio of claims. Cancana is focused on an area just east of Espigao de Oeste in Rondonia; it has good access to civic and mining roads, and the company plans to continue acquiring land in that location indefinitely.
According to a November press release, Cancana's plans for the Valdirâo project include removing large cobbles or boulders and stockpiling this ore. The company intends to screen the manganese ore in stages, with its primary focus being dry screening. For its first year in production, Cancana plans to produce between 18,000 and 20,000 MT, ramping up to 100,000 MT annually thereafter.
Related reading:
Cancana Resources Starts Mining at Valdirao Manganese Mine in Brazil