Chile, the world's largest lithium producer, is inviting private companies to bid on a contract to mine 100,000 tonnes of lithium. Lithium Investing News spoke with economist Daniela Desormeaux on the implications of the tender.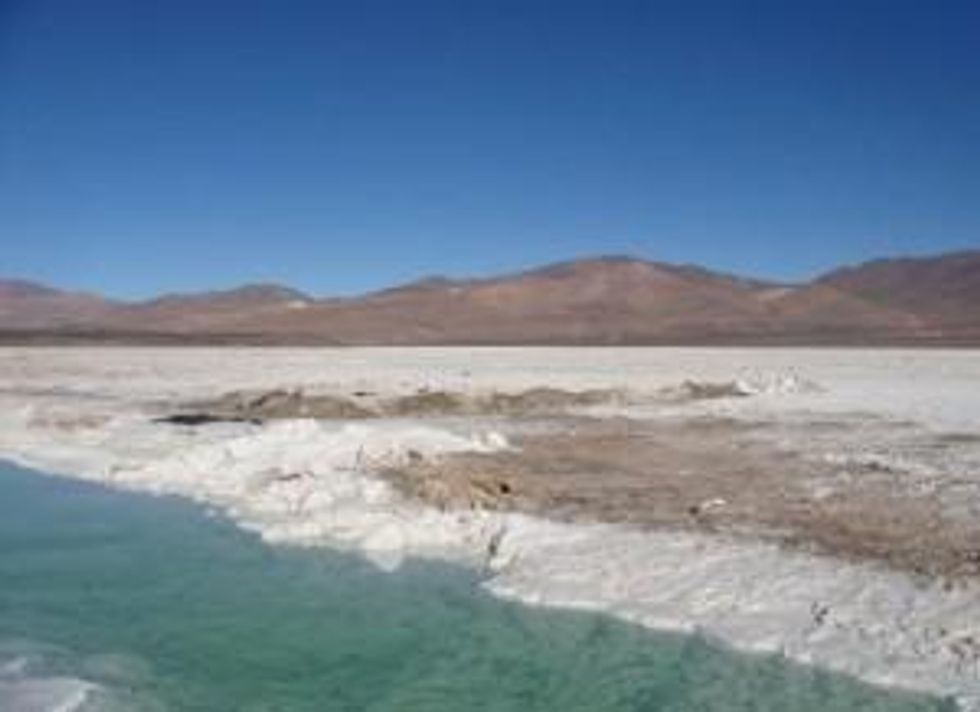 Chile, the world's largest producer of lithium at 43 percent global marketshare, is about to crack open its vast Salar de Atacama lithium deposits to further private investment. Earlier this month, the government announced that it is planning to raise some $350 million over the next 20 years by tendering a special lithium-production contract to the highest bidder. The deadline for submissions is September 12 and a decision is expected to be announced by the fourth quarter.
Lithium Investing News spoke with Daniela Desormeaux, general manager of Chile-based market intelligence firm signumBOX, about the bidding process and how the tender is likely to affect the lithium market.
Lithium Investing News: Pablo Wagner, Chile's deputy mining secretary, recently went to New York to try to drum up investor interest in bidding for contracts to produce lithium in Chile. Media reports say the winner of the bid will be allowed to extract up to 100,000 tonnes of lithium over 20 years. Can you give us an idea of first, which companies are currently producing lithium in Chile, and second, which companies could be in the running to win the bid?
Daniela Desormeaux: Currently there are two companies that produce lithium from the brine contained in the Salar de Atacama. SQM (NYSE:SQM), a Chilean company, and Rockwood Holdings, (NYSE:ROC), which is a large US chemical company. They produce lithium carbonate, lithium hydroxide, and lithium chloride here in Chile and north of Chile and export to the rest of world. These two companies have 43 percent of marketshare, which makes Chile the largest lithium producer. The second question, the winner will be the company that offers the highest amount of money. They say the minimum price to participate is $5 million. According to the government, a lot of companies might be interested, but it is hard to know. Some say it could be a large lithium producer like SQM, Rockwood, or FMC Lithium (NYSE:FMC), or a junior company, but I don't know. It's just a matter of money.
LIN: The government has said that it is estimated that Chile will earn $350 million in royalties from these new projects. But opponents want to take the government to court over the decision to further privatize the industry. Do you think they will succeed?
DD: People in Chile say the government is giving the lithium for free to foreign companies, but this is not true. The production of lithium started almost 30 years ago from a foreign company [Rockwood]. Lithium production in Chile is private. The opposition wants the government to be directly involved in the business through Codelco or another company, but I don't see this as a threat.
LIN: Lithium has been considered a strategic resource in Chile since 1982 due to its potential use in nuclear weapons. What has changed for the government to open lithium mining up to foreign companies?
DD: They have realized there isn't any reason to give it a strategic status. But in order to change these conditions they need to change the law. They need two-thirds approval in Congress to change the law. This is very difficult to achieve, so they decided to find another way to change the industry. The Salar is owned by the government, but they can tender special contracts to private companies. The law remains that lithium is strategic and owned by the government. They're following the same model as with oil or gas. They give private companies the right to explore it subject to a royalty – in this case, 7 percent.
LIN: Is it also to protect Chile's marketshare in the lithium market?
DD: Chile could lose marketshare maybe to Australia or Argentina, so the government realized they can't have this situation, it's not sustainable with time, so they have to open the industry.
LIN: Sustainable in the sense that the supply can't keep up with demand?
DD: Yes, because SQM and Rockwood also have contracts with the government. SQM has a quota to produce lithium until 2030, but the government realizes they need to change the situation. In the last five years more than 100 lithium projects have been developed, most of them in Argentina, also in Canada, Australia, and China. The trend is to open the industry. All of the countries are doing this.
LIN: Could Chile develop a state-controlled lithium miner for mining lithium in the same way Codelco mines copper?
DD: Codelco has one or two lithium concessions. But there is political pressure right now for the government to be involved directly in the production of lithium. I think that maybe Codelco could be allowed slightly to participate, just to manage this political issue, but Codelco's core business is copper. And lithium is so small it doesn't make a lot of sense for a huge company to start a business which is so small, so maybe if Codelco decides to participate they will do so with a partner.
LIN: What are the chances of the contract going to a junior versus a big miner like Codelco?
DD: It will depend how much money they can bring to the table, and there's a lot of uncertainty because with junior mining the core business of these companies is lithium, but in the case of other companies, for example SQM, their core business is potash. Lithium is a by-product as well as a credit for the cost of mining potash, it's like a subsidy. The business of these huge chemical companies is different. They can afford a high bid.
LIN: Does the winner have to build a processing plant?
DD: Yes, they have to build a chemical plant within five years. If they don't start producing, the government will remove the quota and they will have to resubmit the tender.
LIN: The contract is for 100,000 tonnes of lithium over 20 years. Is that enough to move the market?
DD: If you put the number in terms of lithium carbonate equivalent, you have 55,000 tonnes of lithium carbonate equivalent, and total demand [this year] is 150,000 tonnes, so it's four or five years worth of demand. It's a good quota.
In my opinion, new companies have overreacted so they are expanding production capacity before new demand will come, mainly from the automotive industry – batteries for electric cars. So that's why we've seen too many projects in the development stage right now.
LIN: Will the market be over supplied?
DD: In the short run or mid run we should see some oversupply, but it's important to stress that the prices are rising. Two of the three largest companies, FMC and Rockwood, have announced price increases, but this is an inflation phenomenon. These companies are making new investments, so they argue they have to justify the investment so that's why they are increasing prices. Prices are going up, but new capacity is being added and the demand is growing as well. I think supply and production capacity is growing faster than demand. Maybe in four or five years, as these cars become cheaper, electrification will become important. These cars are still so expensive so that's why we haven't seen a massive penetration. But maybe in the long run we'll see a tightness in the lithium market. We're predicting a growth in demand of 10 percent per year. This growth will be driven by the battery industry, not only batteries for cars, but for electronic devices – mobile phones, laptops, iPads. That's very, very interesting. This would represent a trend in the world that's similar to the trend in early '80s, when Sony introduced the first lithium-ion battery. But production capacity is also increasing so the market will be in balance.
LIN: Thank you for speaking with us.
Securities Disclosure: I, Andrew Topf, hold no direct investment interest in any company mentioned in this article.
Investing News Network websites or approved third-party tools use cookies. Please refer to the  cookie policy for collected data, privacy and GDPR compliance. By continuing to browse the site, you agree to our use of cookies.