Tesla Model 3 Shaped Like a Batmobile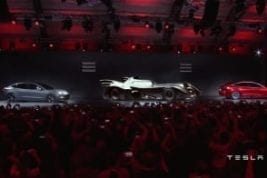 Tesla's newest vehicle will be shaped like a Batmobile. And yes, it will still start at $35,000.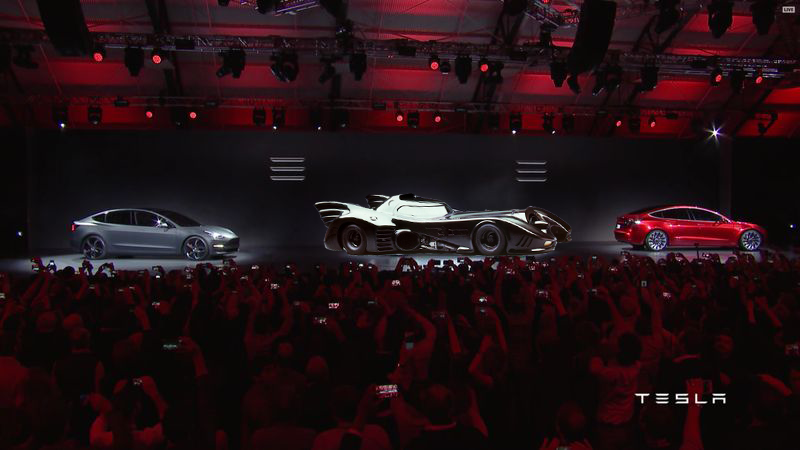 Tesla (NASDAQ:TSLA) fans got an extra surprise with the unveiling of the company's Model 3 last night. The new vehicle will be shaped like a Batmobile, and yes, it will still cost about $35,000.
"We're all about taking risks," said Tesla CEO Elon Musk at Thursday night's reveal. "The Model S was pretty cool, but with the Model 3, we're hoping to take it to a whole new level."
Analysts were concerned that consumers expecting a roomy sedan would be disappointed. The car was meant to be a spacious, affordable electric vehicle that would appeal to a broader market.
However, it appears that market watchers have underestimated just how "cool" consumers want their cars to be. Preorders for the Batmobile Model 3 passed the 150,000 mark on Thursday night, Potential Model 3 buyers must put down $1,000 to reserve a car.
"I was excited before, but now that I'm getting an electric Batmobile, I'm just over the moon," said one potential Tesla buyer. "What's better than helping the environment in style?"
The new Tesla Model 3 comes only in black.

April Fools!
Although a Batmobile would have been cool, Tesla's Model 3 is shaped like a Sedan, as expected. Maybe if we all write to Elon Musk, he'll change his mind for the next model.
Securities Disclosure: I, Teresa Matich, hold no direct investment interest in any company mentioned in this article.