Li3 Energy's CEO, Luis Saenz, comments on the recent news that Chilean President Michelle Bachelet has signed a decree to establish a National Lithium Commission committed to opening up Chile's abundant lithium resources for exploitation.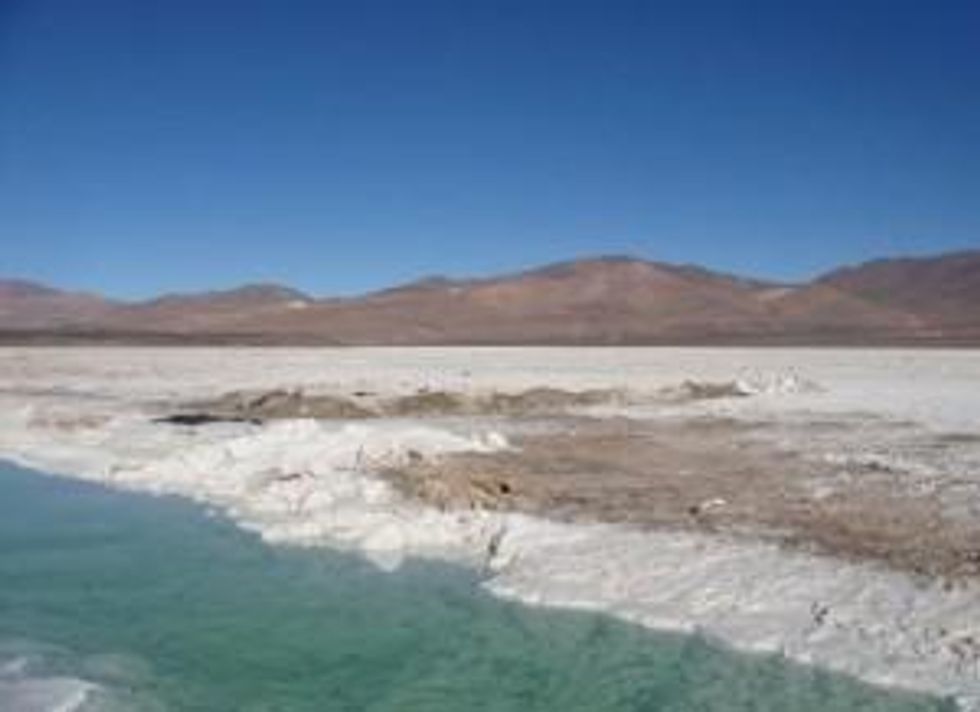 Chilean President Michelle Bachelet and Mining Minister Aurora Williams have signed a decree to establish a National Lithium Commission that will emphasize Chile's commitment to opening up its abundant lithium resources for exploitation.
The 20-member commission will be made up of geologists, environmental specialists and natural resource and energy economists, among others. The commission intends to recommend a new state policy for the exploitation of lithium and the development of new projects by October or November this year.
To get a better understanding of  the latest news, Lithium Investing News spoke with Luis Saenz, CEO, president and director of Li3 Energy (OTCMKTS:LIEG). He explained that "this is the first time in effectively one and a half to two years that the government is actively looking to evaluate and find a new solution so that there can be future development of lithium in Chile."
Saenz sees the announcement as important because it shows the new government's commitment to lithium development.
"The new government comes in and says they have certain key issues to deal with in the first 100 days of the government, and lithium was one of those issues," Saenz said, adding that "the creation of this commission shows that the government is following through on its commitments to, on the one hand, have an in-depth evaluation of lithium and Chile — and particularly Chile's position in the lithium industry worldwide — but also to really unlock the barriers that exist currently for the production of lithium in Chile."
For many years, Chile has said that lithium is strategic and can only be exploited through special permits; that has put limits on lithium extraction in the country.
In 2012, the country had plans to grant a Special Lithium Operations Contract to one company. It would have allowed the country to improve its competitiveness in the lithium market worldwide. However, when contract winner SQM (NYSE:SQM) was disqualified, the country did not proceed with any further measures to support lithium project development.
Chile, a country that was once at the forefront of lithium carbonate production has thus now ceded the top position to Australia. "The fact that there are no new projects being developed means that it is falling behind in its terms of its leadership in lithium carbonate production," Saenz explained.
That's why the government is looking for a way to once again become a competitive producer of lithium.
"The government is taking initiative and saying 'we have the lithium reserves, just like we have the copper reserves. We want to be able to exploit them, we want to be able to promote the lithium industry so that we can once again regain leadership in lithium carbonate production and the technologies that come with it.'"
That means the National Lithium Commission's announcement is definitely a step in the right direction for the country and companies with lithium deposits. It's particularly encouraging for Li3, which has what is probably one of the most advanced exploration projects in Chile. That's Maricunga, on which the company has done a significant amount of drilling and identified a measured and indicated resource.
"[Our project is] the only project that has advanced because we have the conviction and the full belief that the Chilean government is going to work this out," Saenz said.
In 2013, Li3 also acquired an adjacent property that was established under the old mining code and therefore exempt from the need for a special permit. Should the Chilean government hammer out a way to truly promote lithium development, the other claims could also be part of the company's near-term production profile in addition to the the exempt Cocina properties.
For his part, Saenz maintains that "we need some clear legislation to embark on investments that could be upwards of $200 million. It's important to have clarity on how you will be able to exploit lithium and what the conditions are, and I'm sure that's going to be one of the tasks that the commission will have to evaluate and provide recommendations for."
With this first stepping stone in place, all lithium market watchers can do is wait and see what will happen next.
Securities Disclosure: I, Vivien Diniz, hold no investment interest in any of the companies mentioned.