Nickel and No to Independence: New Caledonia Sticks to France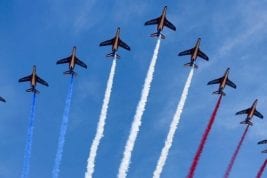 The French Territory of New Caledonia, which is the world's third-largest nickel supplier, voted to remain in the orbit of Paris in a referendum over the weekend.
The French Territory of New Caledonia has voted to remain with the Fifth Republic, returning a 56 percent 'no' vote on becoming an independent state.
New Caledonia is the world's third-largest nickel supplier with an annual output of 210,000 metric tonnes.
Mining and smelting is the backbone of the territories economy and would be the basis of the economy of a potentially future independent New Caledonia — a possibility still on the cards as the Noumea Accords signed in 1998 promised three referendums.
For the small pacific territory though, independence from Paris — which provides subsidies — would mean being exposed completely to the volatile nickel price, which has haunted miners in recent years.
A number of mining companies operate in New Caledonia, with Vale (NYSE:VALE) being the most prominent of the global miners.
Vale's local operation, the VNC site, has long been plagued with problems, posting US$1.3 billion in losses from 2014 to 2016. It was over budget and late when it first opened in 2010, immediately coming up against local opposition.
While earlier this year in Q1 the company revealed VNC had posted its "best ever result for the second consecutive quarter," the turnaround came too late with Vale pondering placing it on care and maintenance since 2017 due to low nickel prices.
Vale CEO Fabio Schvartsman said at the time, "we cannot continue to invest money and lose money in New Caledonia forever." The company hopes to sell a stake of 20 to 40 percent to a strategic partner.
In its 2018 Q3 report, it was much of the same rhetoric, with the company stating its support for its local operation but adding that "All the viable options for a stable and profitable operation that may lead to a sustainable business in the long haul are being assessed."
A decision on VNC was promised "possibly" by the end of this year. The closure of VNC would lead to the loss of thousands of jobs, and is opposed by local politicians.
For French company Eramet (EPA:ERA), which endured blockades at its Kouaua mine between August and late October due to protests over environmental concerns, remaining with France will likely mean there not be any need to renegotiate mining licenses.
Eramet operates four mines across the territory, with a smelter — Doniambo — in the capital of Noumea, which has been operating since 1910, processing higher-grade ore from its four mines into nickel metal.
In Eramet's Q3 report released on October 25, the company reported that nickel production across its global portfolio was up 25 percent year-on-year, noting that operations in New Caledonia (excluding Kouaua, which supplies 20 percent of ore processed at Doniambo, and Tiébaghi which had a stoppage) were productive, with a record amount of lower-grade nickel ore exported, at 411,000 tonnes.
The disruptions to the mines however, meant that there was a 4 percent drop in nickel metal processed at Doniambo in the quarter. Still, the company reported nickel sales were up due to a more favorable price market and a tightening nickel supply.
With Eramet's report, the company's share price has since risen above 70 euros where it had slid to at the end of October. It's currently trading at 80.15 euros on the Euronext stock market as of midday Tuesday (November 6) PST.
Returning to the referendum results, the closer vote will not put an end to the question of independence, as there is the potential for another two votes in 2020 and 2022. The result also revealed a deep geographic split, with the heavily populated South Province voting no to independence by 74 percent while the more sparsely populated North Province voted the other way, with 76 percent voting yes.
For its part, neighboring Australia was pleased with the news New Caledonia would remain a part of France, with the foreign minister Marise Payne noting that France's presence was a significant contributor to stability in the region, sidestepping the open secret that Canberra would prefer New Caledonia maintain the status quo, and not risk coming into China's orbit.
On the LME, nickel has been trading down over the last few weeks and despite a large jump in value between November 1 and 2, it was down again at US$11,670 a tonne on Monday (November 5).
Don't forget to follow us @INN_Resource for real-time updates!
Securities Disclosure: I, Scott Tibballs, hold no direct investment interest in any company mentioned in this article.