Iron Ore Price Continues to Drop, Sinking Below $50
The iron ore price has continued to tumble, and came in under $50 per tonne on Thursday.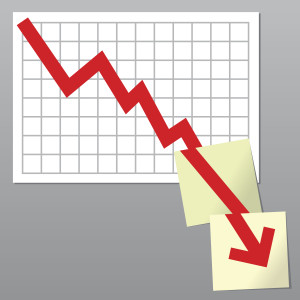 The iron ore price has continued to tumble, and came in under $50 per tonne on Thursday. That's the lowest it's been in nearly a decade, and about a 75-percent decrease from its high of $190 per tonne in 2011.
As those watching the space will know, the low price isn't a huge surprise given that the metal has fallen for six consecutive weeks and has inched lower for 10 out of 13 weeks so far this year. Furthermore, banks have been predicting the slide for weeks, even months, with Citibank foreseeing a drop to $50 just three weeks ago.
Unfortunately, while producers are likely hoping the price has now hit bottom, according to some analysts, the worst is yet to come. For instance, Kenneth Hoffman of Bloomberg Intelligence said that if output from big producers continues to climb, the industry will hit a "breaking point" and the price could be driven below $30 per tonne. Hoffman believes $30 is the level that would put the world's biggest producers at or below cost, forcing them to shut mines.
Even those that once saw iron ore stabilizing in 2015, such as RBC Capital Markets, are now singing a different tune. "The support for iron ore prices we had been looking for in late 2014 and early 2015 did not materialize," RBC is quoted as saying by The Wall Street Journal. Deutsche Bank (NYSE:DB) has a slightly less depressing outlook, and noted recently that iron ore may drop to between $40 and $45.
Iron mining casualties
Some companies have already felt the effects of the price drought. The most recent example came Thursday when Labrador Iron Mines Holdings (TSX:LIM) announced that it is seeking court protection. Cliffs Natural Resources (NYSE:CLF) has also come under some financial hot water, including a recent lawsuit, but has been taking pains to turn its situation around by selling its chromite assets and offering to sell senior secured notes worth $500 million to pay back some of its debt.
Furthermore, some African companies were forced to shut down last year. One example is London Mining (LSE:LOND), whose closure was partially due to the Ebola outbreak, but mostly in relation to its high costs and the sharp iron ore price drop.
Even the big guys are beginning to feel the heat. While their costs still come in lower than the current price, even a $5 drop would translate to BHP Billiton (NYSE:BHP,ASX:BHP,LSE:BLT) losing $672 million in earnings and cost Rio Tinto (NYSE:RIO,ASX:RIO,LSE:RIO) $647 million, according to estimates made by London broker Liberum Capital.
Bad news for Australia
While it's clear that the depressed iron ore price isn't great for anyone, Australia will definitely take the brunt of the damage considering how dependent the continent is on iron mining as a driver for its economy.
The world's fourth-largest iron miner, Australia's Fortescue Metals Group (ASX:FMG), will likely be losing money at these prices as they undercut the company's moderately low production costs. Morgan Stanley (NYSE:MS) recently estimated Fortescue's production costs to be about $55 per tonne after C1 costs, shipping, royalty, interest, taxes, other overheads and sustaining capital expenditures.
The mining giant made an attempt last week, albeit an illegal one, to level with the other major producers and ask that they cap production in order to regulate prices. However, the suggestion, which was made by Fortescue CEO Sam Walsh, was quickly shot down by the mining companies as well as the Australian government.
Relatedly, there have been talks that the Reserve Bank of Australia's is planning to cut interest rates further in an attempt to boost the economy and alleviate pressure on the iron space. It will be interesting to see if that attempt to fix the industry from the outside will see any success.
Securities Disclosure: I, Kristen Moran, hold no direct investment interest in any company mentioned in this article.
Related reading:
How Long Will the Global Iron Ore Surplus Last?