Iron in the United States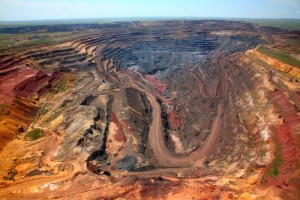 The United States is far from being the world's biggest producer of iron ore, but it does have a long history of mining the metal. 
Historically, iron ore production was most prevalent in the northern part of the Midwest, particularly in Michigan and Minnesota. Indeed, iron ore mining began in Minnesota in the 1880s across three ranges — Vermillion, Mesabi and Cuyuna — and to this day, 90 percent of the country's iron ore comes from that state.
Similarly, Michigan's Upper Peninsula holds the Gogebic, Marquette and Menominee ranges, which were first discovered in 1844. Peak production in the area came quickly, with Michigan mines producing 80 percent of the nation's iron ore by 1890. Iron ore production is still taking place in this region, principally through the processing of large reserves of low-grade ore from open pits, as per the Michigan Department of Natural Resources.
Here's a look at some of the important iron ore producers in the US:
Cliffs Natural Resources (NYSE:CLF)
Cliffs Natural Resources is the largest producer of iron ore pellets in North America, the Minnesota Department of Natural Resources states. It sells the majority of its output to steel companies in the US and Canada.
The company operates three iron ore mines in Minnesota: Hibbing Taconite, Northshore and United Taconite. Together, they have the capacity to produce 18.2 million metric tons (MT) of iron ore annually. Cliffs also has 85-percent ownership of the Tilden mine in Michigan, where yearly production comes to 8 million MT of iron ore, and a 79-percent stake in the Empire mine. Empire is close to the Tilden mine and is able to put out 5.5 million MT of iron ore a year.
ArcelorMittal (NYSE:MT)
ArcelorMittal is a global steel producer that also owns several iron ore mines worldwide. In 2012, the company produced 55.9 million MT of iron ore.
In the US, ArcelorMittal owns the Minorca mine in Virginia, Minnesota; it produces iron ore from an open pit in the form of pellets. The company also has partial ownership over the Hibbing Taconite mine via a joint venture with Cliffs and US Steel. ArcelorMittal is continuously seeking new opportunities to acquire and develop sites for iron ore production.
Mesabi Nugget and Mining Resources
Minnesota-based Mesabi Nugget and Mining Resources are both joint ventures between major steel producers. Specifically, Mesabi Nugget is a joint venture between Steel Dynamics (NASDAQ:STLD) and Kobe Steel (TSE:5406), the latter of which developed and licensed technology to produce iron nuggets.
For its part, Mining Resources is a joint venture between Steel Dynamics and Magnetation Inc., a privately held company. Its goal is to recover ore from old mining operations and process over 1 million MT of the material annually. Any ore refined is to be shipped to Mesabi Nugget and turned into iron nuggets.
Magnetation LLC
Magnetation LLC is a joint venture between Magnetation Inc. and AK Steel (NYSE:AKS). It produces high-quality iron ore concentrate from waste stockpiles and tailings basins.
Currently, Magnetation LLC owns two Minnesota-based reclamation plants, one in Keewatin and one in Bovey. It is in the process of building a plant in Reynolds, Indiana that should be able to produce 3 million MT per year of iron ore pellets. Plans are also in place for a reclamation plant in Coleraine, Minnesota.
The company's reclamation technology is registered as its intellectual property, and it believes it is more efficient than previous versions of the same process.
Essar Steel Minnesota
Essar Steel Minnesota, a wholly owned subsidiary of privately held Essar Resources, is in the process of building an open-pit mine with an accompanying concentrating and pelletizing plant at the western end of the Mesabi Range.
Construction of the project began in 2010, and the company anticipates that operations will begin in the fourth quarter of 2014, with production rising to 7 million MT per year by the third quarter of 2015. Essar Steel Minnesota hopes to be one of the lowest-cost producers of iron ore pellets in North America.